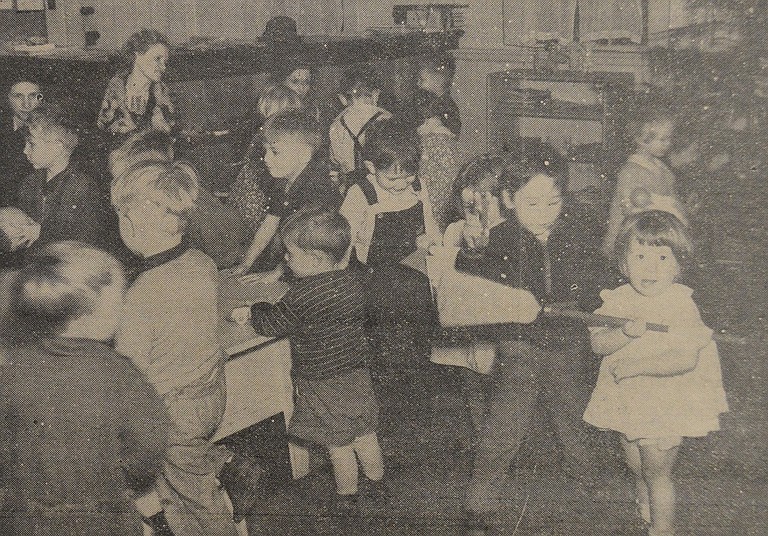 Originally published December 27, 2017 at midnight, updated December 27, 2017 at midnight
1917 — 100 years ago
An old landmark of the upper valley was wiped out during the high water of last week, when the toll bridge over the east fork of the Hood River was washed out. A number of telephone lines were also put out of commission and the flood did considerable damage to the concrete headworks of the east Fork Irrigation District. A portion of the main canal, which parallels the river for some distance, was also washed out.
1927 — 90 years ago
More than 700 boys and girls of Hood River County were the guests of the local Elks Lodge on Monday morning, when the annual Christmas tree party was held at the Rialto Theater. From all parts of the valley and town came bands of happy and expectant children, and a willing band of car owners were busy for an hour before the party opened, bringing carloads of kiddies to town.
More than 500 persons, about equally represented in Americans and Japanese, were president at the Japanese Community Hall on West Sherman on Christmas day to enjoy the splendid performance arranged by the Rev. Isaac Inouye and members of the Japanese community, and in which both Japanese children and grownups took part. The Christmas program has done much to bring about a better understanding of the ideals which inspire both Japanese parents and their American-born children.
1937 — 80 years ago
Contractors who are building the levee between Hood River and the interstate bridge will welcome blue skies and cessation of rain, for the area has, in the past week, been converted into a huge mud puddle, and progress has been stopped. On this levee, a new and higher road to the bridge is to be built.
While outdoor Christmas illuminations were fewer than in other years over the holidays, there are still several excellent examples to be seen in town. Among these are the displays at the homes of Walter Ford and Mayor Kolstad and in the grounds of the Columbia Gorge Hotel.
1947 — 70 years ago
Arguing that falling rocks in the vicinity are a greater hazard to motorists than driving through a narrow tunnel, A.C. Holmes and Albert Taggesell, of Mosier, are circulating petitions in an effort to prevent installations of traffic signals at the entrances to Mosier tunnel on the Columbia River Highway. They contend that falling rocks near both entrances, and especially at the west entrances, have for a number of years proved to be a tragic hazard. Lights, they say, would halt vehicles in dangerous locations, where parts of overhanging formation frequently break loose and crash down on the pavement, particularly during periods of freezing and thawing.
1957 — 60 years ago
A final appeal for a safe holiday comes from Chief of Police Francis Woolston. The next few days, he said, are unusually critical so far as drivers and pedestrians are concerned because of the number of pre-holiday parties. Chief Woolston reminded drivers that an arrest for driving while intoxicated can lead both to a fine and jail sentence and result in a mandatory driver license suspension by the state for 90 days. Last December, 282 Oregon drivers had licenses suspended after convictions of driving while intoxicated. "It may be old advice," Woolston said, "but it's still true. If you drive, don't drink."
1967 — 50 years ago
"Undependable as the weather" is a term that must have originated in Hood River County, if the past week serves as an example. Everything from snow to sunshine was on the weatherman's menu, and by Wednesday this week, it was a balmy 52 degrees early in the morning. That was a complete turnabout in a matter of only a few days. Snow started during the day on Dec. 17, and continued to coat the area for a day or two. By the 20th, it was piling high and a white Christmas seemed almost a certainty. Fate had another idea. By Christmas Eve, a chinook wind, which can sneak the snow away faster than rain, was hard at work. Temperatures through the night remained warm — in the 50s — and the snow did a disappearing act.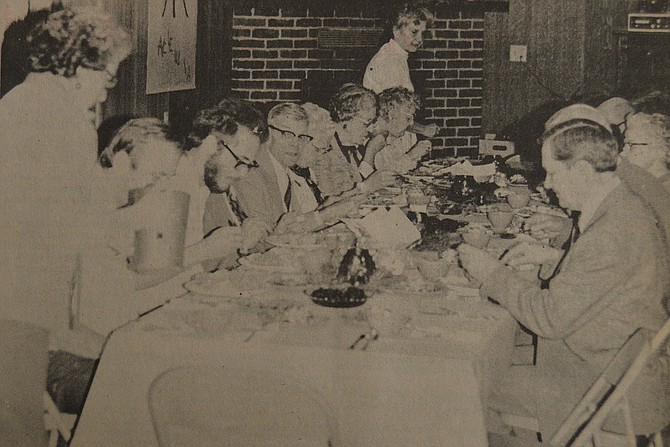 1977 — 40 years ago
As if to give one final swipe before the year ended, nature coated Hood River roads with a sheet of ice early Wednesday, and the result was predictable. Even ice-conscious drivers were spinning out of control, and in some cases accidents resulted. State and county crews were sanding roads before daybreak, but in many cases the traffic had already been on the roads for some time.
1987 — 30 years ago
Often times, a look back through a year's news will reveal a theme — a thread that seems to tie everything together. That's the way it has been in Hood River County in 1987, and the theme has been "development." To be sure, there were many other events — both positive and negative — but the year was just barely underway when new developments started hitting the headlines.
This year's First Baby Contest is sponsored by the following businesses: The Wine Sellers, Heights Pharmacy, Columbia Photo, Tyack Jewelers, Ben Franklin & Discount Pharmacy, Hood River Memorial Hospital, Fisher-Keir Drug Co., Van Metre's Furniture & Carpets, Fashion Fabrics, The Hub, Hood River Stationers, Art's Food Warehouse, Heights Floral, Nendels, The Ranch Drive-In and River's Edge Gifts.
1997 — 20 years ago
Construction crews are set to hit Oak Avenue in less than three weeks to inaugurate the latest Hood River Urban Renewal project. The urban renewal agency voted Tuesday to hire R&G Excavating of Scio as the contractor for the downtown project, which will redo two blocks of Oak between First and Third streets as well as Third Street between Oak and State. The project — involving repaving of the street, undergrounding of overhead utility lines and installation of new sidewalks, trees, planters and light poles — is scheduled to begin Jan. 12 and be completed by April 15. The work will again mean disruptions for drivers and pedestrians downtown, but the contractors plan to tackle the project one block at a time, which will somewhat reduce the problems for merchants and shoppers, said Lynn Guenther, city manager and urban renewal administrator.
2007 — 10 years ago
The Port of Hood River has two plans in the works that will transform the look and feel of the Hood River Waterfront. Port commissioners discussed the latest updates in the plans at their Dec. 18 meeting. One deals with subdividing the waterfront into lots and the second calls for major upgrades to the marina. The subdivision plan will probably carry the heavier impact of the two as once the divisions are in place, developments expected to pick up the pace.
VERBATIM: Fits and Misfits"
Partridge, pear tree question resolved
By W.B. EAKIN
When the bird counters check their tally sheets this week, we'd like to know if any of them spot a partridge in any pear tree.
After all, there could be no more appropriate spot to go searching for that phenomenon than in our own valley, which probably has more pear trees per square foot than any place else in the country.
We spent a little time glancing through pear orchards for that Christmas phenomenon. But not much time. There were quite a few starlings and some other nondescript birds perching on those arthritic-looking limbs, but nothing that looked like a partridge. In fact, where we've seen some pheasants and a lot of quail in the valley, we've never spotted what could be identified as a partridge. And the pheasants and quail were squatting on the ground, not perching in a tree.
When a restaurant nestled in a pear orchard offered partridge on its menu, the product served looked suspiciously like one of those little chickens — Cornish game hens.
Though the popular yuletide song on the 12 days of Christmas repeatedly refers to a gift of a "partridge in a pear tree," it is difficult to find evidence that this bird acts any differently than its cousins in the wildlife world, which prefer crouching in fence rows to perching in trees. Wild turkeys, maybe, but not partridges. There are probably more wild turkeys around the Hood River hills than there are partridges, although we haven't heard of many sightings in recent years.
With the total failure in partridge sightings in pear country, it was a relief to read an article by Robert Johnson in the Wall Street Journal researching the important issue of partridges in pear trees.
His research at one point took him, appropriately, to the Pear Bureau, which sent out 1,500 handmade partridge-pear tree Christmas ornaments. Good timing for promoting winter pears. But the ad agency's representative admitted she hadn't found any evidence linking the birds and the trees.
Beyond that, one language specialist said that the pear tree was probably not part of the original fable. In early French, the suitor had offered his love only a partridge — "une pertriz." He suspects the English version combined the English word "partridge" with the French word "pertriz," and the combination was born. They were really saying, "and a partridge and a partridge," but that didn't make as much sense as a "partridge in a pear tree," so the latter version stuck.
I can remember as a kid hearing that lilting, repetitive tune, wondering what in the world a "ginapear tree" was. It really didn't matter. It was still a catchy song that was fun to sing.
Still, it's nice to have an explanation for the origin of the term, so we don't have to worry further about the total absence of partridges in our pear trees. We won't have to fear that some careless act drove them from our pear orchards — they were never there in the first place.
With that out of the way, we can start working on how they came up with all those "lord a-leaping" as part of a Christmas gift.
— Hood River News, December 30, 1987
— Compiled by Trisha Walker, News staff writer