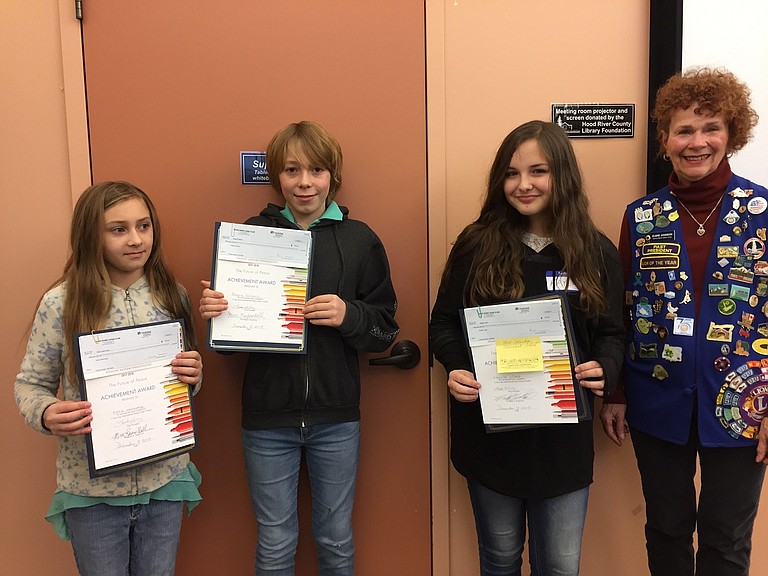 Saturday, December 30, 2017
The Hood River Lions Club has awarded the three selected winners of its annual Lions International Peace Poster Contest. This year's theme is "The Future of Peace." The winners received their awards Dec. 9 at the Hood River Library.
ON DISPLAY
The first, second and third-place posters from all three schools are on display in Library Lane, the ground floor hallway at downtown Hood River Library.
First place winners at three schools in Hood River County are Karis Hammack, a sixth grade student at Horizon Christian School, Kaylie Long, a seventh grade student at Columbia Gorge Adventist School, and Angus Kellans, a seventh-grader at Hood River Middle School. Each winner's poster was selected by a panel of judges at his or her school. The trio each took home a $50 prize.
All three posters will now advance to competition at district contests in Oregon, and if successful, will face rounds of international contests. Peace Poster chair Lion Elaine Johnson noted she was impressed by the expression and creativity of the students at all three schools. "It is obvious that these young people have strong ideas about what peace means to them.
"We hope that their vision of peace will ultimately be shared with others around the world," said Johnson.
At international, one grand prize winner and 23 merit award winners will then be selected. The top artist will receive $5,000, plus a trip with two family members to the awards ceremony.
Lions Club International is the world's largest service club organization with 1.4 million members in more than 46,000 clubs in more than 200 countries. In addition to its efforts toward conquering blindness, the organization has made a strong commitment to community service and helping youth throughout the world.