Originally published February 4, 2017 at midnight, updated February 4, 2017 at midnight
One of Hood River County's longest-standing elected officials left stepped out of the public eye last month after 18 years of service.
Jan Veldhuisen Virk was elected to Hood River County School Board in 1998 and served since 1999, including seven or so stints as chair — though she has lost count of how many.
"It has truly been an honor serving on Hood River County School Board," said Virk. "Nothing in my opinion is more important than public education. Our schools must be places where people feel welcome and meet their potential, and I firmly believe that happens here." Virk, a hospice nurse, is married to Dr. Dick Virk. Their three children all grew up in the local schools.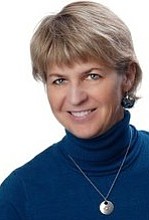 According to Hood River News records, the only other local elected official with longer local service is Fred Duckwall, who spent 28 years on school board before his election to Hood River Port Commission in 2001.
Virk's final meeting on school board was Jan. 25, where she joined her board members in appointing her successor, Rich Truax (story at right).
Virk lamented President Trump's inauguration speech comment that the American public education system is "flush with cash, but which leaves our young and beautiful students deprived of all knowledge."
"It's fine to criticize, but do it in a constructive way," Virk said. "I think it's a really sad comment, and so degrading to so many people who have worked their whole lives for kids. We need to grow and need to learn to help our kids do better. The comment is really not helpful. We need to be encouraging people to do better."
Virk said what has made her happiest on school board is Hood River Valley High School's graduation rates, annually reaching 80 percent or higher, well above state average. As such, she has always relished the June commencement services, when board members put on ceremonial gowns and take a front row seat.
"It's the one thing we get to do — to be in the front row at the graduation. The schools should always give the board that front and center seat. It's why we do what we do, we do it to see our community's kids walk across the stage," she said. Each year, Virk said, she was reminded that "the diversity in the community is also our strength.
"Seeing these fabulously bright kids from all walks of life and kids who have had huge challenges I can't even relate to, and I am so proud of them when they walk across the stage," she said.
School board is a prime example of volunteerism and Virk has volunteered "countless hours" over the years, beyond school board.
"I can't even add them up, and have no regrets. It's been the best thing. If you want to live in a solid, productive community you need to be involved."
In terms of specific accomplishments, Virk said she is most proud of the capital bond Local Option campaign she co-chaired with former school board member Anne Saxby.
"I am really glad we were able to educate the community on the Local Option and what it could do and how it is about keeping our money in Hood River," she said.
"Voters had confidence in us and our schools to agree to take that risk," she said. "It makes me proud.
"I've been chair or vice chairs seven times. I've definitely been a leader, but my most proud moments are my ability to listen, to talk to people, and encourage public comment. I feel like I have always been respectful to people. It was the way I was raised and I believe in that."
She said that "the board has always considered peoples' input and worked together to make decisions," but added that public input has often included "45 minutes at Rosauers" discussions.
"I have worked with people and superintendents who I did not always agree with but we learned to solve problems and find compromise and work together to reach consensus, and I think the community doesn't always understand that we are listening, but we are a team that has to work together and find one answer," she said.
Virk said the current superintendent, Dan Goldman, "is fantastic. We share a passion for all kids."
Another of Virk's favorite times as a school board member was listening to student presentations during meetings, on reading, science, math, robotics or other topics; traditionally, when the school board meets in school buildings rather than the district office, teachers have organized instructional or achievement demonstrations for the board.
"Seeing that, that's why we do what we do," she said. "My main reason to be on school board is for the 4,000 students. Every student. When the kids would come in and show us what they are passionate about and the love they have for their teachers, or one of the instructional aides, or their bus driver. The district is not just teachers – it's many important people. That's got to make you smile and really make you proud."
The Virks' daughters Katie, Meredith and Anneke are all either in graduate school or working on undergraduate degrees, and two are moving on to the medical profession.
Virk volunteered several years on the May Street Elementary Parent Co-operative when Katie, her oldest and now in medical school, was in pre-school. Friends urged her to run for school board.
"When we came here I wanted my kids to be in public education. A private school was starting but I wanted my kids in a public education system where parents could feel involved and give to all kids, not just their own.
Serving on school board "I think was at times hard on my kids," Virk said. "People might say things, but my girls are strong, and they are proud of me and I was a good role model for them and to stand up for what's right. I am lucky to have intelligent, driven girls but I also credit the schools."