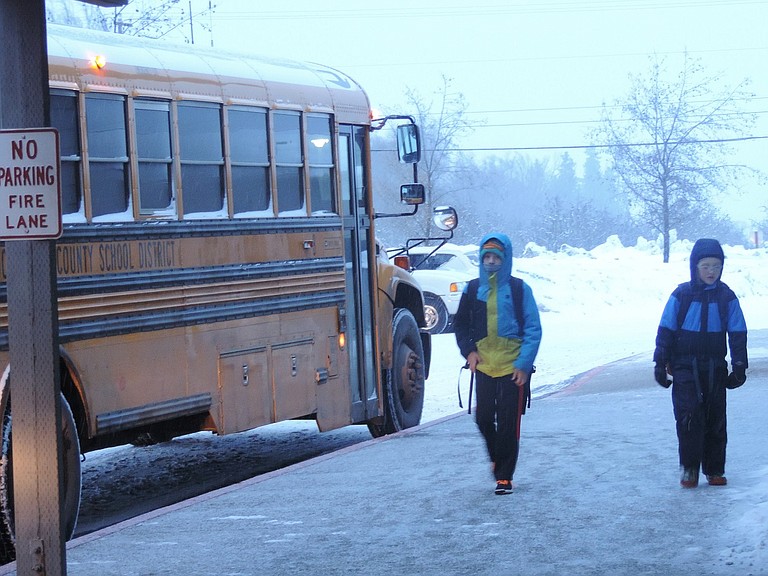 Originally published February 4, 2017 at midnight, updated February 4, 2017 at midnight
Hood River County School District and Hood River Education Association, the certified employees' union, agreed Wednesday on changes to the 2016-17 school calendar as a result of the many hours of instructional time lost due to weather in January.
According to Supt. Dan Goldman, the following provisions "will allow students to recoup eight days of instructional time while ending the school year at a reasonable date."
As of now, the last student instructional day will be Friday, June 16 — three days later than originally scheduled.
Goldman added, "While no solution is absolutely perfect for every party involved, we believe that under the circumstances we were able to move forward with students' best interest at heart."
The district is adding instructional days within the original school year — Jan. 27 and Feb. 27, and April 10, and adding days to the end of the year: June 14-16. The district is also adding time totalling two days' worth of instructional time for students with the cancellation of Monday late starts. The late start Mondays are used by staff to interact, plan coordinated curriculum, and gain professional development.
The last late start Monday is Feb. 27. Beginning in March, all Monday morning late start times will be cancelled and changed to instructional time.
The round of snow closures or delays is not necessarily over for the school district. At press time, more snowfall was predicted in the Hood River valley.
For updates on weather and closures, go to hoodrivernews.com
"There have been an unprecedented number of closure days and late starts this year," Goldman said in a Feb. 2 letter to district families. "Our goal is always to maintain a regular instructional day, but we will continue to make decisions about school closures and schedule modifications with student safety in mind."
In his letter, Goldman noted that the district has three ways to address student safety when the road conditions worsen (delayed starts, school closure, and early release) and how each specifically affects families:
Delays allow time for the county and city road crews to plow and gravel roads, our buses to put on chains, and operations crews to plow our parking lots, shovel walkways, and check that facilities are safe. A school closure happens when it is not safe for students to be transported to and from school.

An early release happens when the weather conditions worsen once the students have already arrived at school.
If HRCSD needs to release students early, parents/guardians will be called, and the website and social media pages will have the release time information.

Depending on the situation, students will be released one or more hours early from school. If students are released two hours early, they will arrive home on the bus two hours ahead of their regular time.

For example, if a student usually gets home at 3:35 p.m., he or she would arrive home at 1:35 on a two-hour early release.

If students do not ride the bus, they will need to be picked up early or walk home early.