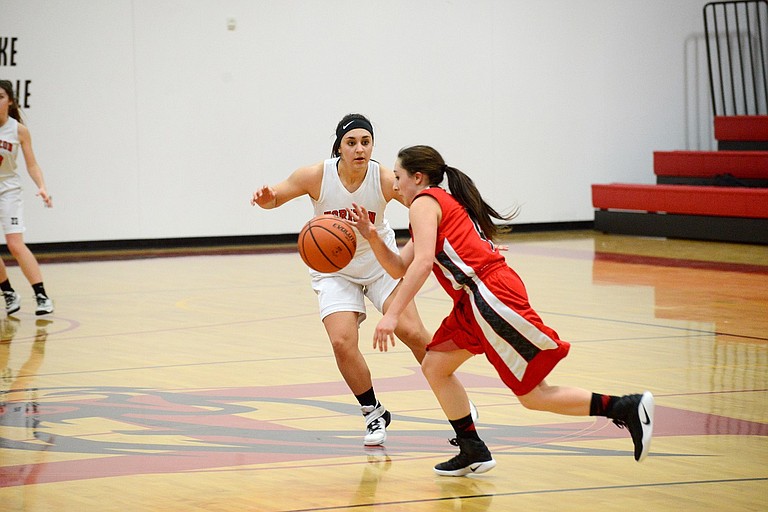 Wednesday, February 8, 2017
The Horizon girls basketball team has had a lot of great wins this season, but Thursday's was undoubtedly the sweetest thus far.
Horizon (16-5, 10-1 Big Sky) upset Arlington (15-5, 10-1), then a nine-seed in 1A girls basketball, in a game Thursday in Arlington that was moved up from Friday due to inclement weather. The Hawks edged the Honkers 47-46 in a back-and-forth thriller, becoming the first team in the Big Sky to take down Arlington. The win, combined with other results from Big Sky competitions this weekend, gave Horizon a guaranteed berth for the second year in a row in the Big Sky district tournament Feb. 17-18 in Madras.
"What a game!" Horizon Head Coach Brian Stevens said.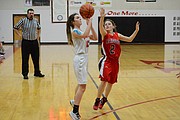 It was the third time the Hawks met the Honkers this season (one was a competition during the nonleague schedule) and Horizon previously lost both contests, including a 47-35 defeat during their last game together Jan. 14.
At first, it appeared Thursday's meeting would wind up the same as the previous two. Arlington knocked Horizon on their heels in the opening quarter, going on a 19-6 run after they capitalized on some early mistakes made by the Hawks. Horizon went on a 5-0 run to end the quarter only down by eight, that displayed some lockdown defense in the second quarter.
"After that, we only allowed two points over the next 10 minutes," Stevens recalled. "Our defense really showed up at the end of the first quarter and the whole second half."
That allowed Horizon a slim 24-21 lead at the half, and Arlington pushed back against the Hawks' defense in the third quarter and flipped the deficit on them, going up 34-31 heading into the final eight minutes of play.
The two teams exchanged blows, with "lead changes on what felt like every possession," Stevens said. As time ticked away and the teams entered the final minute of play, the Honkers hit a three to go up 46-44 on the Hawks. On their last possession, the ball was inbounded to Horizon star player Paulina Finn "who ran down the court to the three-point line, measured up the double team, then pulled up and hit a fade-away three to answer back," Stevens said, putting Horizon up 47-46 with eight seconds left. Despite making three shot attempts in that time frame, Arlington couldn't get any to fall.
The last-ditch three gave Finn a team-high 19 points, adding to her stat sheet of 12 rebounds, six steals (team-high), three blocks, and three assists. Jodee Hicks also had a double-double with 10 points, 11 rebounds, and added a team-best four blocks. Alexis Ruiz nearly cracked the double-digit mark with nine points, and Kaitlin Wenz led the team in rebounding with a baker's dozen boards.
The win didn't allow Horizon to move up in the standings, however, because the Hawks lose to Arlington in a tiebreaking scenario based on the most aggregate points scored in the teams' two league competition meetings. Arlington would need to lose another game for Horizon to move up to the top spot in the Big Sky.
•
The Hawks had another outstanding performance, albeit of a different kind, on Monday evening, when they played Dufur (6-11, 4-7) in a game that was rescheduled from Saturday due to weather. Horizon torched the Rangers 74-47, in a game that was never Dufur's to win. It was Horizon's highest-scoring game against a league opponent this season, and the victory extended the Hawks' win streak to eight.
Horizon used its defense to feed its offense, harassing the Rangers with a full-court press, forcing Dufur to make desperate passes that the Hawks picked off and parlayed into easy buckets.
Four Hawks were in double figures, led once again by Finn, who had 25 points, 13 rebounds, eight steals, five assists, and two blocks. Also hitting double figures were Haley Becnel (17 points, three rebounds, five steals), Wenz (14 points, 13 rebounds, seven steals), and Ruiz (10 points, five rebounds, three assists). Hicks also had a double with 10 rebounds, adding four points and as many blocks.
•
Horizon ends its regular season schedule this week with a Tuesday meeting against South Wasco County (9-8, 6-4) in Hood River (results not available at press time), then hosts Mitchell/Spray (2-14, 0-11) Friday at 6 p.m. and finishes up Saturday with a game at Ione (2-17, 2-9).