Tuesday, February 14, 2017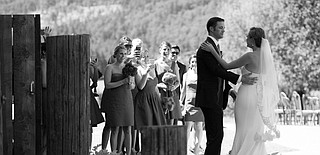 Wedding planner Debbie Dennis, owner of Hitched in the Hood, shares her knowledge of planning a destination wedding in the Gorge. She had her own destination wedding in the Gorge several years ago. She and her husband loved the area so much, they ended up moving here and soon after, she launched her business to help other couples create their own perfect destination wedding.
What are some of the main reasons couples consider a destination wedding?
Couples often choose to do a destination wedding so they can make a "vacation" out of their wedding for their guests. It becomes more about the full weekend of events than just about the wedding day itself. Couples are hosting welcome dinners, day-of brunches, activities such as hiking, whitewater rafting, etc. They can also share a location they love with their closest friends and family. It also helps couples limit the number of guests they have at their wedding and ensures they will have just the loved ones closest to them attending.
What makes the Gorge a popular destination wedding location? The Gorge is perfect for a destination wedding! It offers a variety of amazing and unique venues with epic mountain and river views, endless activities for guests such as wine and beer tours and tastings, outdoor activities, the Fruit Loop, wind, water, and mountain sports, and more. Unlike other popular destination wedding locales, it's easily accessible with only a short drive through the Gorge from the Portland airport.
Should couples vacation in the Gorge prior to choosing it as a wedding destination?
I don't think vacationing here is a prerequisite for choosing it as your wedding destination but it definitely helps seal the deal. How could you not want to get married here after a Gorge vacation? That's actually how my husband and I chose the Gorge as our wedding destination and eventual home. Most of our wedding couples have some affiliation with the Gorge — they either have fond memories of coming here as a kid or they grew up in Oregon and love the Gorge region. I have, however, had couples that have booked their wedding venue sight unseen. But I always recommend they come to the Gorge prior to their wedding to work through the details of their big day, meet their wedding vendors and visit their site to ensure things go smoothly on the day of their event.
Is a destination wedding easier for couples than a traditional or formal wedding?
I think it can be. Most Gorge weddings end up being less formal and less traditional than the norm and I find most couples have a more laid-back attitude about their wedding day because of that. I do think that finding a wedding planner who can be your liaison on the ground at your destination location is key to the ease and success of the day.
Can a destination wedding work as a family reunion for family and friends?
Ultimately I think this is why many folks decide to host a destination wedding — it is essentially a reunion of friends and family and doubles as a vacation.
How far in advance do I need to plan a destination wedding?
Maybe this is the planner in me but I think as long as you have a wedding planner that is knowledgeable with the area who can help you navigate the local scene, you can plan a wedding in less than six months. However, I would recommend nine months to a year as the perfect planning timeline for a destination wedding.
Is a destination wedding likely to cost more than a traditional or formal wedding?
I don't think so. I encourage wedding couples to have a wedding budget and we always try to work within that. I think it's less about the traditional/formal vs. destination and more about what your priorities are. If your priority is a venue with a great view, then you spend the bulk of your budget on that and find ways to save on other items that might not be as important to you, such as favors and décor. I think where couples get surprised
is when they don't set a budget or have clear priorities for what they want out of the day and they tend to overspend.
Are there state requirements I need to know about when I am not marrying in my home state?
I'm not sure about other states but both Oregon and Washington make it really easy to have a destination wedding. In both states, you can complete your marriage application form online. From the time you complete the license there is a small waiting period before the ceremony can be performed (three days) and you have 60 days to perform the ceremony. There are not strict rules on who can perform the ceremony, which is nice because many couples end up using a friend or family member to officiate their ceremony and most can be ordained online for a nominal fee.
How does a wedding planner in the Gorge help in coordinating a destination wedding?
A wedding planner should serve as your liaison on the ground in the Gorge to help you navigate all aspects of your wedding weekend. We pride ourselves on our relationships with local wedding vendors and try to be the main point of contact for our clients so they don't have to communicate with nine different vendors. We also save our clients a lot of time in researching vendors and details about the area because we have the knowledge base, so it's really one stop shopping for them.
For more information, go to hitchedinthehood.com.