Tuesday, February 14, 2017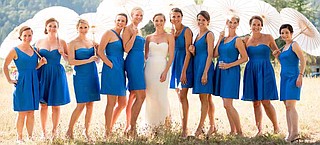 16 to 9 Months
Think about the type of wedding you want. Formal or informal? Big or small?
Decide what time of year you want your wedding to take place. Summer weddings
are popular in the Columbia Gorge, but spring and fall are equally beautiful, and there are plenty of venues perfect for winter weddings.
Create a budget.
Hire a planner. This is even more important if you're not from the area.
Scout venues, if possible, and meet with vendors and/or your local wedding planner.
Determine your wedding party.
Settle on a head count.
Choose a date. Remember, many venues in the Columbia Gorge get booked well in advance.
9 to 6 Months
Purchase a dress. Custom gowns can take months to make, and even if you're buying off the rack, you'll typically need three fittings. When buying, think about how you'll transport the dress to your destination.
Shop for the bridesmaids' dresses. Allow at least six months for the gowns to be ordered and sized.
Book a photographer. Wedding photographers in the Columbia Gorge are in high demand, especially during the summer months. The farther ahead of time you book your photographer, the better.
Book a block of hotel rooms or rent accommodations for your wedding party and guests.
3 to 2 Months
Confirm details with all your vendors.
Mail out invitations.
Review the song list with your band or DJ.
One Month
Get your marriage license.
Mail the welcome party or rehearsal dinner invitations.
Purchase gifts for your bridesmaids.
Assemble welcome bags and prepare welcome letter.
Write your vows.
Confirm details of your ceremony.
Create a seating chart.
Enter RSVPs into the guest-list database.
Confirm flight and accommodations bookings
Week of Wedding
Delegate small wedding-day tasks.
Send a timeline to the bridal party.
Book a spa treatment (manicure, pedicure, facial, spray tan) for the day before the wedding.
Confirm final guest count.