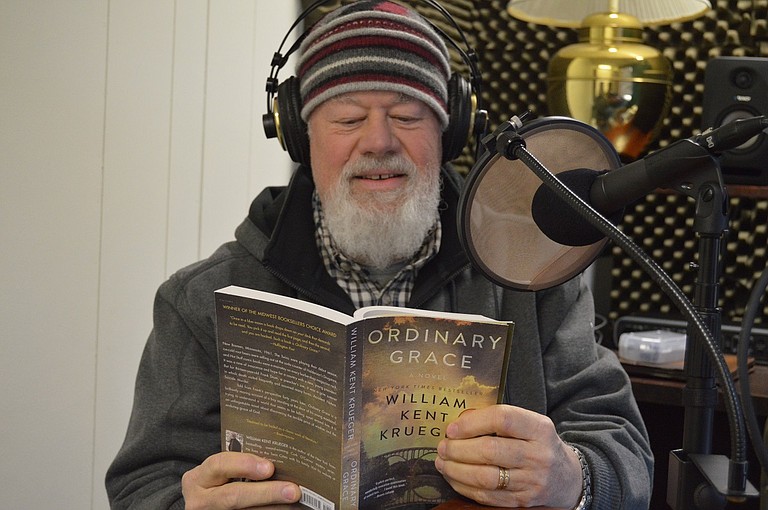 Wednesday, February 15, 2017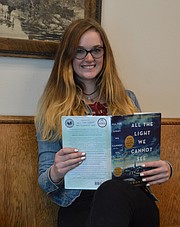 All the Light We Cannot See
by Anthony Doerr
By GRACE WHITMORE
I am a third of the way through "All the Light We Cannot See" by Anthony Doerr.
It's a historical fiction, full of metaphor and amazing character description, that tells interweaving stories about a German boy and a French girl during World War II.
I'm reading this book because my parents recommended it and because I think it's important, now and always, to look back at history and be sure not to let it repeat itself. So far, 10/10, would recommend!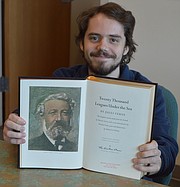 Twenty-Thousand Leagues Under the Sea
by Jules Verne
By PATRICK MULVIHILL
Winter had me overwhelmed, so I retreated to an old school piece of escapism: "Twenty-Thousand Leagues Under the Sea."
Unsolicited fish pun intended with "school."
I've been on a sci-fi binge ever since I rediscovered H.G. Wells' "The Time Machine." The novel was so concise and cleverly written that its age didn't intrude on the fun. The story achieved its purpose: making me forget about the marrow-chilling weather outside.
Hoping to find another good yarn, I combed the Hood River Library and found a beautifully illustrated copy of "Twenty-Thousand." It's adorned with little golden whales on the cover — kitschy in a good way, like something you'd find at a beach cabin.
It turns out Jules Verne, the bearded grandpa of science fiction, makes for a different read than Wells. Generally, Verne comes off rustier and dustier (understandable for an 1870 publication).
But I'm not out to fillet Verne. He's fluent in speculative imagery when he shows off the interior of the Nautilus, the then-futuristic submarine and main setting of the adventure. The story follows Captain Nemo and his sometimes reluctant passengers as they journey through uncharted waters and encounter plenty of nasty marine critters.
I vow to finish the tale before I run out of renewals. The little mysteries keep tugging me along; and what's more, I may find an emotional attachment in a protagonist who's spent some time stuck indoors in a hostile climate.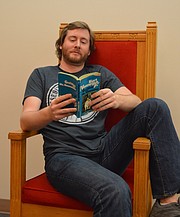 God Bless You, Mr. Rosewater
By Kurt Vonnegut, Jr.
By BEN MITCHELL
In high school and college, I was a voracious reader of Kurt Vonnegut's more well-known works such as "Cat's Cradle" and "Slaughterhouse-Five," but "God Bless You, Mr. Rosewater" had escaped my attention, as it is one of his less-popular books.
I'm about 75 percent of the way through, but unlike some other Vonnegut novels, there are no supernatural elements in this book. It tells the story of Eliot Rosewater, a fabulously wealthy man who suffers a nervous breakdown fueled by his alcoholism, eschews high society in New York City, and heads off to his ancestral home of Rosewater, Ind., where he uses the money he gets from his family's foundation to try and help the impoverished citizens of the town.
I've been enjoying the book because it presents an amusing commentary on capitalism. The family questions Rosewater's mental state in part because he's so willing to part with his money and help people he does not know. Eliot's altruism is contrasted with the greed of his family and the custodians of the foundation. In the opening pages, Eliot sets the tone, waxing philosophical on the evils of capitalism through a letter, detailing his family's rise to wealth, an excerpt of which reads: "Thus did a handful of rapacious citizens come to control all that was worth controlling in America. Thus was the savage and stupid and entirely inappropriate an unnecessary and humorless American class system created. Honest, industrious, peaceful citizens were classed as bloodsuckers, if they asked to be paid a living wage. And they saw that praise was reserved henceforth for those who devised means of getting paid enormously for committing crimes against which no laws had been passed. Thus the American dream turned belly up, turned green, bobbed to the scummy surface of cupidity unlimited, filled with gas, went bang in the noonday sun."
Though it was published in 1965, I think that message still resonates with many today.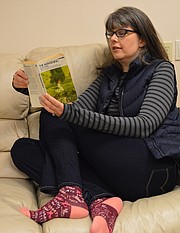 The Awakening
by Kate Chopin
By TRISHA WALKER
I was a bright-eyed college student when my favorite professor assigned Kate Chopin's "The Awakening" for an American Lit class. My life was completely different than Edna's — my world was full of possibilities, hers was made of walls — but the story was a compelling one, and I've made a point to revisit the novel every few years.
How I feel about the book changes the older I get. In my 20s, I saw Edna as a tragic character who just couldn't win — she wanted to be independent, but she couldn't quite get there. In my 30s, I identified with the isolation that comes from raising young children (mine are the best, not that I'm biased, but when you find yourself looking forward to a chat with the grocery clerk because it's a treat talking to an adult — I was a stay-at-home-mom for 11 years — you can't help but feel a bit deflated).
Now at 44, I appreciate Edna's struggles. She was trying to juggle what she needed to be whole against what she was expected to be. She wasn't an Adèle, a perfect wife and mother, but she also wasn't a Mademoiselle Reisz, content with the social isolation that came with being an independent woman of that time.
I'm struggling, too. And trying to make peace with the fact that I cannot have it all, do it all, be it all. At work, I think about home. At home, I think about work. My life is not Pinterest-worthy. I make passive aggressive comments about unloading the dishwasher. I can't win, either.
Which is why I reread "The Awakening." Maybe it's not so much about winning as it is just accepting what life throws at you.
And it's weirdly comforting to know that, no matter how much time has passed, some things haven't changed. Sure, women have more freedom now, but we're still judged, harshly, when we don't behave a certain way. (Case in point: Take a look at the reactions to the recent worldwide women's marches.)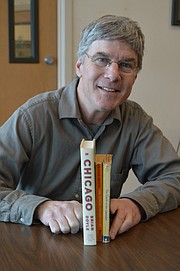 13 Novels in 12 Months
By KIRBY NEUMANN-REA
"Maturity turns out to be a question you can never answer with confidence, despite advanced age and wage."
Portland's Brian Doyle wrote that in his 2016 novel, "Chicago," about a city I sort of know yet definitely love thanks to relatives who have lived there for as much as 90-plus years.
The book is a fun read, evocative of the City of the Big Shoulders in the early 1970s, with fascinating characters and a refreshing view of a young man's emergence to adulthood.
This was the first book I read this year in my plan to read 12 novels in 12 months. As February nears end, I am ahead of the mark, having read three novels; that's about as many as I typically manage to read in a year, hence the Baker's Dozen goal.
Next were "The Power and The Glory" by Graham Greene, and "Cards of the Gambler" by my friend, the late Ulster writer Benedict Kiely. (I had to read at least one Irish novel this year.)
"Chicago" was a new read, one of six I plan this year, while the Kiely and Greene are the first of six re-reads in 2017, and are thematically linked in their study of two tragic protagonists' Quixotic struggles with God and their own devout, doubt-laden spiritual cores.
"He knew he was in the grip of the unforgiveable sin: despair," Greene writes of the unnamed "whisky priest" on the run from the law. Despite the danger, or because of it, he is rejuvenated in his vocation, and in his faith, by the needs of others: "He was aware of the immense level of responsibility; it was indistinguishable from love."
Kiely delves into the duality of faith, saying of one character, "her mercy and charity sharper than nettle stings." For him, belief is a cycle between doubt and faith: "Every man should return in the end for forgiveness, for peace, to the place where he began."
Things won't get much lighter as I look ahead in my 2017 list: "Huckleberry Finn," "Song of Solomon," and "To A Kill A Mockingbird" are among those to come.
But "Confederacy of Dunces" will leaven that somewhat, and I may add the hilarious "The Natural Man" by Ed McClanahan. We'll see how this 13 Novels plot plays out.
Looking for a good book? Waucoma Bookstore staff picks
My Old Man and the Mountain: A Memoir, by Leif Whittaker, recommended by Anastasia. Whittaker's rescheduled appearance will be March 25, 7 p.m. at Columbia Center for the Arts.
Dianne: Shoe Dog: A Memoir by the Creator of Nike — by Phil Knight
Jacqueline and Anastasia: Temperance Creek: A Memoir — by Pamela Royes
Jenny: The Atlas of Love — novel by Laurie Frankel
Kat: Pure Heart: A Spirited Tale of Grace, Grit, and Whiskey — memoir by Troy Ball
Lauren: A Life in Parts — memoir by Bryan Cranston
Muir: The Impossible Fortress — novel by Jason Rekulak
Muir and Anastasia: The Lost City of the Monkey God: A True Story — non fiction by Douglas Preston
Patty: Last Bus to Wisdom — novel by Ivan Dog
Terry: Not Dead Enough — mystery novel by Warren Easley
Events: For the Love of Words
Can't get enough books? Love words? Here are upcoming events that celebrate literacy in the Gorge:
Library celebrates renovation
The Hood River Library will hold a kid-friendly celebration of its updated children's area on Saturday, Feb. 18 at 6 p.m. The event will feature music, food, games, prizes and a chance to meet the craftspeople who worked on the project.
Illustrated Poetry Contest
The Hood River County School District is sponsoring an Illustrated Poetry Writing Contest for students in elementary, middle and high school. Submissions are due to school librarians by Feb. 22. Images must accompany the poems, and students are invited to write as many as they wish. See school librarians for more information. Prizes will be awarded to each school level, with a $100 grand prize.
'Writing Memories': new date
Memoirist Carolyn Wood will facilitate a creative writing workshop called Writing Memories for the Next Generation on Feb. 23 at the Hood River Library (details on page B8).
'Tongue Twister' Feb. 24
The seventh annual Tongue Twister Tournament, a fundraising event for SMART (Start Making A Reader Today) takes place at 7 p.m. on Friday, Feb. 24 at the Hood River Elks Lodge. Admission is $10, all ages. The event features a spelling-bee style tongue twisters tournament among community members, and a chance for the audience to step up to an open mic for prizes. A no-host bar will be available, as will food from Broder Ost and a raffle for local prizes.
HR County Reads kicks off March 19
This year's Hood River County Reads book is "Ordinary Grace" by William Kent Krueger, and with it comes a host of activities ranging from discussions to music to writing workshops — free and open to the public. To kick it all off, copies of the book will be distributed at no cost on Sunday, March 19 from 2-3:30 p.m. at the Hood River Library, and on Tuesday, March 21 from 5-7 p.m. at the Parkdale and Cascade Locks library branches.
Radio Tierra and 'Ordinary Grace'
Gary McFarlen reads "Ordinary Grace" each Friday at 8 p.m. on Radio Tierra, KZAS (95.1 FM in Hood River, 107.1 in Parkdale.) McFarlen presents two chapters at a time, and the serial is scheduled to run through March. (The story started Feb. 3; the Feb. 10 segment did not air due to technical difficulties. The Feb. 17 segment will pick up at chapter 3.)
Feast of Words March 11
Feast of Words returns Saturday, March 11 from 6-9 p.m. at the Hood River Library. The Library Foundation has a goal to raise $30,000 for library upgrades, including new lounge chairs and end tables that support notebooks or computers — with charging stations. Tickets are $25 and are available at the library and on the library's webpage, hoodriverlibrary.org.
Kickstand book club
The Hood River Library has partnered with Kickstand Coffee & Kitchen to provide a monthly book club at the café. The Kickstand Book Club will meet the second Saturday of each month at 4 p.m. Books can be checked out or placed on hold at the library. The next book club meeting will be held March 11; participants will discuss "East of Eden" by John Steinbeck.
Story time at the library
Thursday mornings are story time for babies and toddlers at the Hood River Library. Meet downstairs in the children's section at 10:30 a.m.
Gorge Literary Journal
The Hood River News twice annually publishes essays, poetry and short fiction by Gorge writers, edited by Hood River wordsmiths Julie Hatfield and John Metta. The next Gorge Lit will be inside the Feb. 18 Hood River News, and will be sponsored by Farm Stand, Pine Street Bakery, Pine Street Kitchen, and Slopeswell Cider Co.
Read Across America Day
The annual celebration of reading, on March 2, the birthday of Dr. Seuss — aka Theodore Geisl — brings readings, book assemblies and other events to local schools.