Wednesday, February 15, 2017
The City of Hood River will seek to add a virtual boom line to its existing opposition to fossil fuel transport through the Gorge.
On Monday, Council also voted unanimously to allow Hood River Parks and Recreation District to spend up to $240,000 towards upgrading and expanding Golden Eagle Park, adjacent to Hood River Valley High School.
City council also voted unanimously to direct staff to draft a letter in support of House Bill 2131, currently before the Legislature, which directs the state Environmental Quality Commission to adopt rules applying certain oil spill prevention and emergency response planning requirements to railroads that own or operate high hazard train routes in this state.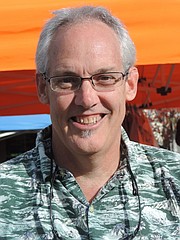 "This is consistent with what we have already passed," said council member Mark Zanmiller in support of council member Peter Cornelison's motion to draft the letter. In 2015 and 2016, the council passed two separate resolutions in opposition to coil and oil transport through the Gorge, the most recent as a response to the oil train derailment and spill in Mosier in June 2016.
(Details on page A11.)
The letter is just one of two the city will draft; the other will be to the Columbia Gorge National Scenic Area, at Planning Director Cindy Walbridge's request, asking for clarification on the definition of "minor amendment" under the Scenic Area Act — as in whether or not an expansion of the Urban Growth Area is a "minor amendment or not." Walbridge said that, long-term, city planning needs will require a UGA expansion, something that may take up to 10 years.
The question is among the biggest ones Walbridge will ask this year, but not one that she will personally see to conclusion: Walbridge said Monday that she has decided on a date for her retirement — Oct. 1, 2017.
"The NSA is currently in its second update of the Scenic Area plan in the past 25 years, and I would like for us to have a grasp on that (minor amendment definition). It's a matter of, 'What can we anticipate?'" Walbridge said.
In a diverse agenda Monday, the council granted the Parks District permission to use up to $240,000 in System Development Charges (fees paid for new development, normally expended on projects within the city) in a funding package including a state grant to add numerous recreational amenities as well as trails and parking at Golden Eagle. The park is the District's under-developed property along Indian Creek Road; it is located several hundred yards from the city urban growth boundary, and district executive director Mark Hickok said the park would predominately serve residents "of Hood River and the Hood River area." The district has a $495,000 Oregon Parks grant that must be used this year, according to Hickok. The total Golden Eagle budget is around $900,000.
Council heard testimony from two people who argued the District should devote its resources to projects in the county, specifically the proposed park on property along Fairview Drive.
"I'm concerned that the expenditure of financial resource on Golden Eagle park project may be premature," said Anna Cavalieri of Hood River. "It seems that Golden Eagle was promoted for fear of losing the OPRD grant. I am wondering if now is the right time for the city and the Parks District to expend any resources on a project that wasn't part of the park's District Master plan."
Zanmiller, a former Parks Board member, said that the Golden Eagle plan is "consistent with a community plan for recreation there going back years," while also noting that given the use of city money outside city limits, "It feels expensive and like a good deal at the same time."
Land use
Council also adopted new rules for construction of town houses, as part of its affordable housing strategy, to be finalized at the Feb. 27 meeting, and an ordinance establishing a separate hearings officer appeal process for non-conforming short term rental applications.
Builders including Brent Foster urged the council not to refer the town house issue back to planning commission for refinement, as planning staff had suggested as an option, but to put rules in place now so that building applications could be expedited given the approach of the building season, starting in May.
At least 125 non-conforming STR applications have been filed with the city, and most city residents can expect to get a letter about any number of them: the ordinance requires the city to notify every property owner within 250 feet of a non-conforming appellant. That affects an estimated three-quarters of all homes in the city, according to planning staff.
On waterfront parking, Mayor Paul Blackburn said he will convene a third meeting of the city, Port of Hood River, and waterfront business owners, to seek some resolution on the stalled plan to put in parking meters on Portway Avenue. Merchants successfully appealed to the council last month to delay putting in parking meters and hiring a part-time enforcement officer to be shared with the Port.
HB 2131
Specifically, the council's letter will call on Dist. 52 Rep. Mark Johnson (R-Hood River) to support HB 2131. The bill's provisions include annual spill contingency plan updates, time limits on public notification of a spill (one hour) and mobilization of booms and other recovery equipment and staff in case of a spill (8 hours) and annual communication by rail companies to all emergency response agencies along rail lines.
Specifically, it deems that rail companies "be capable of delivering and deploying, within eight hours of confirmation of the discharge, containment booms, boats, oil recovery equipment, trained staff and all other materials needed," and;
"Communicate at least annually with the State Fire Marshal and with each regional hazardous material response team having jurisdiction along high hazard train routes owned or operated by the railroad, to ensure coordination of emergency response activities between the railroad and the regional hazardous material response teams."
Cornelison and other members of council plan to visit Salem to testify in favor of HB2131.