Wednesday, February 15, 2017
SMART (Start Making A Reader Today) has announced its 2017 statewide Volunteer of the Year, recognizing an individual who makes an exceptional contribution to the organization.
Hood River resident Kirby Neumann-Rea, a SMART volunteer and Leadership Council member in Hood River, has taken the honor for 2017.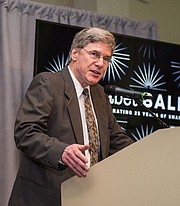 Neumann-Rea, the editor of the Hood River News, was selected from among 10 regional winners. Neumann-Rea was ultimately selected as the statewide winner because of his longstanding dedication to helping the program grow and flourish in Hood River County, according to Paula Seid, SMART's Northeast Program manager.
"Kirby has been involved with SMART since 2003, and the first volunteer recruitment meeting," Seid said. SMART started in 2000 in Hood River County at two schools, and has since expanded to all elementary schools; while SMART operates in the schools, it is an independent non-profit that relies entirely on community donations.
"In addition to volunteering his time as a SMART reader, Neumann-Rea also created and manages Hood River County's annual fundraiser, the Tongue Twister Tournament, which aims to raise $10,000 each year to support local SMART programs." (The 2017 event will be at 7 p.m. Feb. 24 a Hood River Elks Lodge.)
"We are so grateful to Kirby for the time and talent he brings to SMART," said Chris Otis, SMART executive director. "His outstanding commitment to ensuring that students in Hood River County have access to one-on-one reading support and books to keep is inspiring, and we're honored to work alongside him."
The Volunteer of the Year award program was launched five years ago to recognize the service of outstanding individuals across the state who give their time and talent to ensure SMART's success. Every year, volunteers, educators, and partners in each of SMART's 10 regional areas are invited to submit nominations for deserving volunteers. Neumann-Rea was awarded the top honor at SMART's statewide fundraising event in Portland, the Alphabet Ball, on Feb. 10.
"I accept this award on behalf of all the volunteer readers and program coordinators in Hood River, and the rest of the state," Neumann-Rea said at the Alphabet Ball, held at Portland Art Museum with about 300 people in attendance. "The volunteers are the lifeblood of the program." He acknowledged the other nine regional volunteers of the year, saying, "Great things are being done for SMART all over the state."
In celebration of SMART's 25th anniversary, the organization also recognized volunteers with a special Legacy Award for long-term service in the program. Two of those volunteers, Harriet Langmas of Bend and Nancy Cox of Portland, have been with SMART since it was founded in 1992.