Wednesday, February 15, 2017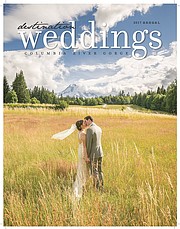 The full-color, redesigned "Destination: Weddings/ Columbia River Gorge" is ready for your nuptial planning. The ultra-deluxe wedding magazine highlights wedding venues, Q and As by planners and photographers, "Flower Power" photo feature, and advance wedding checklist.
As editor Janet Cook writes in the Introduction, "Couples who choose to get married here can make their wedding not only a celebration of their nuptials but a memorable vacation for themselves and their guests."
The magazine is complimentary.