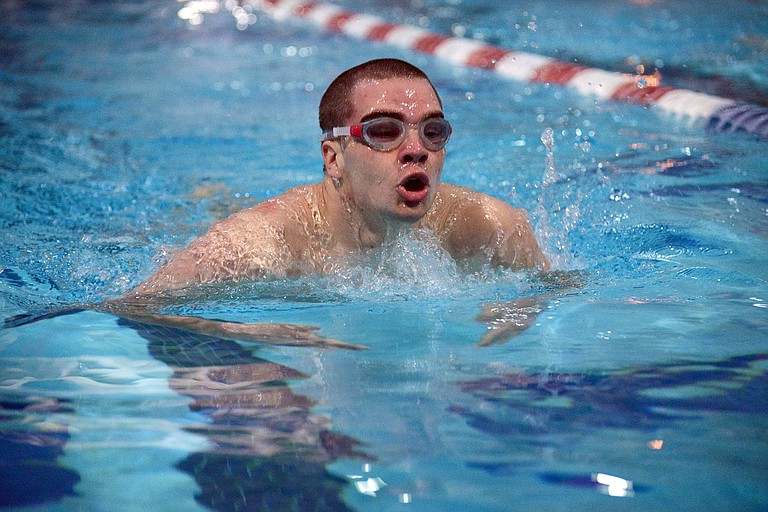 Wednesday, February 15, 2017
Following a successful district meet, the Hood River Valley High Eagles boys and girls swim teams will send nine swimmers to this weekend's 5A state championships.
HRV had a phenomenal performance in the Columbia River Conference championships Friday and Saturday at the Hood River Aquatic Center. The Eagles squad, guided by second-year coach Kelly Cunningham, won a total of 17 CRC district titles, including the HRV girls CRC team championship.
"The girls did very well and everyone had lots of good times and Philip Hecksel had an amazing time in the final leg of the 400 free relay in breaking 50 seconds, which is very fast," said Cunningham. "A lot of girls advanced to finals and helped us earn points to bring home the team trophy. Considering that the kids haven't had too much practice, they showed up and competed well and performed the best they have all season, which is what we were hoping for."
A total of nine Eagles swam to victories to qualify for the state meet Feb. 17-18 at Mount Hood Community College Aquatic Center in Gresham. The meet begins with preliminaries at 9 a.m. Senior Andrew Rinella, freshman Adam Burke, senior Philip Hecksel and his brother David, a freshman, all earned a state meet berth for HRV's boys squad. HRV recorded a total of 16 finals wins out of 22 events. The top eight in Friday's prelims advanced to Saturday's events, with finals winners qualifying for the state meet.
Philip Hecksel was a two-time district champ as he swam to finals victories in the 100 butterfly with a time of 58.34 seconds and the 200 freestyle with a personal best time of 1:52.81. His brother, David, won the 100 breaststroke final at 1:11.28. The quartet of Burke, Rinella and the Hecksel brothers helped lead HRV to victory in the 200 medley relay final at 1:55.35.
"I'm really happy with how well I did in districts and I'm pretty excited to going to the state meet," said Philip Hecksel, a newcomer to HRV after moving here from Colorado last summer. "I was glad to get a personal best in the 200 free and I felt like I swam as best as I could in every event. I qualified for state meets in Colorado, but I'm really excited to be going to state meet for the first time ever in Oregon."
HRV girls state qualifiers include freshman Celilo Brun, senior Sarah Gottschalk and juniors Yasmeen Ziada, Courtney Casteneda and Allie Burke. Gottschalk, a German foreign exchange student, was a four-time CRC champion in winning two individual events and then helping lead HRV to victory in both relays. Gottschalk won the 50 free (25.29), the 100 backstroke (1:01.19) and she combined with Casteneda, Ziada and Brun to win the 200 medley relay. The quartet of Ziada, Casteneda, Burke and Gottschalk also won the 400 relay (4:01.22).
"I'm very happy with how well I did in the district meet and I'm very excited to be going to the state meet," said Gottschalk, who has lived in Hood River since last summer and has been involved in competitive swimming since age six. "It would be great to finish in the top-six of my events and win a medal. I'm hoping to break the one-minute mark in the 100 back, which would be really awesome."
Burke repeated her performance from the last two years as she won the 500 free final (5:30.35) and the 200 free final (personal best time 2:09.22) for the third straight year in the CRC district meet, and she also swam in 400 relay. Burke also won two individual preliminary events on Friday.
"It feels pretty good to be a three-time district champion and it's great that we won the team championship," said Burke. "It's exciting to advance to the state meet again. I really love swimming in the pool there, because it's fast and it's going to be lots of fun… I've never won a medal at state before so I'm hoping to win one for the first time this year."
Brun has enjoyed tremendous success and considering what she's had to endure over the past year, she truly had an amazing performance. Brun had scoliosis, a disease that results in an abnormal curvature of the spine. She had back surgery in March last year at Shriners Children Hospital in Portland. Brun, who has been swimming competitively since age 10, wanted to continue in the sport and she's had a very successful and remarkable recovery from surgery. She returned to the pool in September to begin swimming again and she's continued to improve all season. Brun recorded a first, second, third, and a fourth place in four finals events.
Brun also swam strong along with her teammates to help HRV win the 200 medley relay (2:00.25). HRV had a top-three sweep in the 200 IM final with Casteneda (2:27.84) first, Brun (2:28.04) second and Ziada (2:28.50) third. Brun also combined with freshman Lillie Tomlinson, sophomore Alea McCartly and Burke for a third in the 200 free relay final (1:54.56). Like teammates Burke and Casteneda, Ziada was a three-time district champ as she won the 100 butterfly (1:08.19) and she swam in both of HRV's winning relays.