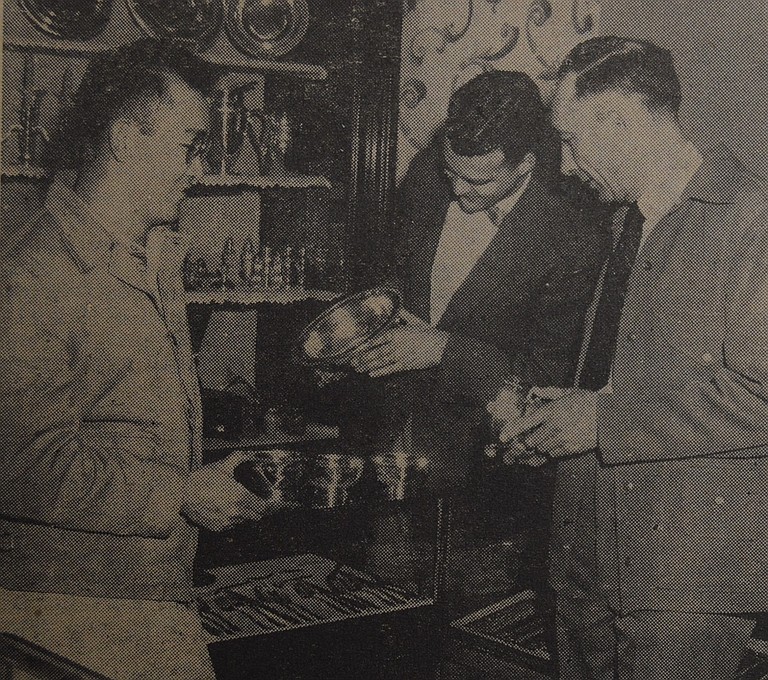 Wednesday, February 22, 2017
1917 — 100 years ago
This week the Oregon Lumber Company Mill at Dee has reopened for the season's run. It has been closed since Dec. 10. About 150 to 200 men will be employed at the mill and in the lumber camps, which have also resumed.
1927 — 90 years ago
For a few hours during Thursday night of last week, Hood River had a taste of what has been regarded for the past week as California weather. Heavy rains, driven by violent winds, found the leaks in the shingles and created a number of jobs for the interior decorators this spring. So heavy was the rainfall that the catch basis on the hill roads were quickly out of business and big streams of water, carrying large quantities of silt, raced down the hill roads to the business section. At the corner of Fourth and Oak on Friday morning, there was a layer of silt near 10 inches deep.
VERBATIM: New Snowstorm Holds Up Travel
Two Feet Is Added To Blanket At Junction — Motorists Snowbound On Wapinitia Cutoff For the first time this season, rural residents of the Upper Valley found themselves temporarily snowbound when, yesterday morning, they made efforts to run their cars out of garages, for during the night, a new blanket of snow, of from a few inches to over two feet in depth, had fallen. Snowplows were on the jobs, and quickly opened up all lines of travel on the north side of Mount Hood.
At McMullins' Tavern, more than 24 inches of new snow had fallen between 8 a.m. Wednesday and the same hour yesterday, and a heavy storm, with strong wind, was still in progress. Both Parkdale and Dee reported much wet snow, added to the heavy blanket already on the ground.
On the south side, several cars were held in drifts on the Wapinitia cut off and Government camp was out of communication with Portland.
A slide near Taylor, on the Columbia River Highway, Wednesday night carried away both the Western Union and U.P telegraph lines, and service was suspended for about three hours.
Yesterday snow and sleet were general in the Mid-Columbia.
— Hood River News, February 19, 1937
1937 — 80 years ago
With a deep layer of snow in all orchards in the valley and with freezing nights holding up the thaw, growers now realize that the season for spring work will open several weeks later than in recent years. Were it not for the fact that pruning is hardly possible under existing orchard conditions, they would welcome the delay of spring, for the records tell them that, when spring is late in arrival, prospects for good crops are excellent. This year, as it now appears, spring work will come with a rush, with several major operations awaiting attention at one and the same time.
1947 — 70 years ago
The latest in parking meters was displayed at the end of the city council meeting Monday night by Joseph O'Brien, of Seattle, representing the Duncan-Miller Meter Company. Forty different combinations for purchased time from 12 minutes to two hours can be obtained from the machine which O'Brien showed council members. He was on his way to The Dalles, where parking meters will soon be installed. Earlier in the meeting, the council had heard a report from councilman Percy Bucklin on the prospects of providing a parking area with the I.O.O.F. lodge and county court between Third and Fourth streets facing State Street.
1957 — 60 years ago
Unless the legislature agrees on a method of increasing basic school support to Oregon school districts, personal property taxes are expected to be called upon to shoulder a larger burden in financing school expenses for 1957-1958 in both city and county districts. Teacher salary increases approved by the county school district and those proposed by city district teachers are expected to be major in terms of budgets being prepared by both districts for elections later this year. Other increasing school operation costs items include salaries of janitors and administrators, fuel and supplies along with prospects of some loss of county property valuation.
1967 — 50 years ago
Biggest news in Hood River County's massive forest land clearing project since the Evergreen Timber Case exploded into headlines arrived here last week in an Oregon Supreme Court decision favoring the county ownership. The tedious day to day job of getting secure title to thousands of acres in Hood River County forest lands plodded on uneventfully for some four years, then suddenly events took a quick and important jog ahead. Boiled down from legal terms, it is a major victory for county officials who have been struggling to establish that the county really owns its 29,000-acre forest.
1977 — 40 years ago
Mayor Charles Beardsley has issued an appeal to residents to join immediately in all-out efforts to conserve the city's water resource. Addressing a session of the city council Tuesday night, Beardsley noted that there is no immediate water shortage in the city, but that within a matter of weeks, water will be in high demand. "An early and prolonged emergency is quite likely this spring or early summer," the mayor contended. He's calling for a voluntary 25 percent reduction in water usage.
1987 — 30 years ago
There won't be any swimming in Hood River's aging municipal swimming pool this year unless between $30,000 an $50,000 is raised by April 1 for long-needed repairs, city council members decided Monday. "It is with great regret this decision is being made," announced Mayor A. Michael Maurer. "We need to make necessary repairs." The announcement came after the council accepted a roads and recreation committee report which discussed the costs of opening the pool. Discussion during the meeting illustrated that it may not be as grim a situation as it appeared at the outset. There are several sources that may help solve the problem.
1997 — 20 years ago
As part of a long-planned project to enhance the Hood River News' readability and accessibility, the newspaper reveals a new look in today's edition. The new design is a combination of different headline and type styles, along with new packaging of articles, photos and ads. "Within the last year, advances in computer typesetting technology have allowed us to make dramatic improvements in how we produce newspaper pages," said Publisher Jim Kelly. "We've always made a commitment to keep up with current technology. However, it hasn't been until this last year that the technology was available for us to produce the entire newspaper, including photographs, on computer."
2007 — 10 years ago
Dirt mounds covering part of the lawn in front of the Mt. Hood Town Hall show signs that winter restoration work is in full swing. While work on the former 1914 schoolhouse has been in progress for many years now, this winter's projects represent several major phases and also the passion of a committed group of volunteers. The Mt. Hood Town Hall Society wants more feedback from the community on the use of the building as well as help in making the site "the community center of your dreams."
— Compiled by Trisha Walker, news staff writer