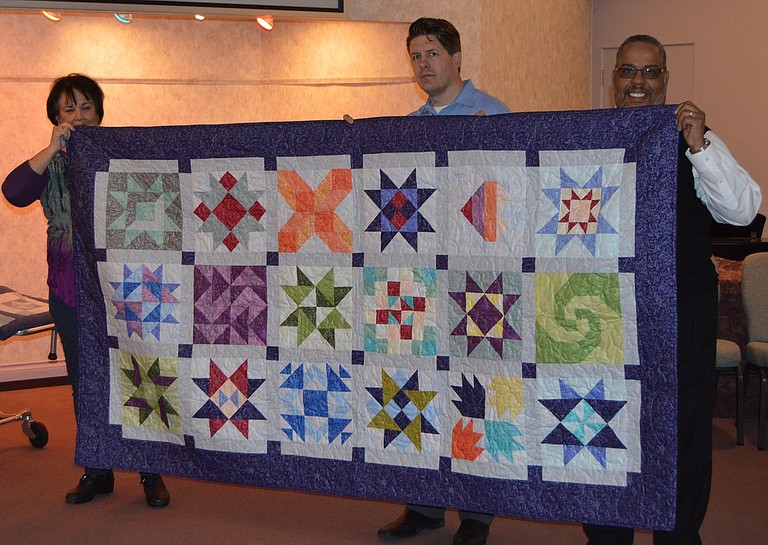 Saturday, February 25, 2017
Anderson's Tribute Center got a special gift on the afternoon of Tuesday, Feb. 21.
Jean Stone, Columbia River Gorge Quilters Guild member, Kim Vogel, guild president, and Tim Willis, pastor at Wy'east Community Church, presented Anderson's owner Jack Trumbull a colorful quilt that members had created to adorn cots at The Dalles Celilo Chapel location.
"This means so much to the families we serve," Trumbull told Stone as he accepted the quilt.
Anderson's has three other such "comfort quilts" — two at its Hood River location and one in The Dalles — so called because of the comfort they bring to families who see their recently deceased loved one swaddled in a freshly laundered quilt.
"These quilts are truly cherished," said Willis, who said the quilt was first presented at a church service that Sunday. He retold stories by parishioners whose loved ones had been wrapped in one of the quilts to be taken to Anderson's. "The death of a loved one is not fun, but they had good memories of the quilt," he said.
Having a body wrapped in a quilt sends "a different message" than using a body bag, said Trumbull. With a quilt, families "know that their loved one is safe and well cared for."
He and wife Debbi have been using quilts since taking ownership of Anderson's in 2007 — it was that same year Dog River Quilters made the funeral home's first two quilts.
"This is so very special and has had such a great impact on the families we serve," said Trumbull. "We use these quilts where most funeral homes today use industrial materials — many of which have zippers — to cover deceased loved ones. We don't use those. We use the quilts that have been made by our community with love to swaddle … loved ones with when they pass away."
Vogel said the Columbia River Gorge Quilters Guild has created many such comfort quilts for various Gorge organizations, such as the White Salmon respite center, Providence Hood River Memorial Hospital's baby unit, Helping Hands Against Violence women's shelter — both for the shelter and for residents to take with them when they leave — and Providence Hospice of the Gorge. Quilts have also gone to the Suttle Lake AIDS Camp, where first time campers receive a twin quilt for their bunks that they bring back each year.
"When a situation presents itself, we make sure we support them," Vogel said.