Saturday, February 25, 2017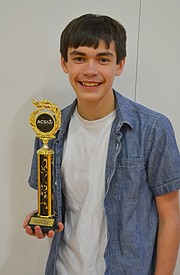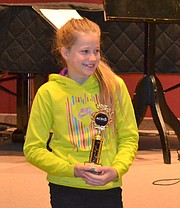 Kai Robertson, eighth grader at Horizon Christian School, spelled his way to champion at the recent Association of Christian Schools International (ACSI) District Spelling Bee in Camas, Wash. Ellie Rinella, sixth grade, took fourth place. Both students will compete in the ACSI Regional Spelling Bee later this month.
Eight private schools sent spelling bee grade level champions and second place finishers to the spelling bee. Horizon Christian School was represented by Alex Wilson (first grade), Magdalyn Rogers (first), Annalese Rinella (second), Jennica Rigert (third), Adam Hardin (fourth), Caleb Caldwell (fourth), Travis Lage (fifth), Ellie Rinella (sixth), Miyana Robertson (sixth), Josh Rogers (seventh), Kai Robertson (eighth), and Nolan Ryan (eighth).

Three students from Horizon placed in competition at their grade level: Magdalyn Rogers, fourth place, Ellie Rinella, second place, and Kai Robertson, third place. The top four spellers from fifth-eighth grade level competitions (16 spellers), including Robertson and Ellie Rinella, then competed in the combined final spell-off to crown the district spelling champion and other trophy winners.