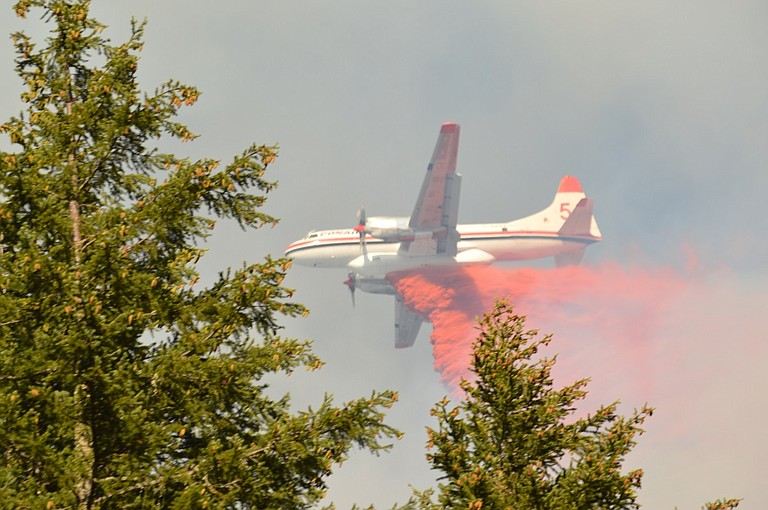 Originally published January 4, 2017 at midnight, updated January 4, 2017 at midnight
More snow.
Six new inches fell in Hood River on Jan. 2, and nine or more inches in the upper valley, bringing the Gorge to within five days of one solid month with snow on the ground — the snowiest December in memory for the valley floor.
The region saw a White Christmas and a White New Year's, and Monday's new blanket came just in time to cause a two-hour school delay on Jan. 3.
By turns powder, ice, slush and mud, the frozen precipitation has often defied description: "Can we get a sander out here? People just can't get through — whatever you call this," an officer said via scanner in early December.
The snow and its effects ensured an excellent early season at Mt. Hood Meadows and encouraging signs for the Mt. Hood snowpack and its nourishment of Gorge agriculture this spring and summer.
The weather figured prominently throughout the year; the summer of 2016 brought high heat, but with no major fires.
Here's a look back at other news from July through December:
On July 3, the News reported, "A man armed with a gun entered Subway and told an employee to give him the money from the cash register, according to Sgt. Don Cheli. The man left Subway with an undisclosed amount of cash and was last seen running towards the area of the skate park, located at the corner of 20th Street and Wasco."
UPDATE: The library was the scene of an unusual event July 9 — the arrest of Tucker Douglas Shepherd, after a Hood River Police saw Shepherd go into the building. Police, along with County Sheriff's deputies, escorted him from the building with no incident.
Shepherd was arraigned in Hood River Circuit Court on two felony charges, robbery in the second degree and unlawful use of weapon, as well as two misdemeanors, menacing and theft in the second degree.
In September, he was sentenced to seven and a half years in prison. He was also ordered to pay $272 in restitution to the Subway sandwich shop at 1920 Cascade Ave.
The year also brought a mid-year change in key leadership positions.
Mid-2016 saw the formation of a new county park — Punchbowl near Dee — and approval of upgrades to an existing park — Golden Eagle next to Hood River Valley High School — both happening in early July.
County planners okayed an application by Hood River Valley Parks and Recreation District on June 24 to develop the overgrown stretch of land neighboring the HRVHS ballfields.
Devon Wells resigned as fire chief after 12 years in the position, succeeded by interim chief Leonard Damien.
Jeff Hecksel was hired as County Administrator in July and started work in August, succeeding Dave Meriwether, who retired after 16 years in the post, and Rachael Fox was promoted from assistant to executive director of Hood River Library District, following Buzzy Nielsen's departure for the Crook County Library.
The board chose Hecksel because he was the most experienced out of five finalists, Board Chair Ron Rivers said. He also praised Hecksel's "relaxed" demeanor and ties to Oregon. Hecksel began his career in public leadership as an administrative staffer for the City of Mesa, Ariz. He has a bachelor's degree in Local Government Administration from Central Michigan University and a master's in Public Administration from Arizona State University.
Most recently, Hecksel was the city manager for Glenwood Springs, Colo., for 11 years. He has experience in two Oregon cities — six years as city manager of Monmouth and 12 years working for Forest Grove, 12 years in total which he spent in part as assistant city manager.
UPDATE: The city expects to conclude its search for a new Hood River fire chief in February 2017.
An ensemble of artists, patrons, and artistic organizers announced a new group, Performing Arts Initiative (PAI), for the long-range purpose of developing and presenting larger scale, higher-end artistic performances that are on a par with communities such as Ashland, Park City, Bend and Spokane, and make the Gorge a regional arts destination.
Formed in January of this year, PAI is led by Mark Steighner, who retired in 2015 after 38 years as the Musical Director of Hood River Valley High School.
PAI founders have a vision to expand the culture and attractiveness of the Columbia Gorge beyond its core of outdoor tourism, active sports, high-tech and agriculture.
"We're estimating that this project will take 4-5 years before reaching the first act, and total costs are yet to be determined," said Steighner. "It is an effort that will require the greater Gorge community to pull together."
UPDATE: In December, PAI and Westcliff Lodge owner Grant Polson jointly announced a lease agreement for five acres of land west of the lodge, on Westcliff Drive, as a potential home for the regional arts center.
A new 88-room hotel at Nichols Basin on the Hood River Waterfront had its soft opening July 13. The Hampton Inn & Suites is located at 1 Nichols Parkway (a new road connecting the hotel to North Second Street). The hotel's grand opening ceremony was Aug. 11.
Just west of that Nichols basin, construction started in July on Key Development buildings on the Hood River Waterfront; tenants include Turtle Island Foods and Ferment brewery.
The Portway buildings, both three stories tall and 15,000-square-feet, will be connected by an accessible roof walkway. The amended plan shifts some elements around and repositions an "elevator core" into an indoor area between the buildings. Entrances will be ADA accessible.
Just south of the former Expo Center site, construction nears completion on Sheppard's Orchard and Vineyard Equipment's new location. Co-owner Ben Sheppard said completion is expected in early spring on the 20,000 square-foot building.
June's oil tanker spill and fire in Mosier stayed in the news all summer; in July, Oregon Department of Environmental Quality found that groundwater at the site had been contaminated as a result, raising concerns for wildlife health in the Rock Creek wetland near the Columbia River.
DEQ found high levels of benzene and other volatile organic compounds in one of four test wells crews installed north of the Union Pacific train tracks shortly after the wreck. The contaminant levels were 10 times higher than the safe amount for animal populations.
DEQ ruled Moser's drinking water safe because the municipal water supply is located a mile away from the spill, uphill.
A mid valley landmark, Gehrig's Chevron, marked its 70th year in business.
As Trisha Walker wrote in the July 27 Kaleidoscope:
"While much has changed in Hood River and the middle valley, about the only thing different at Gehrig's is the gas prices.
"'It's one of the very few businesses that has been continuously run by the same family,' said Patricia Gehrig, whose father-in-law, Rudy, opened the station with his brother Harold after the end of World War II. She and husband Butch took over the station in 1980."
AUGUST
Firefighters quelled the Neal Creek Fire, which roared up Aug. 2 and burned 15 acres of brush and timber on a ridge about eight miles south of Hood River. Crews made "really good progress" on the blaze overnight and had stopped its spread, Public Information Officer Christie Shaw said. The fire was 50 percent contained by Aug. 3, and crews expected to mop it up completely within the next several days.
The last issue of July and the first several in August carried several tragic items: the discovery of the bodies of two Kentucky men, missing for almost two years, on the Dog River Trail in the Mt. Hood National Forest south of Parkdale. John Kevin Wood, 59, and Jason Anthony Wood, 32, went missing in September 2014. Evidence suggested the pair died of a murder-suicide, according to Sheriff Matt English.
In early August Hood River News reported the death of Richard Sperling of Hood River in a plane crash at the Columbia Gorge Regional Airport in Dallesport, and the discovery of a body on Mount Adams, believed to be Robert Burroughs of Stevenson, an employee of Sushi Okalani restaurant in Hood River.
The Aug. 6 and Aug. 17 editions also reported on deaths of a New York man in a fall in Eagle Creek and a Portland man in a fall a Dry Creek Falls.
In late August, Hood River City Council adopted short term rental regulations a year after the issue came to dominate its docket.
By 5-1 vote, council approved Ordinance 2026, regulating STRs in the city — which will formally take effect after second reading of the ordinance on Sept. 12. In favor were Susan Johnson, Kate McBride, Peter Cornelison, Tim Counihan, and Mayor Paul Blackburn. Becky Brun, who operates an STR, recused herself and did not vote. Councilor Mark Zanmiller voted against the ordinance. The long-debated ordinance is the first of a three-part strategy the city adopted in 2015 to deal with the lack of affordable housing (aka work force or accessible housing).
The other two strategies, yet to be formally addressed by the city pending the STRs issue, are increasing residential land use efficiency and development of affordable housing structures.
A new wave of development is coming to Ken Jernstedt Airfield.
The Port of Hood River, the airport's owner learned in late August that it is set to receive $1,364,900 in grant funding from a state transportation commission. The port's "Aviation Technology and Emergency Response Center" made the list of 39 multi-stage transportation projects approved to dip into the Oregon Transportation Commission's (OTC) funding pool. A first push from OTC marks a set of upcoming investments from the port, private partners and state and federal grants that will lead to an estimated $7 million in improvements at the airport in south Hood River over the next several years. Improvements to the airfield's north ramp have taken up prominence in the port's Airport Master Plan for more than 20 years, which calls for relocation of the Fixed Base Operator (FBO) building and other infrastructure upgrades on the south side of the airstrip. The port's new FBO, TacAero, is a private business partner that gives day-to-day operational support at the airport.
The Robert Wood Johnson Foundation award was given to the Gorge Grown Food Network and came with a $25,000 prize to address hunger issues. The money will go to a chief partner, Gorge Grown Food Network.
The Hood River County School District (HRCSD) closed on the sale of $57.2 million of voter-supported bonds, Hood River News reported in September. Investors purchased the bonds at a premium — in part because of the district's strong financial stewardship and associated AA-plus bond rating, according to Superintendent Dan Goldman in a press release. Goldman said that on average the bond coupons sold on the market for 14.5 percent more than asking price, resulting in an additional $8.5 million to the school district, all while staying within the estimated target tax levy of $1.83 per $1,000.
UPDATE: The School District will complete most of its bond construction bond planning this spring, following meetings seeking public input later in January, with some projects scheduled for summer 2017.
SEPTEMBER
Morrison Park has been the site of Hood River's disc golf course for over a decade, but in the coming years, it may have a different use: affordable housing.
The City of Hood River in September submitted an application to the Hood River Planning Commission to rezone the park, located at the northwest corner of Wasco and 20th/Jaymar streets, from Open/Space Public Facilities (OS/PF) to Urban High Density Residential (R-3). City officials are currently working with the Columbia Cascade Housing Corporation (CCHC), a nonprofit affordable housing agency, on the development.
The park is located on Wasco Street at 22nd, across the street from the Rotary Skatepark.
The 5.33-acre parcel is owned by the city and has been looked at off and on for years as a potential site for affordable housing. Joel Madsen, executive director for CCHC, reported that the city has long identified affordable housing as a priority for the city, but does not have "enough adequately zoned properties for multi-family dwellings," nor enough buildable land for that purpose.
The proposal has drawn early opposition. A sign has been erected outside the park's information kiosk, that reads: "SAVE THIS PARK from development — SAY NO to R-3!" Attached is a copy of the city's public notice of the rezone. Tracy Hollister, an adjacent property owner, voiced his displeasure in a letter to the News, stating: "Affordable housing needs solutions, but killing parks is not the answer."
The city and Hood River Valley Parks and Recreation District, which maintains the park, signed an intergovernmental agreement in March 2005 for the development of the park; it was always with the understanding that the use of the parcel could change at some point. The agreement states that HRVPRD can use the area as a park "… until such time as the city determines that the Park property should be used for other purposes..." The city is required to give HRVPRD at least 90 days' written notice before terminating the agreement.
One Community Health, the provider based in Hood River and The Dalles, celebrated its 30th anniversary in October 2016 with a month of activities based on the science of happiness, designed to make our community healthier. Called Gorge Happiness Month, the month of activities was based on the science of happiness designed to make a community healthier. OCH provided a variety of ideas for how individuals, organizations and businesses can participate in Gorge Happiness Month. Individuals simply take the Happiness Index Survey this month, do things in October that make them happy, then take the survey again at the end of the month.
To participate, anyone could simply offer something at the event that helps make people happy: a hair salon can give short head massages, non-profits can give a list of easy ways to volunteer, a real estate company can give tips for making your home happier.
A new piece of the Historic Columbia River Highway State Trail opened to the public. The 1.2-mile segment connects an existing trail at Viento State Park to Lindsey Creek, creating a smooth surface running long enough for visitors to catch three waterfalls. Starvation Creek Falls, trickling Cabin Creek Falls, and Hole-in-the-Wall Falls await travelers.
The new stretch represents another step forward for transportation and historic groups as they work to restore the old Highway 30 into a trail running 73 miles from Troutdale to The Dalles.
UPDATE: Next up on the Historic Highway reconnection project will be tying Lindsey Creek to Wyeth. Construction is expected this spring.
The new portion of the trail is accessible from Viento State Park, I-84 exit 56, and Starvation Creek Trailhead, exit 55. The path makes for an easy family walk or bike ride, with shady terrain and ADA-accessible turf.
The Federal Lands Access Program in early November awarded ODOT a $28 million grant to complete a crossing at Mitchell Point, a rocky cape west of Hood River, which has been an expensive hurdle in the Columbia River Historic Trail project. Transportation agencies have been piecing together segments of the old Highway 30 over the last few decades, repurposing it as a pedestrian and bike trail that will one day run 73 miles through the Columbia River Gorge.
ODOT will be working with partner agencies — including Oregon Parks and Recreation Department, the U.S. Forest Service, and Federal Highway Administration — to design and construct a safe crossing around the daunting Mitchell Point. Federal funds will allow the agencies to wrap up designs for a five mile stretch of the trail, and build connections from the west to Perham Creek, and east of Mitchell.
In Odell, the pieces of The Puff Factory are coming together on the 26,000-square-foot freeze-dried fruit plant, located at 3030 Lower Mill Drive, slated to open in spring. The company broke ground onsite in May. Once complete, Puff Factory will transform fruit from the Hood River Valley and greater Northwest into healthy snacks via a patent-pending technique, developed in partnership with the Oregon State University Food Innovation Center in Portland.
OCTOBER
The City of Hood River celebrated its first Indigenous People's Day gathering Oct. 10 at Second and State streets, the Overlook Memorial Park. Mayor Paul Blackburn invited members of the Yakama and Warm Springs tribes to attend, and he read the proclamation passed this month declaring the second Monday of October to be Indigenous People's Day (officially replacing the name "Columbus Day" in Hood River).
School Board member Jan Veldhuisen Virk, one of the longest-standing elected officials in Hood River County, announced she will resign at the end of January 2017. Virk, who works as a nurse, started on the Hood River County School District Board 18 years ago.
Hundreds of people gathered at events at Hood River Library, History Museum of Hood River County and Columbia Center for the Arts for centennial birth anniversary of Minoru Yasui, Hood River native son and lifelong civil rights advocate who received the Medal of Freedom from President Barack Obama in 2015.
Three generations of Yasuis attended the dedication of a monument to be placed at the Hood River Library this winter. Granddaughter Chani Hawkins told the crowd, "In my eyes, his legacy is straightforward and elegant. Min's legacy is the words inscribed on his final resting place … Justice for all. This dedication ceremony is a time to set apart a particular place to honor and memorialize his service and dedication to all people."
Speakers included moderator Maija Yasui, who thanked the Yasui clan, local students, and the library for their parts in the years-long Min Yasui Legacy Project that led to last year's rare presidential honor. County Commissioner Maui Meyer spoke and U.S. Rep. Greg Walden read Obama's Medal statement.
Health and education were the focus for Gov. Kate Brown on Oct. 24 as she toured Hood River Middle School with principal Brent Emmons, Supt. Dan Goldman and others, following a meeting at Hood River Library with participants in the PacificSource Community Solutions Columbia Gorge Coordinated Care Organization. The Gorge CCO serves more than 13,300 Oregon Health Plan members in the greater Gorge region. With Brown was Andy Slavitt, acting director of Centers for Medicare & Medicaid Services (CMS) under the U.S. Department of Health and Human Service.
The governor said her briefing in Hood River was instructive in many ways, including looking at the Gorge CCO as a model for others.
"I learned some things today: the level of commitment and collaboration and collective impact here is absolutely extraordinary," she said. "I would be looking at other states and say, 'This is the model I would look to.'"
NOVEMBER
Crag Rats celebrated 90 years as an organization serving the community, with an open house at Crag Rat Hut on Oct. 30. The fire roaring within the huge, welcoming hearth was as much symbolic as a need for a heat source on a temperate afternoon as Crag Rats opened their doors and served cake and punch to about 100 people, including numerous Crag Rat alumni, many in the Crag Rats' distinctive black-and-white check vests, shirts or jackets.
"This is such a wonderful opportunity for Crag Rats to come together, and we have people from all over," said Kent Lambert, a member since the 1950s.
In the same Nov. 8 General Election ballot that saw the election of President-elect Donald Trump, voters returned to office Rep. Mark Johnson of State Dist. 52, U.S. Rep. Greg Walden of Oregon's Second District, and Hood River City Councilors Kate McBride and Mark Zanmiller.
In an unusual example of leadership transition, the election saw Port Commissioner Rich McBride elected to the County Board of Commissioners, succeeding Maui Meyer, who opted not to run again. McBride will hold both positions through May 2017.
In her first political race, Megan Saunders also won election to Hood River City Council.
A coalition of environmental groups reached a tentative agreement with Burlington Northern Santa Fe Railroad (BNSF), signaling the end of a three-year court battle over coal pollution. The seven groups, including Hood River-based Friends of the Columbia Gorge and Columbia Riverkeeper, charged the railroad with contaminating numerous Gorge waterways with coal that dropped from railcars. They sued under the federal Clean Water Act.
Hood River City Council heard 13 people testify Oct. 28 on the question of designating the city as sanctuary from looming immigration enforcement.
The council voted unanimously to instruct city staff to draft a resolution for consideration in the Dec. 12 council meeting. Most people spoke in favor of the sanctuary designation, but four citizens expressed opposition, and several council members urged caution given the Trump-elect administration's vow to withhold federal funding to cities that do not cooperate with efforts to deport people considered illegal immigrants. All council members agreed a "strong statement" is in order, but some, including Councilor Mark Zanmiller, said the council should reserve the right to pass a resolution that does not involve the term "sanctuary."
Councilor Kate McBride said, "I'm pretty mad and feel pretty strongly that we should be a sanctuary city."
"This step is huge. This is really important," said Alejandro Augilera of Hood River. "We need this for Hood River and the people who work in the farms, out in the county, where the danger is."
At issue with sanctuary resistance is allowing law enforcement officers or other city resources to be involved in the investigation or arrest of individuals. The resolution will be based on the one recently adopted by the City of San Francisco, which states, in part, "that no matter the threats made by President-elect Trump, San Francisco will remain a sanctuary city. We will not turn our back on the men and women from other countries who help make this city great, and who represent over one third of our population."
UPDATE: The issue was postponed until the Jan. 9 council meeting, when the council is expected to make a decision.
DECEMBER
About 30 people in the Gorge Food Security Coalition met at FISH Food Bank in Hood River to sign into being a collaboration started six months ago.
Food Coalition co-conveners Mark Thomas of Hood River and Ken Bailey of The Dalles welcomed the group, and acknowledged the work of program manager Liz Overhausen and Jim Jakes of Oregon Solutions, based at Portland State University.
Thomas spoke of the challenging "trajectory" of the project: "how do we land this plane, is it specific enough, and we trusted in Jim and Liz, and it's brought us to that point."
The coalition was awarded a $20,000 grant through the Wy'East Fund and the Taylor and Alice Alexander Fund of the Oregon Community Foundation to fund a program manager to staff the coalition and help advance their objectives over the coming year. Gorge Grown Food Network will serve as "the backbone of coordination and organization."
"Everyone involved is already actively engaged, so we will try to be more action oriented than meeting oriented," she said.
The City and Port of Hood River plan to install coin-style pay meters on Portway Avenue and nearby waterfront district streets, starting in spring 2017, as part of an overall parking management strategy.
Hood River County Board of Commissioners on Dec. 12 overturned the Planning Commission ruling against DeeTour Hotel, developed by Apollo Land Holdings, saying the proposal meets the county Comprehensive Plan as an allowed use. The hotel is an add-on to a proposed concert venue at Dee Highway and Lost Lake Road, one that proponent Jason Taylor said will invoke the historic hotel at the former Dee Mill site and serve as a needed economic development to the upper valley.
"We will take a concrete slab and bring back a part of history," Taylor told the commissioners.
Heather Staten, executive director of the appellant Hood River Valley Residents Committee, said, "there are certainly rural-scale commercial uses that would fit in this location, but this is not one of them."
UPDATE: Said Mike McCarthy, HRVRC board member, in the hallway after the Dec. 12 meeting, "This is not over."