Saturday, January 7, 2017
Editor's Note: This is the second of two stories with U.S. Rep. Greg Walden, R-Ore., about the transition of leadership and his role with a GOP-led White House and Congress.
As the only Republican in the Oregon congressional delegation, U.S. Rep. Greg Walden has taken on a new role with a change in national leadership.
"I'm in communication with the (Donald) Trump team about people seeking appoints to the administration," he said.
"I am giving advice to counsel and the vice president. That is an added responsibility that I am more than happy to take."
Walden spent much of his childhood on a cherry orchard in The Dalles and now lives in Hood River.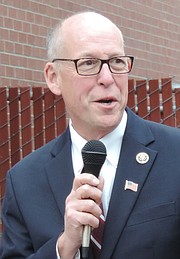 He said President-elect Trump will fill 21 Cabinet posts and about 4,000 jobs for White House staff, federal attorneys, assistant and deputy secretaries, advisers and ambassadors. Speechwriters, schedulers and press secretaries also need to be hired for each federal agency.
In addition to assisting with this monumental task, Walden's office is arranging for Oregonians to get tickets to the inauguration and planning a sightseeing itinerary for their visit to the capitol.
"We are sort of taking on the concierge role," said Walden.
He will be seated with other dignitaries on the platform when Trump and Vice President-elect Mike Pence take their respective oaths of office at the U.S. Capitol on Jan. 20.
Pence, who served in the House from 2001 to 2013 and then became governor of Indiana, has become a friend, said Walden.
He was also pleased with Trump's choice of Reince Priebus for White House chief of staff. He developed a close working relationship with Priebus, who chaired the Republican National Committee, during the time that he was leader of the House GOP's campaign arm.
Walden counts Ryan Zinke, Trump's pick for Secretary of the Interior, as a personal friend. Montana's freshman representative and a former Navy SEAL commander ran for office largely on a national security platform.
Another friend is Tom Price, a six-term Republican representative from Georgia and orthopedic surgeon who has led opposition to the Affordable Care Act. Price has been named by Trump as his choice for Secretary of Health and Human Services.
Mike Pompeo, a representative from Kansas and former Army officer, is a great choice for CIA director, said Walden of this friend.
Pompeo is a member of the House Intelligence Committee and was a sharp critic of Hillary Clinton during the congressional investigation into the 2012 attack on the American diplomatic compound in Benghazi, Libya.
"These are quality people and there are others that I don't know well but the confirmation hearings will provide more information about what they've done and said," said Walden.
Although he does not personally know retired Marine Gen. James Mattis, who has been chosen as Secretary of Defense, Walden is aware of his reputation as a tough but fair warrior. He believes Mattis will help make America more secure than it has been under the "benign foreign policy" of President Barack Obama.
"I think Obama left the world a much more volatile and dangerous place," said Walden. "I think that's all about to change with a clear vision for foreign policy. I think we'll see a stronger world order and people will respect America more; we will take our leadership role once again."
He does not envision any major problems in the confirmation process of Cabinet picks because Trump is given authority to choose his top administrators and, if they are vetted and determined to be qualified, then they will be approved.
The vetting process for nominations includes submission of several forms and a thorough background check by the FBI, which includes financial disclosure reports, criminal checks and questionnaires about ties to foreign governments.
During Senate hearings, filibusters will not be an issue because Democrats changed the rules several years ago to eliminate the 60-vote threshold for most nominations. Supreme Court selections are still subject to filibuster but other positions are decided by a simple majority vote.
Hearings are likely to start soon after the 115th Congress is sworn in on Jan. 3, but nominees may not be confirmed until after Trump is sworn in on Jan. 20.
"I'm optimistic about the future and I think Americans are, too, if you look at the polling data," said Walden.
GOP leaders will work well with the new president, he said, despite the media playing up the negativism of a small handful of Republicans who opposed him.
"When the media talked about the GOP losing seats in the House and Senate, as well as the presidency, I said, 'Show me the data' because I knew it wasn't out there," said Walden. "The negative comments made by a few got all the coverage and people were really given a distorted view."
He announced his endorsement of Trump in May and immediately faced a backlash from Democrats and some Republicans for that decision.

"That was that and then I went on about my business," said Walden of the situation.
"Trump knows how to work with people and get things done. Those are major tools in the political trade," said Walden.