Saturday, January 14, 2017
Breweries in the Gorge (B.I.G.) holds the first "Holiday Hangover Brew Fest" Jan. 14 at the Elks Lodge in downtown Hood River — got to say this: weather permitting.
From noon to 8 p.m., all 12 breweries will be featuring a variety of beer, live music, local food carts, and specialty beer tappings throughout the day. The event is 21 and over. Also available are limited edition silkscreened Holiday Hangover Brew Fest posters available for purchase, as well as music with DJ Magnetwork and a live performance by old-time folk, rock 'n roll one-man band McDougall, presented by Best Western Plus Hood River Inn.
Admission is $25 and includes a collector's glass and 10 drink tickets; cash at the door or advance tickets available at www.merctickets. com/events/40141793/holiday-hangover-brew-fest.
WSJ boosts Logsdon
Logsdon Farmhouse Ales of Hood River gained a rarified mention in the Dec. 24-25 Wall Street Journal "Off Duty" section.
The article, "This is My Beer," by William Bostwick, is subtitled "A road map to major regional styles," and divides U.S. beer into seven regions, including Northwest (Oregon, Washington, and Idaho), plus all of California minus Los Angeles south, which is "So. Cal." The others are Mountain, Southwest, MidWest, Southeast and Northeast.
A sidebar, titled "Cascadian Sour" (essentially the Journal's stream-styling of all Northwest beers) includes Logsdon Farmhouse Ales' Peche and Brett (10 percent ABV), along with Portland's Cascade Kriek (8.2 percent ABV), and a Santa Adairius Rustic Ales (California) West Astley (7.3 percent ABV).
Of the Peche and Brett, the writers say, "Wild yeast and farm-fresh peaches, a half a pound per gallon, give a fuzzy, floral dryness with wisps of fruit like an orchard on the breeze."
Which is probably as good a description as you'll find of Logsdon's hallmark ale.
Full Sail Brewing Company's Brewmaster Reserve Slipknot IPA is now available in six-packs for the first time. This three-time gold medal winner features a big Northwest hop aroma and robust bitterness balanced with a full malt body (7.0 ABV, 80 IBU).
"Slipknot is, once again, the beer for the serious hop lover," said Executive Brewmaster Jamie Emmerson. "When we first made our Classic IPA back in the '90s, hardly anyone was making IPAs. A lot has changed since then, but we're still on the craft beer forefront constantly combining enthusiasm with expertise. With Brewmaster Reserve Slipknot IPA, we've added a Northwest influence and amplified everything."
Brewmaster Jim Kelter said,"Slipknot features a big Northwest hop aroma and robust bitterness balanced with a full malt body. Cascade, Nugget, Citra and Mosaic hops deliver pungent scents of citrus and pine. Extensive dry-hopping enhances this character with flavors to match. Northwest 2-Row Pale and Crystal malts add a rich, spicy malt character."
Slipknot IPA is available January through May in six-packs, 12 oz. bottles, on draft.
•
Beer of the Week: Cognac stout at pFriem Family Brewers; this velvety, aromatic quaff (10.5 percent ABV) starts a little boozy but that feeling tails off to a mellow, rounded swirl of fig and vanilla, and the subtle aroma of cognac. I savored this over an hour-long conversation on a snowy night in the upper floor "library" — which my wife and son and I had all to ourselves. Order at the bar and carry your ales upstairs, and settle into one of Hood River's best-kept secrets.
•
Add: Brewers in the Gorge: micro-brewery owners and the industry in general discourages over-consumption of a product that we have all come to hold in regard foremost not as an intoxicant but for its quality and culinary compatibility. So invoking "hangover" surprised me when I got word about the B.I.G. event Jan. 14 (details above). Of course, the hangover refers to the wooziness we feel from the overly-hectic holiday season itself.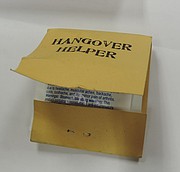 At least one Oregon brewery did make jest of the word a year or so ago, in its promotional materials. I came across it in, of all things, my family's annual Christmas "gag gift" exchange last month: Redmond's Cascade Lakes brewery issued a matchbook-sized "Hangover Helper," containing towelette, antacid, ibuprofen, and a stick of gum. (The name, of course, is a play on the inexpensive long-shelf-life product used for amending ground beef dishes.)
The promo piece was handed out at last year's central Oregon Winter Ale Fest, and it was in a bag from my brother Joel, an expert fermenter and owner for 18 years of Corvallis Brewing Supply. He has accrued an eclectic variety of beer-related shwag and relics, and the gag gift also included a dust-covered can of M*ASH 4077 beer and a baseball with a hole drilled in it — "tap handle!" Joel explained when I puzzled over it.
No, I have no plans to drink the M*ASH beer, and will have no need for the Hangover Helper.
— Kirby Neumann-Rea