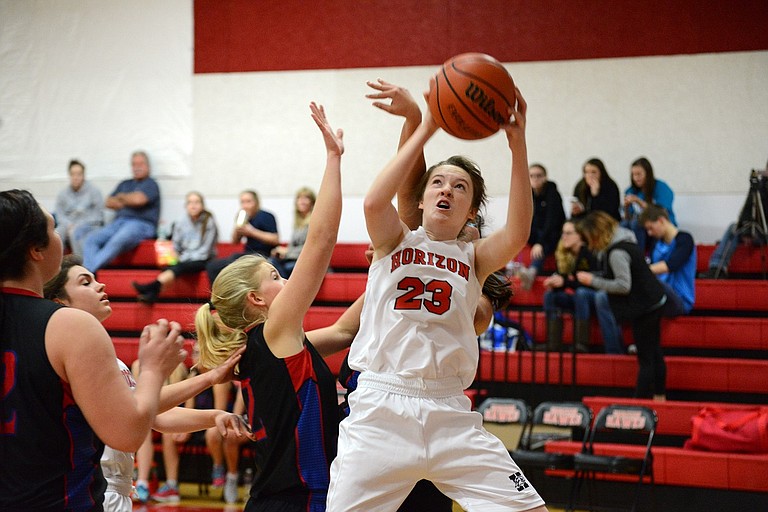 Wednesday, January 18, 2017
For the first time in school history, the Horizon girls basketball team started the Big Sky Conference season with a 2-0 record after a 59-47 win over the Dufur Rangers Friday at Dufur High School.
Horizon, led by Coach Brian Stevens, had hopes of extending its streak to three when they faced the highly regarded and 14th-ranked Arlington Honkers at home on Saturday. Arlington (8-4, 3-0), the top Big Sky title contender this year, showed that they are indeed one of the league's best teams with a 47-35 win over Horizon.
Horizon (8-5, 2-1), which has the fifth-ranked offense (50.5 points per game) in Class 1A, had a good start and built a 10-4 first quarter advantage over the Honkers. Arlington responded and then regained the momentum to take a 23-20 halftime lead. Arlington led the remainder of the game as Horizon was unable to overcome the deficit.
"We started the game strong, but when we went to our bench in the second quarter, we simply made some defensive errors and we couldn't hold onto the lead," said Stevens. "We battled hard in the third quarter, but in the fourth, Arlington's Meghan Hauner (28 points) proved to be too much for us to handle. She made some big shots down the stretch. Arlington just played much better than us in the fourth."
Horizon junior Paulina Finn led the Hawks with a double-double, recording 22 points, 13 rebounds and six steals. Senior Katie Wenz had nine rebounds and four points. Senior Jodee Hicks had eight rebounds, four blocks, and four points.
"After having a week off because of the weather, we played a little rusty against Dufur," said Stevens. "We played well offensively and had good ball movement with everyone finding open players. Dufur couldn't handle the strong inside game we had from Paulina and Katie. Paulina went to the free-throw line 13 times after drives to the basket."
Finn recorded another double, leading Horizon with 21 points, 16 rebounds, seven steals and four assists. Wenz also had a double-double, scoring 16 points and collecting 10 boards. Hicks had eight points, 11 rebounds and four blocked shots.
Horizon was originally supposed to travel to South Wasco Tuesday night, but was postponed due to a menacing weather forecast. The Hawks are hoping to start a win streak this week, as they'll face teams with losing records. Horizon meets the Mitchell Spray Loggers (2-6, 0-3) in its next contest on the road Friday at 6 p.m. Horizon's next home game is Saturday at 4 p.m. against the Ione Cardinals, who are winless through 12 games. Horizon is currently in third place in the league behind Arlington and South Wasco County.