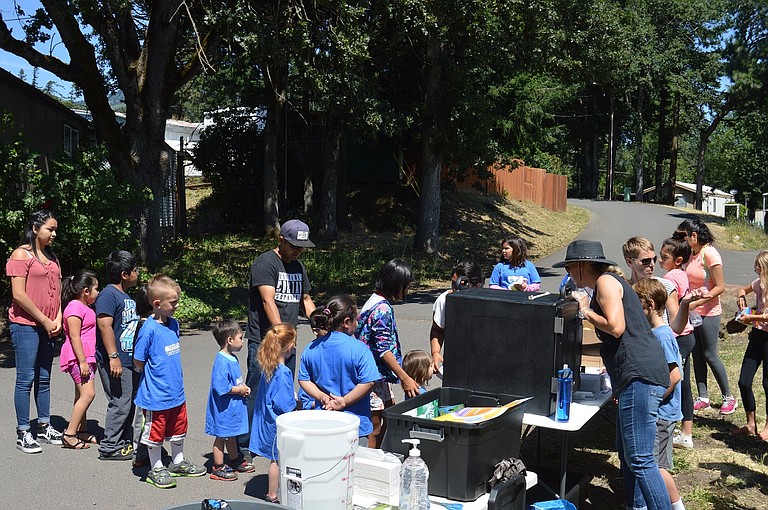 Originally published July 1, 2017 at midnight, updated July 1, 2017 at midnight
A free meal program has come to Hood River this summer for kids ages 1-18.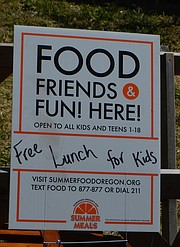 Marianne Brevard and Katie Haynie, co-coordinators, and a group of volunteers will be at Cascade Mobile Manor on West Cascade and Indian Creek Apartments on the Heights each Tuesday and Thursday from 11:30 a.m. to 12:30 p.m. through July 27. (There will be no service July 4.)
The program serves hot, nutritious meals along with a helping of fun. Brevard said that they have books to give away, as well as activity books that promote healthy eating, sidewalk chalk, bubbles, hula hoops and jump ropes.
"We want to keep kids onsite for the hour they are here," Brevard said.
FISH Food Bank sponsors the program, and a grant from Partners for a Hunger-Free Oregon helped get it up and running last summer, she said. Meals are USDA "complete meals" and are provided by Boda's Kitchen, Fresh Start Culinary Program and Taqueria Los Amigos. On Thursdays, shelf-stable take home bags are also available.
"The meal is free for anyone ages 1-18 — whether they live in Hood River or not," she added. "Everyone is welcome."
To volunteer, email Brevard at mariannebrevard@yahoo.com.