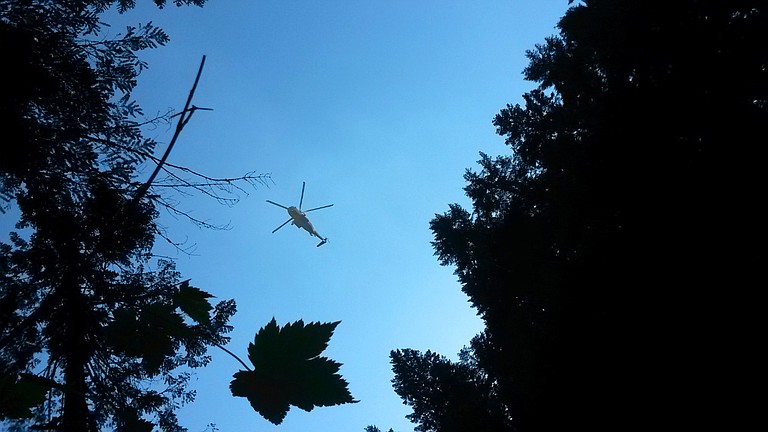 Originally published July 8, 2017 at midnight, updated July 8, 2017 at midnight
Forestry officials are warning the public to avoid certain trails west of Cascade Locks due to a fire burning an estimated 6-7 acres Friday.
The Indian Creek Fire, reported Tuesday night, is burning just west of Eagle Creek Trail No. 440, near Seven and a Half Mile Camp, in the Mark O. Hatfield Wilderness on Mt. Hood National Forest lands.
The fire's title is not based on the pedestrian trail of the same name that runs through the city of Hood River.
Crews haven't contained the blaze as of morning on July 7. However, the fire is not spreading. It has been burning in heavy dead and down vegetation on a steep hill.
"It continues to smolder," Claire Fernandes, east zone recreation manager with Mt. Hood National Forest Service, said Friday.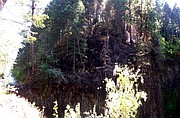 Access on foot has been virtually impossible due to a steep cliff where the fire broke out. A crew of five USFS firefighters are actively monitoring the scene, stationed east across the creek, while a helicopter drops water on the fire. Charred brush remains in the wake of the fire, atop a basalt bluff west of the creek, not far from the popular trail.
"The main concerns now are threats to the public and firefighters," Rachel Pawlitz, Columbia River Gorge Scenic Area spokeswoman, said Thursday.
Little has changed in the fire's status as of press time Friday. The cause of the fire has not yet been determined, Fernandes said, because officials are not able to gain access to the site.
A closure order has taken effect on the following trails and surrounding area:
Eagle Creek Trail No. 440, starting at the boundary with Mark O. Hatfield Wilderness (to the north) and extending south to its terminus at the junction with the Pacific Crest Trail. The closure will include adjacent trails Eagle Benson No. 434, Indian Springs Trail No. 435, Eagle Tanner Trail No. 433, and Tanner Butte Trail No. 401 south of Tanner Butte.
Updates on trail closures will be posted online at www.fs.usda.gov/detail/mthood/alerts-notices.
A crew is posting closure signs in the area and sweeping it to make sure visitors are not within the closure area.
A safety exercise planned for Saturday at Eagle Creek Trail is still scheduled, Pawlitz explained. (For more information, see page A8.)
The Hood River County Sheriff's Office and Forest Service will hold a joint "saturation patrol" July 8 to raise visibility about recreation issues and prevent jumping at Punch Bowl Falls this summer. The event is expected to go from 10 a.m. to 4 p.m., and is part of a series in patrols in the vicinity during the summer.
Forest Service employees will also be available to answer visitors' questions about the status of the Indian Creek Fire and related closures.