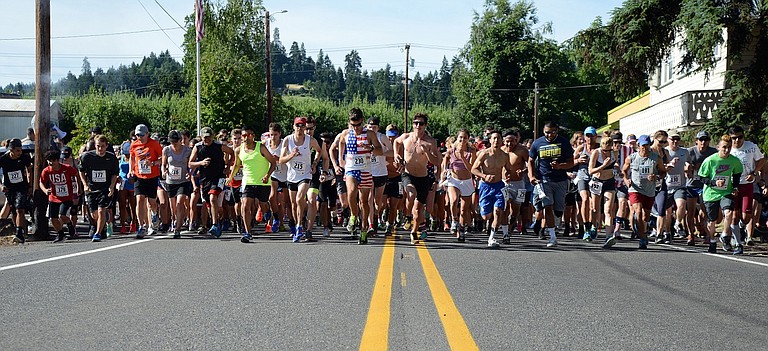 Originally published July 8, 2017 at midnight, updated July 8, 2017 at midnight
Perfect weather and a solid turnout made for another successful iteration of the July 4 Kollas-Cranmer Memorial Run — celebrating its 42nd running.
Top honors for the 7.41-mile road race from downtown Odell to Hood River's Jackson Park went to Forest Tarbath, who was first overall and the first male finisher, completing the course in 39 minutes, 39 seconds, running in the post-high school to age 29 category. He was over a minute ahead of second-place finisher Dusty Lopez (40:42, 30-39) and nearly three minutes ahead of third-place finisher Oscar Bauman (42:27, 40-49). Top female finisher was Hannah Allen (47:30, post-high school to 29), followed by Emma Tarbath (47:31, post-high school to 29), and Zooy Freebain (50:20, post-high school to 29).
Photo Gallery
Kollas Cranmer run 2017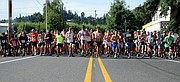 Images from the 2017 Hood River Kollas-Cranmer run.
Race Director Mary Gumm said attendance was slightly up this year, with 108 registered walkers and 272 runners, compared to 2016's tally of 99 and 269, respectively. She said only one record fell this year: Susan Poor, running in the women 60-69 category, ran a 1:03:39, smashing the previous record of 1:14:14 set by Mary Feingold in 2002.
Gumm wanted to thank the Hood River Valley High School wrestling team, H2Oregon, the Hood River County Sheriff's Department, and the City of Hood River for helping out with the event.
Top three results in each age category are below. For more information on the Kollas-Cranmer Memorial Run, head to 4thofjulyrun.com.
Grade 1-5 male
Davin Snyder (1:09:31), Maverick Hockett (1:21:19)
Grade 1-5 female
Rosie Thomas (1:10:00)
Grade 6-8 male
Isaac Trius (56:20), Miles Trius (57:47), Aaron Davis (1:03:20)
Grade 6-8 female
Cloe Bullock (1:04:16), Brinna Weiseth (1:10:58), Mieka McKnight (1:11:08)
Grade 9-12 male
Jacob Bromham (43:46), Connor Truax (46:51), Dagoberto Silva (47:52)
Grade 9-12 female
Lottie Bromham (53:04), Evelyn Nunez (1:02:04), Katie Perkins (1:07:16)
Post-high school to age 29 male
Forest Tarbath (39:39), Ben Paynter (44:11), Alex King (45:45)
Post-high school to age 29 female
Hannah Allen (47:30), Emma Tarbath (47:31), Zooy Freebain (50:20)
Male 30-39
Dusty Lopez (40:42), Carlos Quintana (45:09), Blair Smith (48:51)
Female 30-39
Maren Reed (52:19), Amy Knowles (55:19), Pam Eineichner (57:20)
Male 40-49
Oscar Bauman (42:27), Mario Mendoza (49:34), Gary Daubenspeck (52:21)
Female 40-49
Shawnie Emmons (54:50), Evonne Nadelhoffe (57:26), Angela Krause (1:00:01)
Male 50-59
Gary Johnson (51:48), Chris Davis (55:14), Johan Reiz (55:38)
Female 50-59
Kathy Sauer-Bishop (1:03:58), Steph Irving (1:04:32), Dee Holzman (1:09:59)
Male 60-69
Salvador Lopez (52:30), Terry Mallon (1:00:41), Mark Chomley (1:01:57)
Female 60-69
Susan Poor (1:03:39), Leslie Cogswell (1:07:15), Karyn Lloyd (1:08:55)
Male 70+
Raymond Peterson (1:23:09)