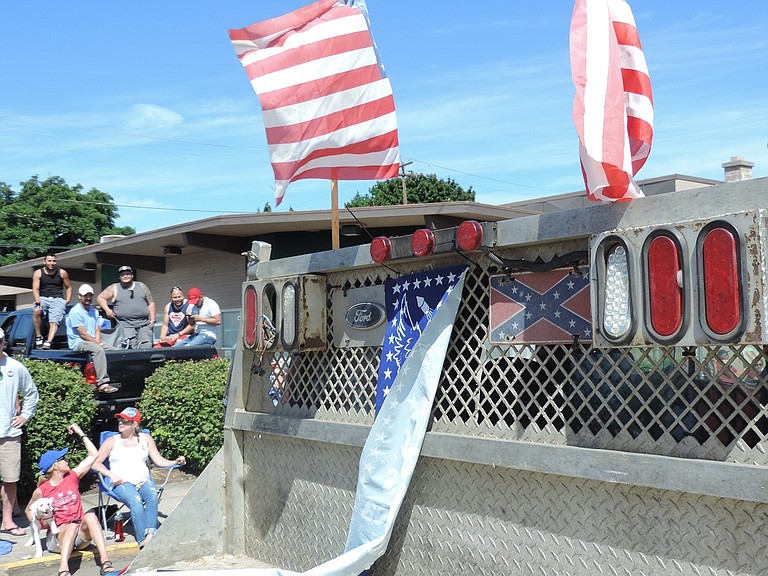 Parade coordinator Tom Yates and his crew of Lion volunteers have done it again: the July 4 parade and Jackson Park festivities were a success, and a well-attended one. These events cannot happen without the help of volunteers, and the team really came through this year. What follows are a few comments on the event, and three suggestions for further improvement.
The parade was nearly incident-free (details on page A11) and featured more music than ever, more horses, and more kids on bikes — three elements that are true ingredients a festive event such as this. Veteran parade participants noted that the crowds were larger than ever, and Yates reported that the number of entrants who paid the $10 fee was up to 76 from 57 last year. Giving Dr. Gary Regalbuto a new honor, Best Individual, was a nice touch; the dapper doc marches and plays his trombone just about every year, solo, and this year he stepped it up with an antique band uniform, complete with initials "GR," and played his trombone.
It was good to see Ruth Blackburn in the parade, even though she was sitting in a four-wheeled vehicle and not her usual antique bicycle. "Not up to it this year, but I hope to be back on (the bicycle) next year," Blackburn said. Something to look forward to.
And now those three suggestions:
• If your vehicle or entry bears a Confederate flag (or other symbol of hate), remove it or you are not allowed in the parade. This year, one truck had a license-plate-sized sign in its back window, and Yates said the volunteers missed it, but would normally ask it be removed or covered. Save the volunteers the trouble: images such as these have no place in an event whose very purpose is to celebrate freedom and liberty.
• All vehicles should bear some sort of sign explaining why they are there: a business, organization, event, or, as in at least one case, a family showing off their unique vehicle. Some flexibility should be given to owners of vintage or custom vehicles, who have reasons for not wanting to affix a sign to their pride and joy; one option would be a rider holding a placard.
• No candy tossing. Period. It is dangerous, contributes to litter, and distracts from the real purpose of the parade: to celebrate community and our nation's liberty.
For the past four years, Yates and company have striven to communicate to parade entrants that candy-tossing is not allowed, and they have achieved a success rate of about 98.6 percent, taking the temperature of the event. Kudos go to Tricia Stevens, Hood River Veterans Services Officer, who organized a candy distribution detail ahead of the parade, supported by local sponsors. The crew distributed candy, and educational flyers on the nature of the holiday and showing respect for the flag. That way, no kid would have left without some candy.
Simply put, candy is not needed. There was so much to celebrate, with community groups of all stripes displaying banners, spraying a bit of water here and there, blowing bubbles, playing music, and showing their skills in rope work, baton tossing, bike and horse riding, library cart choreography, and more.