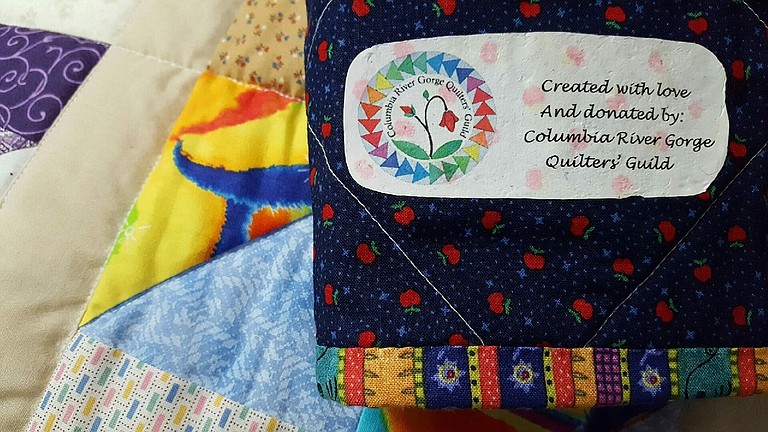 "When I make a comfort quilt, I have in the back of my mind that I don't know who will receive it in the future, a child or an older person. I can safely say for anyone who does this work, the blessing starts with the very first piece."
— Kim Vogel, Columbia River Gorge Quilters' Guild
The Comfort Quilt Project is now underway by the Spiritual Care Department at Providence Hood River Memorial Hospital. Mirroring the Passage Quilt Project begun at Providence Portland Medical Center some years ago, this ministry gifts patients nearing the end of their life with a comfort quilt.

The process begins with a chaplain taking the time to know the person or learn from them or family members about what brought them joy in life, challenges and celebrations, hobbies, special memories or interests, favorite colors or motifs. This discernment happens in all instances, from a lengthy hospitalization to an urgent trauma in the emergency room. No matter the constraints of time or urgency, with this knowledge, a special comfort quilt is chosen.

When the quilt is initially presented to the patient, often a simple ceremony takes place. A prayer or blessing may be said in keeping with the patient's faith, spiritual, cultural, or ethnic tradition, and the family is invited if they wish to help take a corner and place the quilt on their loved one. If the person is actively dying, a moment of silence may be observed to honor the life of the person receiving the quilt.

The quilt giving also marks moving from a medical event to a sacred event, and for some people it is experienced as "holy vigil." It also encourages sharing of memories and hope, and offers at times the special opportunity to express last words and goodbyes for their loved one whose heart will remain joined with theirs.

The quilt also brings a renewed sense of color and life to the surroundings in the hospital or ER room, or home. Later, loved ones often find solace in the quilt as they grieve their loss. Some also think it holds some of the life force of their loved one. Wives or husbands say they will place it on their beds that night. Big families or siblings, for example, take turns caring for the quilt.
Quilting is cathartic and helps reach an inner peace, relax enough to create. It is so rewarding — taking bits of fabric to create something whole, representing life — in the same way people's lives are comprised of "bits and pieces," as described by Kim Vogel, Columbia River Gorge Quilters Guild.
Quilting also brought women together as they hand stitched, hemmed, finished quilts for special occasions — like weddings, while the men raised barns. Guild member Jean Stone, also a long-time volunteer at PHRMH and avid quilter, knows these offer comfort and memorialize the fabric of life which begins with the thoughtfulness, grace, and imagination of the quilt creators.
•
— From Providence Chaplain Andrea Cano. An expanded version, with more photos, will appear in a future issue of the News.