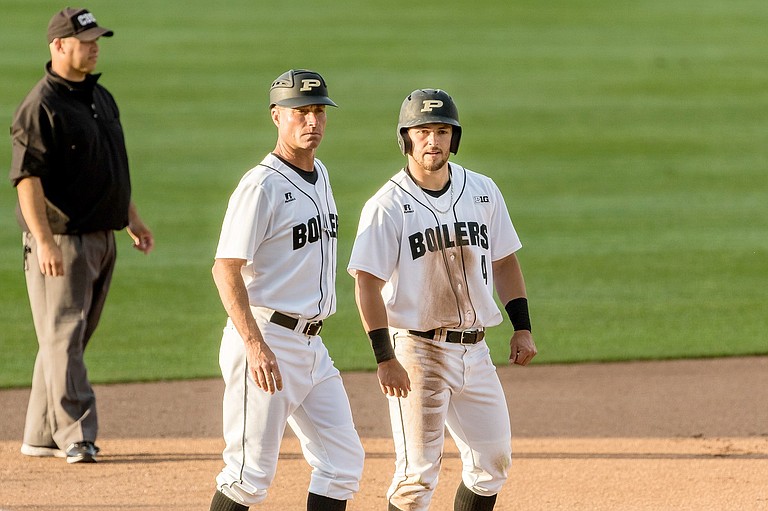 Skyler Hunter may only be an incoming sophomore, but he's already making his mark in Division I college baseball.
Hunter, 19, a 2016 graduate of Hood River Valley High School and the son of Hood River's Todd and Darcy Hunter, just finished up his freshman year playing ball for the Purdue Boilermakers in West Lafayette, Ind. As a frosh, Hunter led the team in both batting average (.323) and hits (65), playing in 54 games, starting 53 of them. He also racked up 34 RBIs. It was the first time since 2010 that a freshman led the Boilermakers in batting average, as well as put up at least 30 RBIs.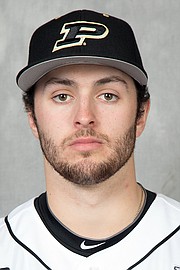 Not only that, Hunter contributed greatly to Purdue's breakout season this year, as the Boilermakers saw a 19-game improvement over their win/loss record from the previous season, which was the largest turnaround in the nation for the 2017 season and in the history of the Boilermakers' baseball program, according to the Purdue athletics website. The Big Ten Conference, which Purdue is a part of (the team qualified as an eight seed in the Big Ten Tournament this season), recognized Hunter by naming him the Big Ten Freshman of the Week March 20 and including him on the Big Ten All-Freshman Team.
Hunter was a standout member of the HRV baseball team, playing at the varsity level all four years — three of which the Eagles went to the state title game, coming home with the championship trophy in 2015. Hunter was named First Team All-State his junior and senior years. But Hunter noted it's not so easy making the jump to college ball, let alone Division I.
"From high school to the DI, it's a pretty serious change. You have to step up and work harder in the weight room and on the field with coaches," he said, adding that "you kind of have to dig deep mentally."
Hunter says he's always working on his swing, but one of the most important elements he concentrated on this season is the mental part of the game and remaining confident in his abilities through the ups and downs.
"You'll go 0-4 one day and you'll be really upset with yourself, then the next you'll hit three bloop singles and a home run," he noted.
In addition to moving up from prep to collegiate sports, Hunter has also had to acquaint himself with playing a new position on defense. In high school, he played shortstop, but his head coach, Mark Wasikowski (who was the assistant coach at University of Oregon from 2012-16 before moving to Purdue), decided his talents would be best utilized in center field. It took time to get used to the new position, but Hunter thrived in the role, recording 136 putouts on 146 total chances for a fielding percentage of .945.
"(Wasikowski) said that he needed me to play center field and I was all for it. I wanted to be in the lineup and play as a freshman… it was a little bit of an adjustment, but it's good to be a versatile baseball player," Hunter said, who's officially listed on the Purdue roster as a utility player.
Purdue isn't the only team he plays for, however. Hunter is also a member of the Palm Springs Power of Palm Springs, Calif., a team that plays in the summer wood-bat Southern California Collegiate Baseball League (SCCBL). That's been an adjustment, too, but mainly because of temperatures that are more often than not well into the triple digits.
"At first it was pretty miserable, but it's kind of a dry heat and you get used to it," he said.
He's done well for himself with the Power too, currently near the top of the stat sheet with 44 hits, 24 RBIs, and a batting average of .411 through 27 games. The team has amassed a record of 28-3 and is atop the SCCBL standings. His efforts earned him All-Star recognition in the league, and a trip to the SCCBL All-Star Game last week.
"It was an honor," he said. "I gotta thank my dad and my family for getting me to where I am today," Hunter said.
He'll get to spend a couple weeks in Hood River after the SCCBL season is done, then head back to Purdue for fall classes, where he is majoring in kinesiology. He's already looking forward to the next season, where Hunter hopes to add more power to his swing, steal more bases, and "become the best baseball player I could possibly be," in addition to helping his Boilermakers continue their rise.
"I think there's going to be a lot more to come from Purdue baseball the next couple years," he said.