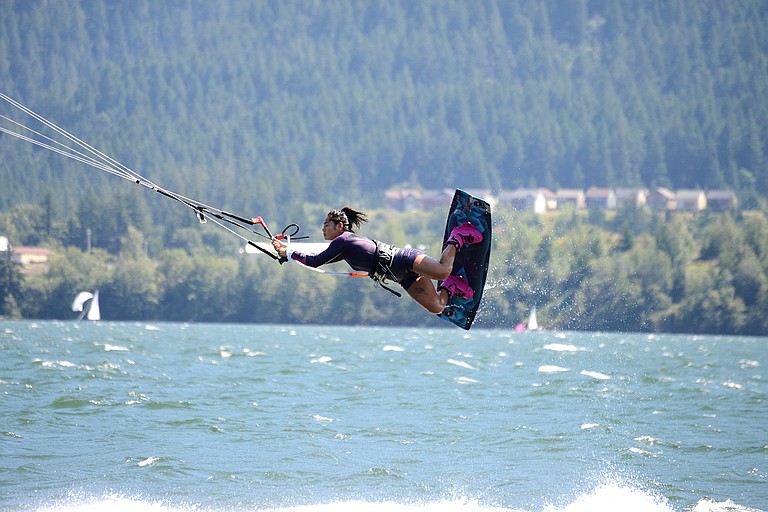 The Columbia River will be getting a lot of attention next week as it hosts sailing, windsurfing, paddling, and kiteboarding competitions, though not all at the same time or location, as the Gorge heads into the height of its summer recreation season.
The week kicks off with sailing in Cascade Locks, where the Columbia Gorge Racing Association will host the Melges 24 NorAm Championship July 17-22. The Melges is a 24-foot sportboat used in one-design sailboat races. As of Thursday afternoon, 38 boats had registered for the race (CGRA.org).
Next is the annual Gorge Downwind Championships, featuring a downwind race for stand-up paddle boards (SUP), outrigger canoes, and surfskis. The long course runs from Home Valley to Hood River; the short course runs from Drano Lake to Hood River. The event is sold out, but it does make for some good spectating, as usually a few hundred people compete in the long course event. A three-day race window has been set from July 20-22, with the race held on the best wind day of those three (gorgedownwindchamps.com).
Sharing the space with the Melges 24 NorAm Championship will be the 17th annual Bridge of the Gods Kitefest, held at the Port of Skamania in Stevenson. The freestyle kiteboarding competition has expanded this year, adding a kickoff party and photo competition at River City Saloon July 20. Like in past years, Friday will be the pro-rider competition, Saturday will be the amateur competition, and Sunday will feature a downwinder from Stevenson to Hood River. More details, registration, and prices can be found at botgkitefest.com. For updates, check out the event Facebook page (search for "2017 Bridge of the Gods Kiteboarding Competition").
Wrapping the week up will be the fourth race of the annual slalom windsurfing series, the Gorge Cup, which will go off (wind permitting) the morning of July 22 at the Hood River Waterfront. Phil Soltysiak won the last two races of the series, while Tyson Poor took the first competition, but Sam Bauer and Bill Czinege are currently atop the standings with 16 points apiece. After Saturday's race, the Gorge Cup will have another competition July 29, and then have the season finale Aug. 12-13 (gorgecup.com).