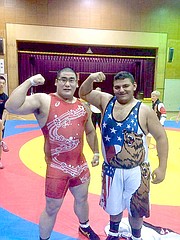 HRV wrestler Adrian Ramirez returns from Cultural Exchange trip to Japan
Incoming Hood River Valley High School senior Adrian Ramirez just returned from Japan after being a part of the Montana Wrestling Cultural Exchange team. Ramirez was able to help fill the heavyweight spot for their team and represented the U.S.A., Oregon and Hood River very well, reported HRV Head Wrestling Coach Trent Kroll. "Not only did he earn a 3-1 record on the mat, but his coaches said he was a pleasure to have on the trip with them. The team was hosted and competed in four prefectures on the southern island of Shikoku — Ehime, Kochi, Kagawa, and Tokushima," Kroll said. During the trip, Ramirez was able to pet penguins, visit shrines, practice with chop sticks, and learn a lot about Japanese culture. "I can't wait to travel again and learn more about the other cultures around the world. It's great that wrestling has given me the opportunity to travel outside of the U.S. Thank you to the Hood River community for supporting me and thank you to Team Montana for welcoming me onto their team. It was a phenomenal experience," Ramirez said.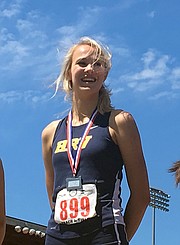 Katie Kennedy grabs third at heptathlon at Junior Olympics
Katie Kennedy, an incoming junior at HRVHS, placed third in the heptathlon during the Junior Olympics state meet held at Jesuit High School in Portland last month. Her total score was 4,058, which was a personal record. Kennedy will elect not to move on to the regional meet, as she will be attending a volleyball camp at University of Washington in Seattle. Kennedy is a member of both the HRV varsity volleyball team and the track and field team, where she placed second in the high jump at the 5A state meet in May.
Sports story correction
An article that appeared in the July 5 edition titled "Hood River Water Polo athletes help take the gold at regionals for Junior Olympic Qualifiers" contained multiple errors regarding the performance of Faith Ocheskey's Tualatin Hills team in the competition. Ocheskey played for both the 18U and 16U teams, which finished third and fourth, respectively. Both qualified for the Championship division at the National Junior Olympic tournament, which will be held in Los Angeles July 27-30.