The second summer presentation at the Moody/Rorick House, located at 300 W. 13th St., The Dalles, will be "The Omeg Century Farm: Homesteaded in 1905," on Saturday, July 22 beginning at 11 a.m. Mel Omeg will present.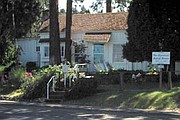 Having turned over the Century Farm to son Mike and other family members, Mel and wife Linda will be traveling from their current home in Lincoln City, Ore., for the presentation, stated a press release.
The Omeg family farm is the county's most recent inductee to the Oregon Century Farm and Ranch program.
"This is an opportunity to learn not only about the Omeg Family, but also learn what it takes to keep a farm in the family for over 100 years," states a press release.
"It truly is a fine example of a 'rich family heritage' as expressed in the December 2016 issue of The Dalles Chronicle's Farm & Ranch issue, where the Omeg Family was featured."
The press release continues, "Wasco County Historical Society is extremely proud of its century and sesquicentennial farms."
The presentation is free.
For more information on the program, visit www.oregonfb.org, or call 503-400- 7884.