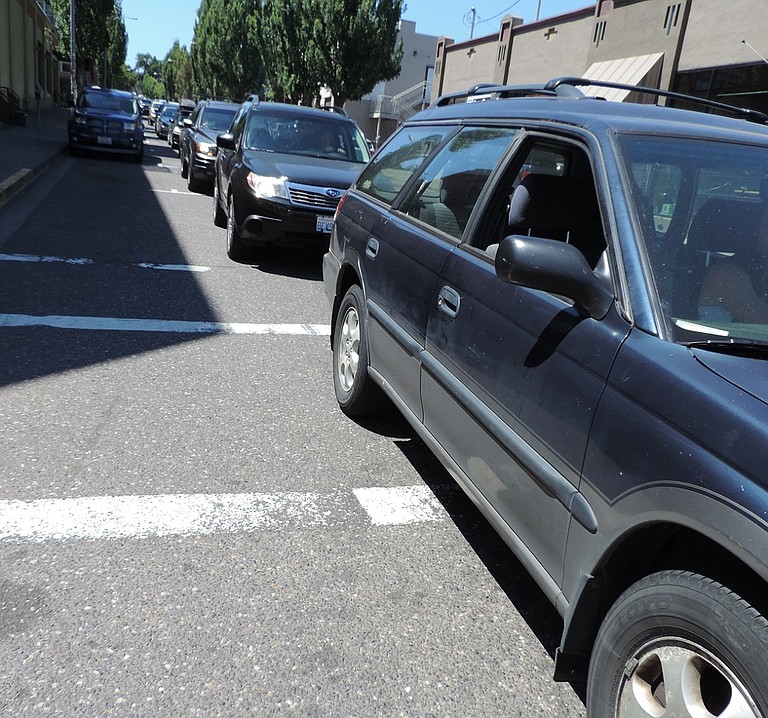 Originally published July 19, 2017 at midnight, updated July 19, 2017 at midnight
"The Big 6" — all tangles of poor sight lines, hard-to-find crosswalks, long-needed signals, missing sidewalks and more — are getting the attention of City Hall.
These are intersections identified by Fire Chief Leonard Damian, Public Works Director Mark Lago and Police Chief Neal Holste and their staffs as most pressing candidates for crossings most in need of revisions or safety improvements.
The community may signal its own ideas on difficult intersections; following a staff report made to city council July 12, the elected officials instructed staff to create a two-pronged public input process — a poll on the city website, and a short questionnaire for people to fill out when attending council, planning commission and other meetings.
"Rather than create new meetings, we can use them as a component of this," City Manager Steve Wheeler noted.
The online and paper polls should be ready by the end of July, according to Wheeler.
These will include a way to "nominate" other dangerous intersections. The "Big Six" include five that are controlled by the state:
•Second and Cascade
•Second and Oak
•20th and Cascade
•13th and May
•12th and Belmont
•18th and Belmont (which is fully under city jurisdiction and eligible for sidewalks and other changes in the next year or two)
This issue, a close look at the three of the six — 18th and Belmont, Second and Oak, and Second and Cascade. See the July 22 edition for a look at the remaining three intersections.
•18th and Belmont is likely to see sidewalks extending south in the next two years, as state Safe Routes to School Funding is now available.
(Lago noted also that the city has a matching grant from the state for a $1.5 million street and sidewalk reconstruction project on May Street between 13th and the Hood River Middle School. That work is scheduled for 2018-19.)
•The next most promising outlook is for Second and Oak streets, where the city can draw from an existing revenue known as proportionate share funding — paid into by clients such as Hampton Inn upon construction of its hotel on the waterfront in 2015. Wheeler said preliminary assessments call for a four-way stop and signal, to replace the flashing red light currently in place.
•Second and Cascade: Wheeler hopes that taking steps at Second and Oak will provide incentive to the state to make sidewalk and turning pattern changes a block north at Second and Cascade — improvements there have also long been a goal of the city. Issues include inefficient pedestrian crossing and traffic build-up between downtown and the adjacent Interstate 84 on- and off-ramp, in addition to increased vehicle traffic heading to and from the ever-busier waterfront business and recreation district.
A common problem is a long line of cars backed up on Cascade as drivers seek to take a left onto Second, which sports congested traffic in both directions and short sight-lines to the north. Increased pedestrian activity between downtown and the waterfront is also a major factor.
"We look at it this way: we can tell the state, 'We're doing something about Second and Oak, now it's your turn to do something about Second and Cascade,'" Wheeler said.
Two other key Hood River intersections, with shared state jurisdiction, are not on the list either because of recent or pending improvements:
•Eliot and Brookside — ODOT recently completed lane revisions, adding a bike lane on 12th Street (a state highway) and eliminating the southbound "slip lane" at Brookside that often resulted in what Lago called "a drag race" between southbound cars seeking to merge into the single-vehicle highway.
•Rand and Cascade — It has long been the quest of the city to get state approval for realignment and signalization at the notoriously busy intersection, where long waits are typically required for vehicle entry from Walmart store or Rand Road. The city has received $750,000 from the state for the project, about a third of the total budget, with the rest to be made up through Systems Development Charges and other revenue, Wheeler said.
Lago said the Rand and Cascade preliminary designs were done several years and need to be updated by 2019, with the work to be done in 2019-20.
Safety: 6 to Watch
As reported in the July 15 edition, the City of Hood River wants feedback from the community on street intersections inside city limits considered by staff to be among the ones most need of safety improvements — also known as "The Big 6." Look for online and paper polls at the city website and city facilities later this month, as early as the July 24 City Council meeting, 6 p.m. at City Hall.
Here short descriptions of each location including statistics of recorded incidents between 2012-17. Indicate which one you feel is the worst (one vote per person, please) and/or tell us one other street in the city should be addressed. We'll compile readers' feedback and provide it to the city for input on where to place added safety measures for vehicles and pedestrians.
13th and May Streets — 44 motor vehicle crashes, one east-west crosswalk
Second and Oak — 20 motor vehicle crashes and two pedestrian incidents
12th and Belmont — 13 motor vehicle crashes, two pedestrian complaints
20th and Cascade — Nine motor vehicle crashes, two pedestrian incidents
Second and Cascade — Six motor vehicle incidents
18th and Belmont Streets — Total of four police and fire incidents
What City of Hood River intersection concerns you most, and why?