"Maybe each of us is Cain to some Abel, and slays him in the field without knowing it through the things he does to him, the things he says to him, and the things he should say and doesn't." — Primo Levi
Call this a sobering morsel from my baker's dozen reading for 2017.
While I had not intended to write so soon again about my "12 Books in 12 Months" endeavor (Editor's Notebook, May 17) a passage from my current novel, Levi's "If Not Now, When?" has greatly expanded my view of subjects I've read about extensively: World War II and the Holocaust. It also connected Levi's book in an unexpected fashion to my daily life. (I finished re-reading the novel "The Brothers K" in late June, putting me on track to complete 13 books, hence "baker's dozen.")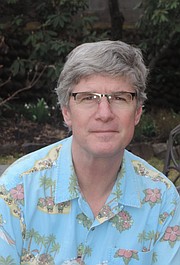 I took up Levi's book two weeks ago, having recently read an appreciation of this tale of a Jewish partisan's horrifying experiences in east Europe — the darkest of times and places — 1943-44 and the marshes and forests amassing the historically fluid areas connecting present-day Ukraine, Russia, Poland and Belarus. (A 2012 book by Timothy Snyder would be a fitting non-fiction companion read; it bears the visceral title "Bloodlands: Europe Between Hitler and Stalin.")
•
The region of the story, I learned, is loosely called "Polessia" — I looked up this term and found that in the 19th century, the Jews from this area, often oppressed and stateless, were called "Polischuks." I had a friend in Port Townsend, years ago, named Bernard Polischuk; he once invited me to Passover Seder.
Names figure heavily in "If Not Now, When?" Many of the characters are Russian, for whom the patronymic system of naming people is a basic element of identity, and others are Jewish, who must fight to be known as individuals and not merely by the hateful term "zhid."
In between falls the young woman with the name Line: "Everyone at Noveliski knew the story of Line and her name," which it turns out is short for Emmaline; her Russian parents named her for an English suffragette. Writes Levi, "The woman, the Jew, the Zionist, and the Communist had been fused into a single Line, who had a single enemy."
•
The identity in most people's names holds far less scope and drama than it does for Primo Levi's intense and unforgettable character, but I have come to realize that people value their name, and there is much truth to the old saying, "There is no sweeter sound than hearing one's own name."
It may surprise some, given my work, that I am not "the best with names;" I have often goofed when it comes to names, both verbally and in print. I think I have even written of this nagging conundrum before. And be it first names or last, I am often thrown off by initials — calling someone Aaron when they are Allen, or as a case in point last week, Hoffman when they are Hammond.
My apologies to Adele Hammond of Abrazo, a partner at Enchanted on Oak Street, who I gave the wrong name in a photo caption earlier in July.
The things we do, or don't do or say, are important, up to and including peoples' names.
•
When I was 7, I hated my unusual first name, and asked to be named "George." This lasted a couple of months. It was my grandpa Neumann's name and I think I regarded it as a "normal" guy name. I even wrote George on my Little League mitt.
About that time, I was influenced by two other tales of identity, Johnny Cash's "A Boy Named Sue" and Dr. Seuss' story "Too Many Daves," about Mrs. McCave "who had 23 kids and named them all Dave."
At the end of the Cash song, the boy Sue exclaims that his father might have named him "Bill or George, anything but Sue."
In the Seuss tale, a house full of 23 Daves "makes things quite difficult at the McCaves'/As you can imagine, with so many Daves/And often she wishes that, when they were born/She had named one of them Bodkin Van Horn/And one of them Hoos-Foos/And one of them Snimm …"
The day after I read the chapter about the partisan Line and her name, I ran into a friend, Emily, who I had not seen in awhile, and I made reference to her husband, whom I shall call "Dave." This is not any kind of made-up thing; the issue was I had always called him Dave, and "Dave" and Emily have always had a good laugh about the fact that when I see him I call him Dave.
Because his name is Bill.
I know a lot of Daves, but not quite 23. So I look forward to seeing Bill, and hope I don't slip up and call him Dave, or George, or "Hoos-Foos."