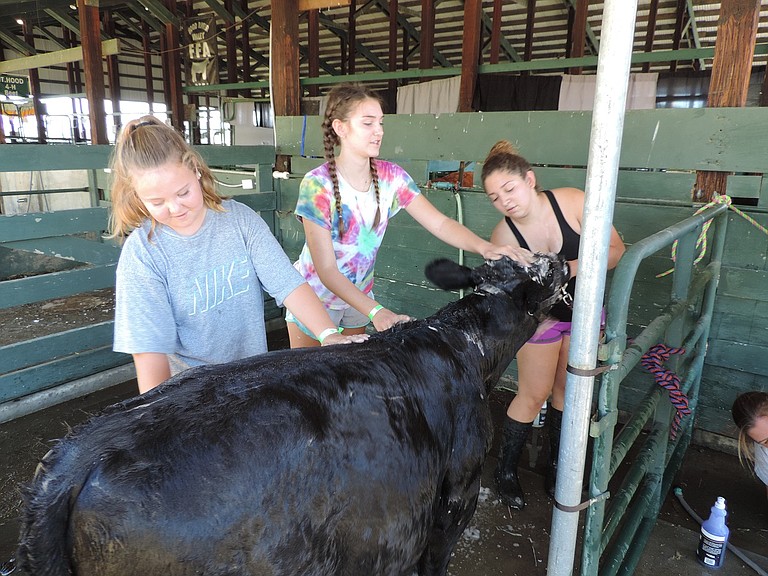 The County Fair is not all carnival rides and elephant ears. Nor is it all goats and quilt displays.
It is all of that, and more. Hood River County Fair returns July 26-29 to Odell with plenty for kids to do.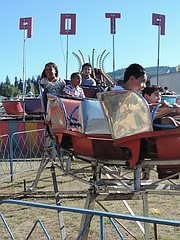 Planning suggestion: parking will be different this year, due to construction on the campus of Wy'east Middle School. Look for a new parking area on the north side of the school, and for off-site parking — with shuttle service — at the Hood River County School District transportation property a half-mile away on Summit Drive.
The fair serves up entertainment, fun activities for kids and adults, 4-H, FFA, open class and commercial exhibits of all kinds, along with carnival rides and midway fun, exotic animals, livestock, daily appearances by dynamic performers, music every evening — including country music's Sammy Kershaw on Saturday — and all kinds of food.
The Open Class art and collections display, along with creations on exhibit in the Summit 4-H Building, might give you some ideas about how to get involved in the fair next year, as it is open to anyone.
Bracelets on sale for $20
Every day is "Bracelet Day" on Cascade Amusements carnival rides. Save money on rides by purchasing a $25 ride bracelet ticket for $20 in by Wednesday, July 26 at 5 p.m. They're available in Odell at the fair office, Mid Valley Market, and Hood River Supply; at McIsaac's Store and Jim's Market in Parkdale/Dee; at Juanita's Market in The Dalles; and at Juanita's Market, Hood River Supply, and Columbia State Bank in Hood River, and at Columbia State Bank in White Salmon. Each bracelet ticket purchased may be used on any one day of the fair, and is good for rides all day long. Carnival rides begin at 1 p.m. each day, and continue until closing.
Regular general admission prices to the fair are $8 per adult Wednesday and Thursday, and $10 on Friday and Saturday. Admission for children aged 6-12 (inclusive) is $3. Children under 6 are admitted free. Season tickets are available ($30 adults, $10 ages 6-12 inclusive). The fair gates are open daily from 9 a.m. to 11 p.m. FFA and 4-H activities start early, with additional exhibits, displays, and attractions opening at noon, and carnival rides beginning at 1 p.m. Check the schedule, so as not to miss great events.
For full details, pick up the Fair Book at businesses throughout Hood River County.
New this year:
• The Pirate's Parrot Show, sponsored by Little Shredders Dental. Pirate-themed, with a pirate ship and costumes, the stars of the show are the parrots. Interact with the colorful birds, learn about them and watch them fly. Shows are at 12:30 p.m., 3 p.m., 5:30 p.m., and 7:30 p.m. each day near the Floral Building.
• Heather Pearl is a professional funny woman, and she brings a full complement of talents and skills, including stilt walking, clowning, juggling, magic, and acrobatics. She'll be in the park, and around the fairgrounds.
Returning attractions and entertainment:
• Free pony rides in the park for little kids.
• The Exotic Animal Show, displaying a wide range of exotic animals and reptiles in a jungle atmosphere every day in the park area.
• Godfrey the Magician brings his award-winning comedy and levitation tricks to the park stage daily at 2 p.m. and 5 p.m., as well as around the fairgrounds.
• The Frank Herman Arena will be a busy place during the fair. Don't miss the Hispanic Dancing Horses Show, Wednesday at 7 p.m. Las Misterosa Banda will perform.
• Thursday through Saturday there will be Ranch Sorting practice and competition, Jackpot Ranch Sorting, Youth Roping and Games, Roping Exhibition, and more.
• Want a glimpse of the possibilities of being involved in FFA and 4-H? Check out the animal barns any time during the fair, and meet participants and their animals.
• Friday evening, beginning at 4:30 p.m., is the 4-H/FFA Livestock Auction in the Kirby Ring. It's the all-important culmination of a year's work for the 4-H and FFA livestock exhibitors.