Originally published July 22, 2017 at midnight, updated July 22, 2017 at midnight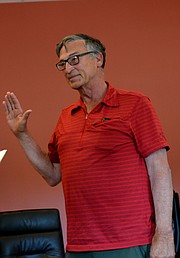 The Hood River Port Commission swore in two elected commissioners Tuesday evening: Ben Sheppard and John Everitt.
A third new commissioner, Dave Meriwether, could not attend the session and will undergo the welcoming rite at the port's Aug. 1 meeting. Above, Jean Hadley with the port administers the oath of office to Sheppard and Everitt individually.
The panel also appointed its two remaining incumbent commissioners to leadership roles: Hoby Streich as president and Brian Shortt as vice-president.

At the general meeting, the port tackled right-of-way legal fixups at Ken Jernstedt Airfield and discussed a pending agreement with Crystal Springs Water District for solutions to fire flow issues at Lower Mill Development District in Odell.