Please try this exercise: Go find the chair in your house with a loose joint that makes it wiggle a little. Everyone has at least one, right? Next step … find the wobbliest leg and use a saw to cut it off. Now sit back down in the chair.
That's how a repeal of the Affordable Care Act looks to this observer and student of our country's health care situation.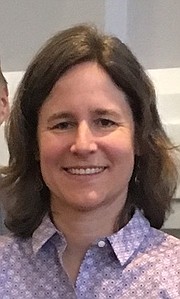 The Affordable Care Act is imperfect, but not broken. There are multiple areas where bi-partisan fixes to the ACA would improve the health of Americans. Together we can address the underlying causes of the health care crisis in our country, which include the high cost of health services and medications, inequity in access to care, and a fragmented system that puts us first among developed nations in cost and last in results.
Are you or someone you love on this list? Take a look at it, and you'll see that no one is safe from the impact of a potential repeal of the ACA:
• Young adults who can currently stay on their parents' plan until age 26
• The 5,000 Gorge residents who received insurance coverage starting in 2014 through the expansion of the Oregon Health Plan
• Families who buy their own insurance, whether on healthcare.gov or not
• Employees and their families who receive coverage through work
• People covered through Medicare because they're over 65 or disabled, who may need help at home or nursing home care at some time in their lives
• Patients who depend on rural hospitals, rural clinics, and community health centers
Everyone listed above has benefitted from provisions in the ACA.
The law includes a complex, interdependent web of taxes, mandates, benefits, and protections. Some of them are popular, such as no lifetime limits on how much your insurance will pay, and some less so, like requiring everyone to have health insurance. I'm puzzled by politicians who continue to promote a repeal of the individual mandate to carry insurance. Sure, that's a popular idea … but it's not insurance if you only buy it once you're sick. Why do opponents of the ACA think there's still a free lunch when it comes to health insurance?
Retaining the ACA's individual mandate is but one example of the discipline necessary to achieve stable, affordable insurance across our community. Pulling out some or all of the ACA's provisions leaves us sitting in chairs with three legs, or two, or none.
Repealing the ACA would threaten the significant progress we've made in the Gorge in recent years and distract us from the important work that we should be doing:
• We need to ensure that people obtain and keep the health insurance for which they're eligible.
• We want to reach people in the community and in their homes with integrated, high quality services.
• Those of us focused on health care want to collaborate with schools, public health, criminal justice, nonprofit organizations, and other community institutions to improve the health of everyone for generations to come.
Repealing or damaging the ACA would put this vision of a healthy future for our community at risk.
I ask the leadership of the U.S. Congress to stop promoting legislation aimed at undermining the ACA. Please reach across the aisle to find real solutions that will stabilize the private insurance markets, control health care costs, and eliminate waste and inefficiency. Please partner with your colleagues and the American people to build a health care system that creates healthy, prosperous families and communities.
•
Kristen Dillon, MD, is a family physician and 16-year resident of the Gorge, where she and her husband have raised their two daughters. She serves as the director of the PacificSource Columbia Gorge Coordinated Care Organization. The organization provides Oregon Health Plan (Medicaid) services to 12,000 people of all ages in Wasco and Hood River Counties, approximately one in four residents of the two-county region.