Originally published July 29, 2017 at midnight, updated July 29, 2017 at midnight
Wells Fargo promotes Trusov
Wells Fargo has promoted Eddie Trusov to manager of its Hood River bank branch inside Safeway at 2249 West Cascade Ave.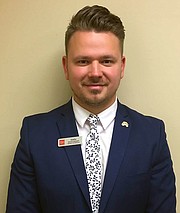 In his new position, Trusov manages the customer service, professional development and community involvement efforts of nine team members.
Trusov started his Wells Fargo career as a teller in 2011 in Portland. He was promoted later that year to lead teller and became a personal banker in 2012. Prior to his current promotion, he worked as a service manager for four years in Portland.
Trusov was born in Rome, Italy, and speaks Russian. In his free time, he plays bass guitar for the Voice of Hope Christian Church in Portland.
Windermere Realty expands to CL
Windermere Glenn Taylor Real Estate recently unveiled a new office in Cascade Locks, staffed with a broker.
Located at 651 WaNaPa St., the new Cascade Locks office marks Windermere Glenn Taylor's sixth in the Gorge. The structure was originally built as Java Jax coffee shop.
"Towns along the Gorge like Cascade Locks are starting to look more appealing to prospective homebuyers than the Portland metro-area's skyrocketing housing prices," said Kim Salvesen-Pauly, long-time Columbia River Gorge resident and owner of Windermere Glenn Taylor.
"This, paired with the close proximity to Portland, makes Cascade Locks and its surrounding areas a viable option for professionals looking to purchase a home," she said. "Cascade Locks is becoming such a vibrant community, and its new identity will be amplified with incoming homebuyers."
Windermere Glenn Taylor Real Estate operates offices in Hood River, The Dalles, Cascade Locks, Bingen and Stevenson. Salvesen-Pauly also co-owns Windermere Property management Columbia River Gorge with husband, Rick Pauly.