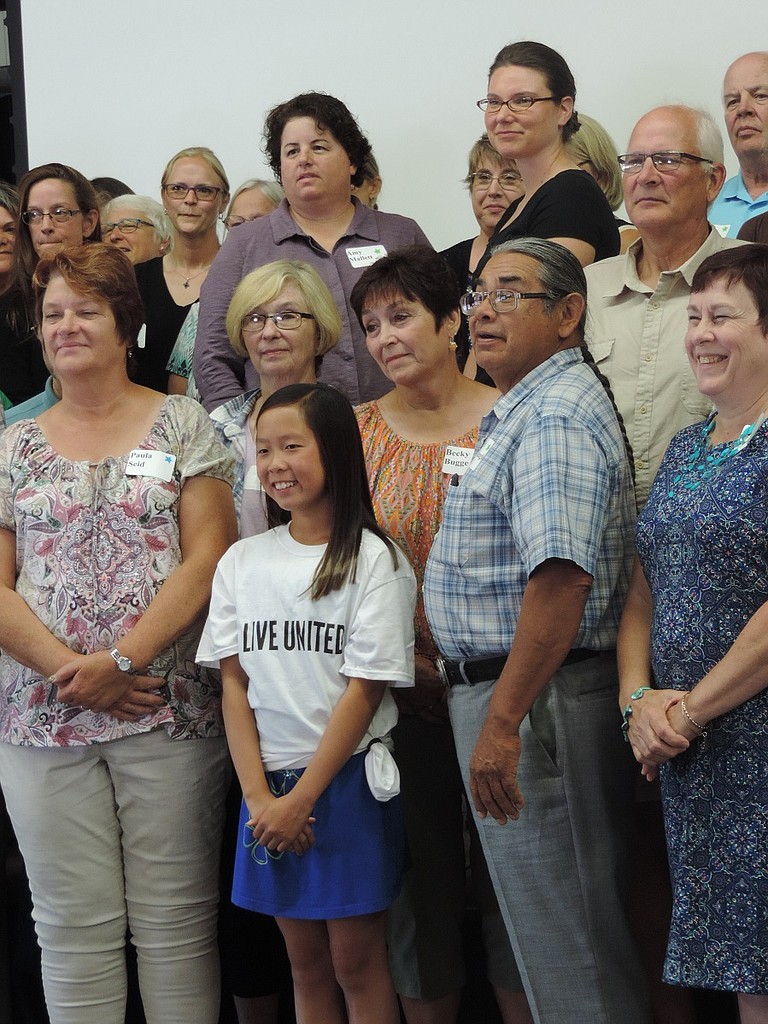 Columbia Gorge United Way held its annual funding allocation social at Best Western Plus Hood River Inn on Tuesday, handing out checks to 36 agencies in Wasco, Hood River, Sherman, Klickitat and Gilliam counties.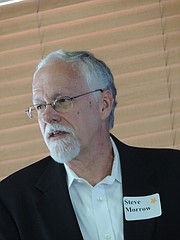 The 2017 funding hit a record $275,000; the money comes from individual donations, employee groups, corporate donors, and other fundraising by United Way, which is comprised of three councils: Hood River, Wasco-Sherman, and Skamania-Klickitat.
About 100 agency representatives and other community members gathered and heard information from United Way officials including new coordinator Jarrod Holmes and board members Paul Blackburn and Steve Morrow.
The United Way 2017 recipient groups submitted applications last year and were interviewed this spring by the allocations committee, which decides how to distribute funds.
Groups include support agencies for youth, domestic violence and abuse, Latino, and senior citizens, and those providing shelter, counseling, nutrition, emergency relief, literacy services, transitional housing, job assistance and more.
Morrow called them all "effective, efficient, meaningful community efforts." On the process of hearing requests and allocating funds, he said, "It's heart-wrenching but life-affirming to see all the work being done out there.
"Some of the organizations we support have a variety of resources, but for some of these programs if we did not contribute their efforts might go away."
Allocations were based on effectiveness of service, efficiency of delivery, community impact, experience and stability, and funding leverage.
Community Collective Impact Specialist Paul Lindberg, who serves agencies throughout the Gorge by searching and finding grants and helping develop programs to meet social needs, said United Way will align its funding decisions with priorities set forth in the Community Health Improvement Plan, a document developed and updated each year to help agencies coordinate ways to address health and social needs.
United Way program focuses are:
• Basic Human Needs, a total of $141,625 allocated to: Backpacks for Kids, Columbia Gorge Peace Village, Emergency Voucher Program, FISH Food Bank, Hood River Christmas Project, Hood River Valley Adult Center, Hood River Warming Services, Klickitat County Senior Services, Mid-Columbia Community Action Council, New Hope Farms, Pioneer Potlatch, Promoting Prosperity Program, Raices Cooperative Farming, Skamania Senior Services, The Dalles Community Meal, The Dalles Meals on Wheels, Catholic Charities Yakima, Washington Gorge Action Programs, Klickitat Food Banks, and Skamania-Klickitat Community Network.
• Keeping Kids on Track, a total of $66,850 allocated to: First Book, Gorge Explorers Summer Literacy Program, Hood River Valley High School Youth Outreach, Oregon Trail Transitional Housing, Start Making A Reader Today, South Wasco Out of School Activities Program, St. Francis House, The Next Door Summer Youth Employment, WGAP Community Youth Center, and Youth Empowerment Shelter.
• Safe from Violence and Abuse, a total of $65,000 to six groups: Columbia Gorge Children's Advocacy Center, Columbia Gorge Court Appointed Special Advocates, Haven, Helping Hands Against Violence, Skamania Council on Domestic Violence and Sexual Assault, and WGAP Programs for Peaceful Living.