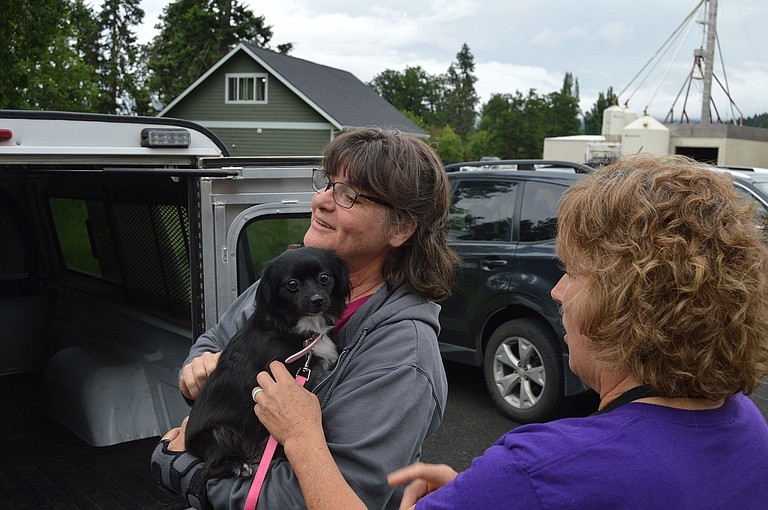 Limping among January snowdrifts, a sweet Schnauzer-mix was found wandering near Cascade Locks. Rescued by a Hood River County sheriff's deputy, "Phoebe" began her journey as another Hood River Adopt A Dog (HRAAD) success story.
For over a decade, Hood River County Sheriff's Office (HRCSO) and HRAAD have worked together to best serve lost dogs in our community. In hopes of reconnecting Phoebe with her family, she was scanned for a microchip, and lost dog notices were posted on Facebook and other sites. When no responses came, after the waiting period, Shelter Manager Janette Skarda and HRAAD prepared Phoebe for adoption.
All HRAAD dogs begin their stay by visiting one of our local, dedicated veterinarians for an exam, shots, and often spay or neutering. Phoebe's health assessment revealed extensive knee damage that required surgery. It was discovered that she was living with significant pain. Jumping into action, HRAAD's board crowdfunded and solicited donations for the procedure.
Every day of the year, three employees and dozens of trained volunteers are steadfastly dedicated to keeping shelter dogs happy, healthy, and prepared for successful adoptions. Regardless of weather, dogs are walked both morning and afternoon, and volunteers often take a "Dog For A Day" on adventures around the Gorge.
Vital to facilitating shelter dogs' socialization, Volunteer Coordinator Jacque Johnston works extensively with our local dog foster families who provide safe and loving temporary homes.

In classrooms, the PET Education Team teaches responsible and committed pet ownership. Former teachers Dave Radley and Elizabeth English visit classrooms every June to teach about ID tags, microchipping, diet, veterinary visits, daily walks, training and the importance of protection from extreme weather and temperatures.
Donations and fundraising are the cornerstones of sustaining the shelter and its program. Wy'East Vineyards is hosting HRAAD's "Vino & Fido" event this Saturday, June 10 (see box at right).
In the end, it's all for the dogs. Phoebe's knee surgery was successful, and after recovery in a foster care, she found her forever home. Adopted by a local family, "she snuggles with her human, meets many people on walks, and nicely settled into life with a Boston Terrier sister and two cats."
•
Sarah Segal is an Adopt A Dog board member, and teacher at Hood River Middle School.
Vino and Fido fundraiser returns Saturday, June 10
Wy'East Vineyards hosts HRAAD's "Vino & Fido" event this Saturday, June 10 from 11 a.m. to 4 p.m.
Suggested donation: $10.
The raffle drawing for a Dirty Fingers' electric bike is at 3 p.m. Raffle tickets are still available ($25 each or four for $90). Available for purchase will be Wy'East wine, Double Mountain beer, and Four & Twenty Blackbirds dishes.
Bring your dog for doggy diving and a costume contest.
Bocce tournament signups are available on HRAAD's
website, for an extra cost.
Wy'east is located on Highway 35 just outside Odell.
Adopt A Dog Essentials
HRAAD celebrates 10 years as a safety net for Columbia Gorge dogs and transfers from regional rescues. For a decade HRAAD has cared for, and placed, over 2,000 dogs in forever homes.
Adoptable dog profiles are listed on HRAAD's website — hoodriveadoptadog.org.
The shelter is located in the John Weber business park in Odell.
Those interested in adopting may submit the application found on the website. After review by an adoption counselor, applicants are interviewed, and references are checked.
A meet-and-greet with all people and dogs in the household might be scheduled. HRAAD believes that matching the right dog with an adopter is critical for success.