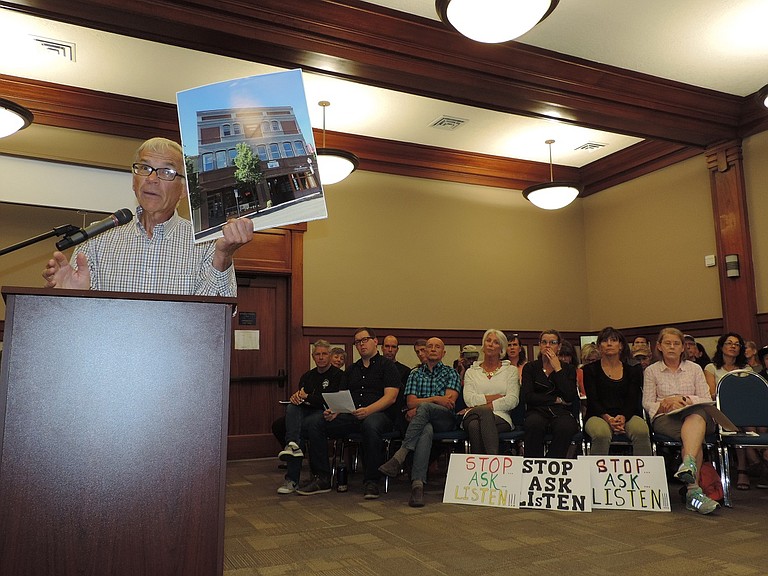 An unexpected 90 minutes of testimony the Westside Concept Plan dominated Monday's meeting of the Hood River City Council.
"Slow down" and increase public engagement in the process, numerous speakers told the council and Mayor Paul Blackburn.
Testimony focused on the city's proposed up-zoning of residential areas in the planning area — 450 acres mostly within city limits with some portions of the Urban Growth Area in the county — to increase the density of dwellings that could be built on private lands. What led dozens to testify Monday was the idea of doing away with the R-1 zoning in the plan area, and the potential for additional multi-family dwellings and other increased housing density.
"Upzoning without improving infrastructure is irresponsible," said westside resident Kristi Chapman.
"Please stop and listen and let's take our time before we come up with a recommendation that will so fundamentally change the entire town of Hood River," westside resident Bernie Boglioli said.
Many speakers expressed concern about the impact of between 1,200 and 1,800 new dwelling units, over 20 years, upon traffic, road safety, and on schools that are already crowded.
Specific suggestions ranged from a building moratorium to prevent further growth until roads and other infrastructure conditions are dealt with by the city, to staying with the current zoning.
A moratorium would probably lead to lawsuits against the city, according to Blackburn.
The City of Hood River's next scheduled meetings on the pending Westside Planning Project is June 28.
The project Technical Advisory Committee will meet from 3-5 p.m., and the Project Advisory Committee from 6-8 p.m. to discuss infrastructure funding as well as some draft comprehensive plan and code amendments. The public sessions are at City Hall, Second and State streets.
Speaker Nancy Houfek Brown said a petition is circulating that will call for a public vote on the plan.
"Let the people decide. Let the people have input on this," she said.
Mark Frost said the concept plan envisions a new road through a wetland and 15 feet from his bedroom window. Instead of looking housing on "double mountain view" land, the city should focus on mixed-used development closer to places of employment. "Talk to the port about mixed use down at the waterfront, talk about the ease of walking to work," Frost said.
"I'll continue to speak up on traffic until someone listens and starts planning," said Judie Hanel. "It is unbelievable that the city will continue with this plan and not have traffic at the top of consideration."
"One must think the city is not seriously looking at other options," Jim Reed said. "My major one is mixed-used retail in existing commercial neighborhoods. Living above, or adjacent to work, has been part of the landscape for centuries around the world, it prevents urban sprawl and uses existing infrastructure such as water and sewer." Downtown and other commercial areas "would easily accommodate mixed use, in a higher density neighborhood, and convenience for residents walking to work, eliminates stress put on transportation, but for some reason Westside planners seem uninterested."
Jim Klaas said parks and schools need to be considered as critical infrastructure in the same way police and fire are.
One speaker, Providence Health employee Olivia Ulrich, stressed the lack of attention to the potential impact of growth on funding for the local hospital's status as a rural provider; if the city population reaches a certain point, that funding could be in jeopardy, yet local health officials have not been actively engaged in the process so far, Ulrich told the council. "Our health care system needs to be involved in his, going forward," Ulrich said.
The final speaker, Carol Green, said, "This is a really critical point in Hood River's growth. It comes down to the basic questions of who wants to be here and who do we want to attract to this place?"
•
"Public testimony is really just beginning," Blackburn said, with the city moving this month out of the consultant's phase and into the plan development process. The Westside Concept Advisory Committee meetings on June 28 will be followed by planning commission and then city council review of the proposed changes.
Using a baseball analogy, Blackburn said, "We are in the bottom of the third inning," of a nine-inning process.
"This will have a big impact, not so much on the process, but on the ultimate decision," Blackburn said of Monday's testimony. "When you have that many people come talk to us, it is impressive.
"It remains an open question," he said, noting that Monday's testimony primarily focused on one part of the plan: density. Transportation routes and parks locations were barely addressed by the public speaking to council Monday.
•
The year-long process lays out changes to city policy and zoning to meet the city's top priority need, affordable housing, identified by council three years ago, along with where new roads and parks and other infrastructure would go.
"It's still an open question," said Blackburn (see page A4 for his Another Voice column on the subject).
The concept plan includes changes to zoning to address workforce and affordable housing needs, and identifies the range of land uses by type, density and mix of residential development, capacity for a range of housing types, potential development of parks, opportunities for mixed use development (commercial and residential in close proximity), commercial land needed to provide services, and commercial and industrial development.
Senior planner Kevin Liburdy said a final recommended concept plan should go before the advisory committee on June 28. However, the city recently submitted a request for additional grant funding and is hoping to add one more round of advisory committee meetings in July or early August.
After the final recommended plan is delivered, it is likely the city will initiate one or more planning commission work sessions to map out a process to move forward. Public hearings will be held by the city planning commission and city council prior to adoption of any component of the concept plan.