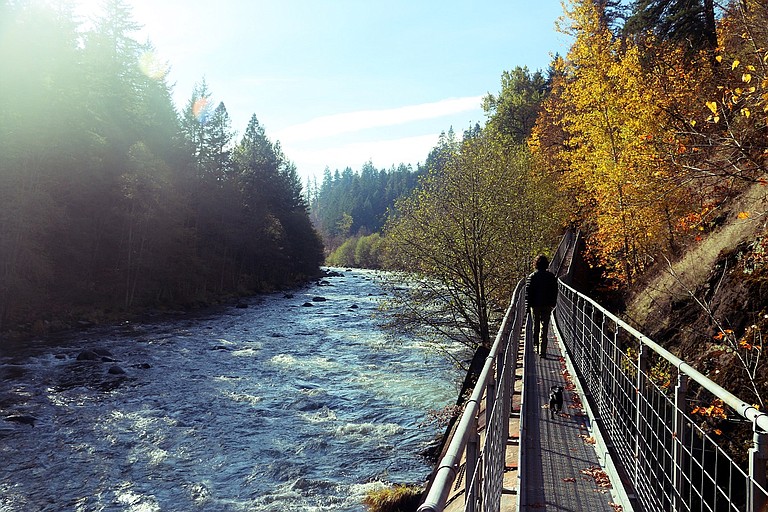 Columbia Land Trust has announced that the new Powerdale Recreation and Access Plan will be presented to the public on June 27 at a meeting hosted by the Hood River Watershed Group from 6–8 p.m. at the Hood River Library.
The public will hear what is in the plan so far and learn how to influence the plan going forward. The plan can be found online by visiting the Land Trust site www.columbialandtrust.org/powerdaleplan.
"Locals love the Powerdale section of the Hood River for fishing, walking, swimming, or just enjoying nature close to home," said Kate Conley, Natural Area manager with Columbia Land Trust. "But how many people know how that land is being managed, or even who owns it? Or what changes might affect public access in the near future?"

She suggests that anyone who loves this special place come to the presentation to learn more and share their thoughts about the future of recreation in the Powerdale corridor.
The riverside corridor of land from the old Powerdale powerhouse to the former Copper Dam site has a long history of recreational use. The utility company PacifiCorp (locally called Pacific Power) allowed public access when it owned the land as part of the Powerdale Hydroelectric Project. After dam removal and powerhouse decommissioning, the associated properties were transferred to Hood River County and Columbia Land Trust in 2013.
These new owners and a stakeholder advisory committee, with help from the National Park Service's Rivers, Trails, and Conservation Assistance program, developed the Powerdale Recreation and Access Plan. This document describes a vision for environmentally sensitive recreational use at Powerdale, but it also describes the many issues that complicate that vision.
It is a "living document" that will change over time in response to new information, conditions, and public input, Columbia Land Trust said in a news release.
Some of the "hot topics" addressed in the plan include whether or not to maintain public drive-in access to the old powerhouse parking lot, the problem of trespass on the Mt. Hood Railroad tracks and the feasibility of developing a legal pedestrian crossing, and how to reestablish public access to the former dam site.