June has been jumping, packed with year-end school activities, community projects and preparation for the upcoming harvest.

This year our dance ticket was full with multiple graduation invitations — preschool, eighth grade, high school and college. Ironically, the most bittersweet was watching our youngest grandson Ren saying goodbye to Teacher Angela, a.k.a. Angela Klein.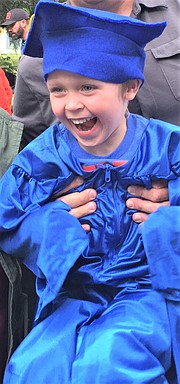 I have known Teacher Angela for over a decade, first at Coe Primary, where she inspired the love of learning in granddaughters Kendra and Aunika. Over the years, her programs have expanded, moving to Hood River Valley High School, where she most recently helped nurture Aya and Ren through nursery and preschool. With Ren heading off to kindergarten at Mid Valley Elementary in the fall, the era of Angela was coming to an end, along with a cornucopia of muddy mishaps from my chaperoning days with the preschool at Packer's Pumpkin Patch.

I must admit, my chaperoning capacities were sorely taxed with Ren's class of preschool buddies this year. They are the most rambunctious group yet, perhaps because the ratio of boys to girls is four to one. Or perhaps as I age, my energy ratio drops in proportion to the level of energy these little guys can expend, making an afternoon nap a necessity both student and volunteer alike.
•
My emotions were mixed as I settled in to watch little Ren leave his Little Learner nest and fly off to a new school. These littlest of HRVHS graduates were adorable, decked out in their slick blue gowns, felt caps slipping over mischievous eyes, Cheshire grins punctuating impish faces. Truth be told, they were more like feral cats momentarily masquerading as cherubic children. As the trustworthy preschool staff began ushering these shape shifters onto the bleachers, their true colors erupted. Some ran to the sanctuary their parents' arms. Others demonstrated their cat-like climbing and leaping skills by scampering up and down the risers, just out of staff's reach, a sea of constant motion.

As Teacher Angela called each of the little learners forward to receive their duly laminated diplomas, the personalities of each "graduate" emerged. Some ran from the safety of their mother's arms, grabbing the document, then circling the infield two or three times before flopping exhausted onto the grass. Others leaped from the third tier of the bleachers, executing side rolls or somersaults. A few face-planted in the grass, turned topsy-turvy by their long gowns. Ren's entrance included several trial runs up and down the bleachers before making his way to Teacher Angela's side, dramatically kissing his diploma, then expressing himself with his best dragon roar.

A collective sigh of relief could be heard from the preschool staff as the last preschooler rushed from their side of the lawn to awaiting families. A sucking sound of tsunami proportions could be heard from the gapping mouths of parents at that very moment when they realized that these high energy little power balls were all theirs for the endless months of summer.
Commencement exercises were only a small portion of our June calendar of events. There was a diverse array of dance performances to attend including hip hop, ballet, modern, jazz and folklorico. In addition, there were school plays, musicals, piano recitals, softball games, robotics, choir along with milestone birthdays, anniversaries, Fathers' Days … the list seemed endless.

•
Not to be missed was Mid Valley's last day of school picnic and talent show. I was blown away by the diverse talent and level of participation by all the elementary school students. From the carefully designed programs to the accomplished tech crew who kept the acts flowing, this was a morning highlighted by student achievement. Microphones, tumbling mats, chairs and even a piano were moved on cue. Music, special effects and a slide show enhanced the talent being showcased, beginning and ending with the flawless announcing of Karyna Marquez, whose confident voice will someday be heard on Public Broadcasting or perhaps pod casting.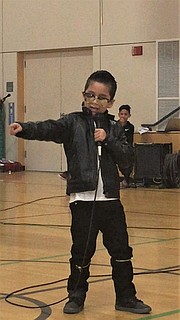 A number of accomplished singers belted out songs from the '50s and '60s right up to the present. Mrs. Beam's students had some octogenarians in the crowd tapping their toes to "Turkey in the Straw." My generation lip-synced along with Trenton Whitecotton as he strummed and sang the Eagles song "Take It Easy." There was some entertaining beat boxing provided by Diego Adame, Alec Fernandez and Ricardo Lopez, but if you have to ask what that is, you are not a contemporary.

With 80 percent of the student body from Spanish speaking families, the Los Sonos dancers were warmly received, flashing their brilliantly colored skirts through the familiar song "Guadalajara." Sandy Salazar, teacher and mentor for hundreds of traditional Mexican dancers over the years, announced her retirement but affirmed that the program would continue under a younger set of eyes, ears and feet.
Sierra Muenzer was a star singing Katy Perry's "Roar" and Samantha Kaiser sang "Lost Boy" with great gusto, but it was a few of those energetic young men who stole the show. This time not with their frenetic motion or roguish antics in the manner of aforementioned boys at the preschool graduation, but with focused, well trained talent. No one present will forget the angelic sound of the perfectly pitched voices of Miguel and Javier Lopez singing "Corriente y Canelo." Their melody evoked memories of the Venice Boys Choir with no sign of mischief masquerading behind their beatific smiles.

In the end, it was a most diminutive young boy named Betito Uvalle who left the audience star struck. Where does a first grader get that swagger? Dark glasses, leather jacket, tight black pants, he performed "Hasta el Amanacer" by Nicky Jam. Already a consummate performer at the age of 7, Betito had the right gestures, the right squint, the right dance moves. All the right stuff.

It is doubtful that any of these particular boys were a protégé of preschool Teacher Angela. If fortunate enough, they may have come through my dear friend Socci Galvez's bilingual preschool at Pine Grove. Regardless of where or who mentored them, we are forever indebted to preschool staff across our valley for their passion to instill the "right stuff" in all our little learners. And in particular for their perseverance in instilling some super high energy boys with the belief in themselves and their ability to succeed.