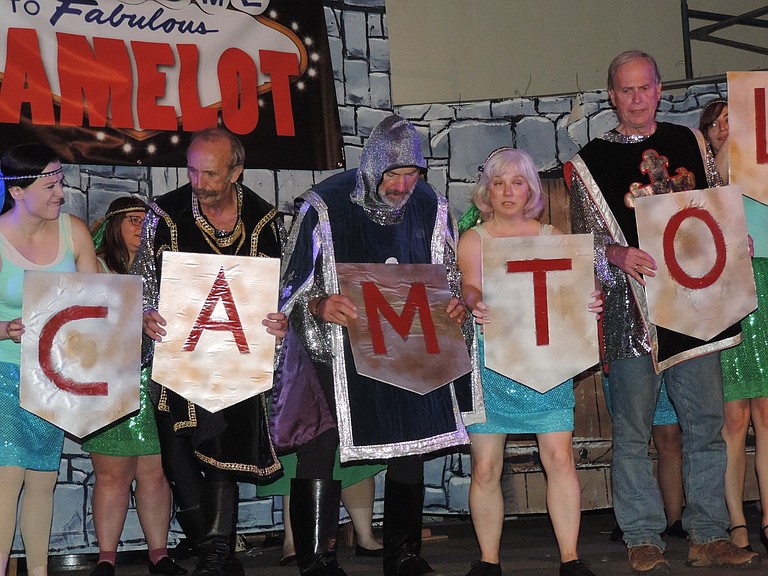 King Arthur and faithful Knights Bedevere, Lancelot and Dennis pursue the Holy Grail nightly for a couple of weeks in Bingen, parrying hilariously with the French Taunters, the irrepressible (and limbless) Black Knight, Tim the Enchanter, and others along the road to Cametlo. Er, Calmeto — Camelot, that is.
The Tony-award winning Best Musical (2005) is based largely on the film "Monty Python and the Holy Grail," and is the newest production of Columbia Gorge Orchestra Stages.
See Tickets and Times, at right, for details. The show was sold out on June 17.
"Spamalot," with William Thayer-Daugherty as King Arthur, also includes songs and sketches from the Monty Python film "The Life of Brian" and miscellaneous album cuts.
Essentially, "Spamalot" is a satire of musical theater, according to director Mark Steighner. "It pokes fun at many of the conventions and clichés, such as the big ballad love duet, the diva ballad, gospel numbers, ethnic dances and jazz scat singing," he said. Some of the musicals directly satirized include Phantom of the Opera, Guys and Dolls, Les Misérables, and Fiddler on the Roof.
"Spamalot" is CGOA Stages' fourth production of the year, following "Rocky Horror Show," "Pirates of Penzance," and "Death of a Salesman." The production had to be relocated to the Bingen Theater after the Hood River County School District made the decision to begin summer construction projects in June and close facilities for use, Steighner noted.
Originally scheduled for Wy'east Middle School, it has been relocated to Bingen Theater in Bingen.
Steighner said, "I can clearly remember seeing 'Monty Python and the Holy Grail' in Hollywood's famous Cinerama Dome circa 1975.
"The dry, intellectual humor of the Pythons, alongside Dungeons and Dragons, pocket calculators, primitive home computers and early video game arcades, were all part of the birth of a 'nerd culture' that spawned Steve Jobs, Bill Gates and countless others that have shaped our world," Steighner said in emailed notes.
"The Pythons were our official court jesters, combining wit, slapstick, deep-dive cultural and historical references, parody and music."
The iconic moments are all there:
• Paul Hargreaves had years ago memorized the iconic "French taunter" scene ("Your mother was hamster and your father smelt of elderberries!").
• As Patsy, the comically angry Camelot sidekick, April Sampson deftly conveys the multiple purposes of coconuts.
• Dan Kenealy's Sir Bedevere gets to the heart of the absurd "Trojan rabbit" scene.
• Peter Tappert and Katrina Blackmar and Thayer-Daugherty have fun with the "Constitutional peasants" scene, when Arthur explains he has been royally anointed by the Lady of the Lake, presenting Excalibur, and Dennis tells him: "You can't go around expecting to wield supreme executive power just because some watery tart threw a sword at you."
Steighner writes, "Thirty years later, 'Monty Python's Spamalot' won the Tony award for Best Musical. It preserves much of what made 'Holy Grail' so beloved, and adds a bit of general musical theater satire to the mix.
"Special thanks to our cast and crew for being so flexible and undaunted when we were forced to relocate our entire production very near the end of our rehearsal period. This is not an easy show to do in a small theater with limited infrastructure. But actors love to act, and I had no doubts that they would pull together and move forward," Steighner said.
CGOA looked at a number of alternative locations, but decided to stage the show in Bingen because it was available for rehearsals and performances.
•
CGOA Stages was added to the Columbia Gorge Orchestra Association this year. Next season's productions include "Angry Housewives," "Passion" (Stephen Sondheim), "Waiting for Godot," and "Chicago'" (venues to be announced).
"Spamalot" assistant director is Maza Brady; choreography is by Susan Sorensen and Jayce Tappert; costumes made by Kathy Peldyak, Theresa North, Jana Castañares, and some provided by Helen's Pacific Costumes; lighting by Bruce Ludwig, Charlie Mortensen, Seth Metteer, and Harold McBain; prop manager Katrina Blackmar; musical director Mark Steighner; production coordinator Lisa Roth; CGOA volunteer coordinator, Edie Polson.
Orchestra members are: Corin Parker (piano), Linda Taylor (keyboard), Alex Hastings (violin), Mary Iskra (bass), Rod Krehbiel (guitar), Michael Grodner (drums), Mary Orcutt (woodwinds), Sean Coleman (woodwinds), Maggie Goter (horn), Bob Smith (trombone) and Ed Price (trombone).