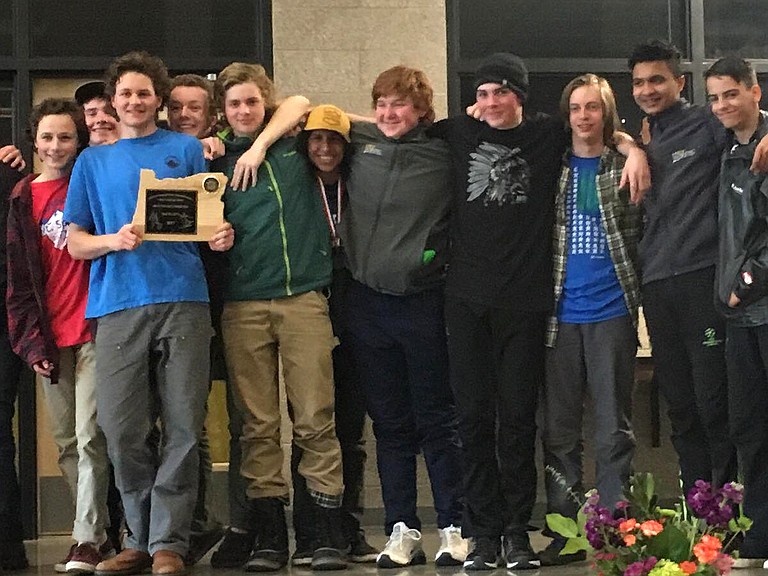 Hood River Valley High School sent their best to compete in the Oregon Interscholastic Ski Racing Association's state championship at the Mt. Bachelor Nordic Center last Friday. A total of 11 teams made it out from all over Oregon.
The gray jays swooped through the crowded meadow, picking at poppy seeds and sipping chilly cocoa from the ground. The snow was old and cold, icy in some spots and mushy in others. By midmorning, the temperature had risen by 12 degrees. Each team was crowded around their tents as their wax gurus slaved away to give their racers the edge. The 6K skate race took place on Friday. A three-wave mass start and a fast course with a couple of monstrous hills put smiles — or grimaces — on every skier's face.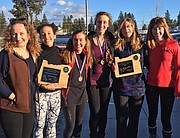 After a night of rest and some delicious Indian food, HRV was ready to rock on Saturday. The morning was bluebird, but nearing race time, the clouds began to shroud the sun and the temperature plummeted with each cloud's passing. After the 4K classic race, each school designated small relay groups and sent them off on a short loop at the breakneck pace.
The season finale was a blast, shared with the parents and coaches who made the whole thing happen. The boys team took home second overall losing to perennial frontrunner Summit, with Leif Bergstrom, Jesse Wiley, and Elkin Parker placing in the top 10 overall combined. On the girls side, they took home a third-place overall trophy losing to Summit and Bend, and Daisy Dolan was sixth overall combined. Samantha Thompson was also awarded an exemplary sportsmanship award for her positive contributions of kindness that made the Nordic season that much sweeter.
It was the final high school race for seniors Dolan, Wiley, Leif Bergstrom, Ruby McDonald, Alina Watt, and Aryan Agrawal.
Boys combined results
Jesse Wiley (5th place, 17 minutes, 4.5 seconds freestyle time, 13:44.4 classic time, 30:48.9 combined time), Leif Bergstrom (6th, 17:53.7, 13:13.1, 31:06.8), Elkin Parker (10th, 18:32.8, 14:29.5, 33:02.3), Finn Peterson (25th, 20:08.2, 16:03.4, 36:11.6), Per Bergstrom (29th, 20:19.5, 16:30.5, 36:50.0), Benjamin Kaden (34th, 21:03.4, 16:54.6, 37:58.0), Aiden Wood (75th, 26:19.1, 20:21.4, 46:40.5), Ethan Fowler (79th, 27:09.0, 22:31.9, 49:40.9), Nikolaus Swihart (80th, 26:52.4, 23:45.4. 50:37.8), Aryan Agrawal (87th, 32:59.2, 23:43.5, 56:42.7), William Kissinger (88th, 31:16.8, 25:31.1, 56:47.9).
Girls combined results
Daisy Dolan (6th, 21:09.4, 15:35.4, 36:44.8), Samantha Thompson (18th, 24:40.6, 20:21.5, 45:02.1), Alina Watt (26th, 26:46.8, 20:23.4, 47:10.2), Lyric Emmons (40th, 29:12.9, 22:23.5, 51:36.4), Celia Acosta (44th, 30:45.2, 21:55.6, 52:40.8). Association teammate Ruby McDonald (Columbia High School) also competed under a guest category, and though wasn't scored, would have placed in between the 31st and 32nd competitors in the race with her combined time of 48:59.3 (25:58.9, 23:00.4).