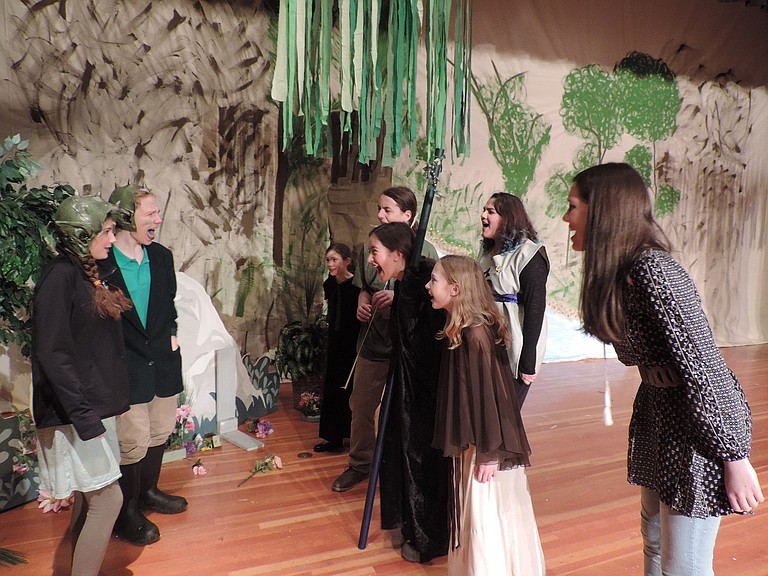 The cast of Hood River Middle School students, with principals Brent Emmons and Ocean Kuykendall playing parents, performs the original musical written by Mark Steighner, musical director of Columbia Gorge Orchestra Association, while music teacher Anna Stipe directs.
"I am very proud of what our new teacher and community have produced," Emmons said. New this year is the help of HRVHS students Sarah Wang, piano accompanist, and choreographer Olivia Acosta.
"Game Night" performances are Friday, March 3 at 7 p.m. and Saturday, March 4 at 2 and 7 p.m. Shows are in the historic HRMS auditorium.
Steighner provided this synopsis of the set-up for "Game Night":
It's Thursday night, and the Kennedy Middle School Monsters and Mayhem game group has met for their weekly role-playing game, presided over by first time Game Master Jenna McAlway, who explains that she designed a really cool quest but didn't quite have time to finish it. All the kids create characters for the game.
Jenna tells the kids about the environment and magical land and they're about to start when the doorbell rings and Dominic enters. Dominic is a new kid and he heard about the game — Riley told him but forgot to tell the other kids — and he wants to join. Dominic is a little different. He has an unfamiliar accent and his clothes fit a little weirdly. He also has his own dice ... they look very ancient and Hannah impulsively grabs them and rolls them for the first move.
There is a blinding light, smoke, and when it clears, the kids are dressed in full fantasy costume and in a strange and mysterious land. Dominic is nowhere to be found, but Jenna soon recognizes their environment as being very close to that of her game. Naturally the kids are confused, frightened, and also intrigued.
Among the fantastic creatures they encounter are the orcs Drabb and Drood.