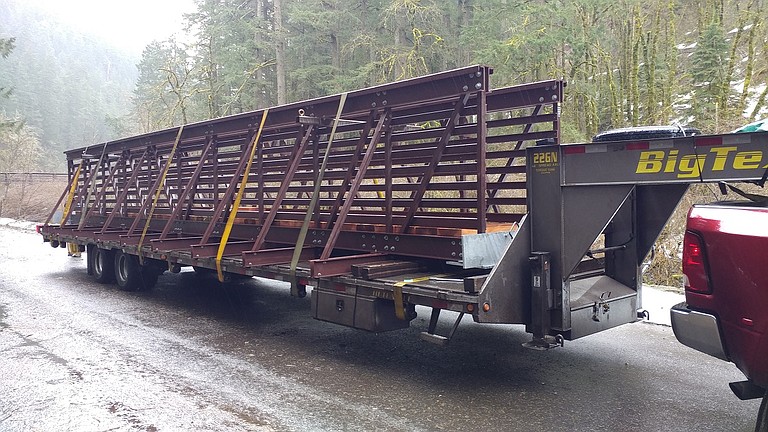 Crews installed a new 41-foot truss bridge at Tish Creek, along Eagle Creek Trail, on Feb. 28. A helicopter flew the old bridge away from the site and delivered a new one in its place.
The former bridge was destroyed by a winter storm. Eagle Creek Trail was closed until last weekend, when a contractor with the U.S. Forest Service secured the replaced bridge.
Harsh weather slammed Eagle Creek with landslides, snow slides, icicles, and downed trees and limbs that made it nearly impassable for the casual hiker.
"It was almost a show-stopper for the bridge replacement, but we reached out to the Pacific Crest Trail Association (Mt. Hood Chapter) and they put in many hours of hard work ... to clear the trail so our contractors could get through and do the work," said Rachel Pawlitz, Forest Service public affairs officer.
Teamwork and combined efforts put the path to Tish Creek Bridge (just past Punchbowl Falls) in better shape.
The cost was $130,000, covered by $110,000 from Federal Lands and Transportation Program funds and $20,000 from recreation fees the Forest Service collected at sites in the Gorge.
Eagle Creek Trail is now open, but forest officials are urging visitors to take precautions. Anyone interested in hiking should wear traction devices on their shoes and be prepared for a rugged, slippery hike, according to Pawlitz.
"There is more trail maintenance needed, but we will be waiting for the snow to melt a bit more before tackling it," she said.
The trail is located a few miles west of Cascade Locks, accessible from Interstate 84 exit 41.