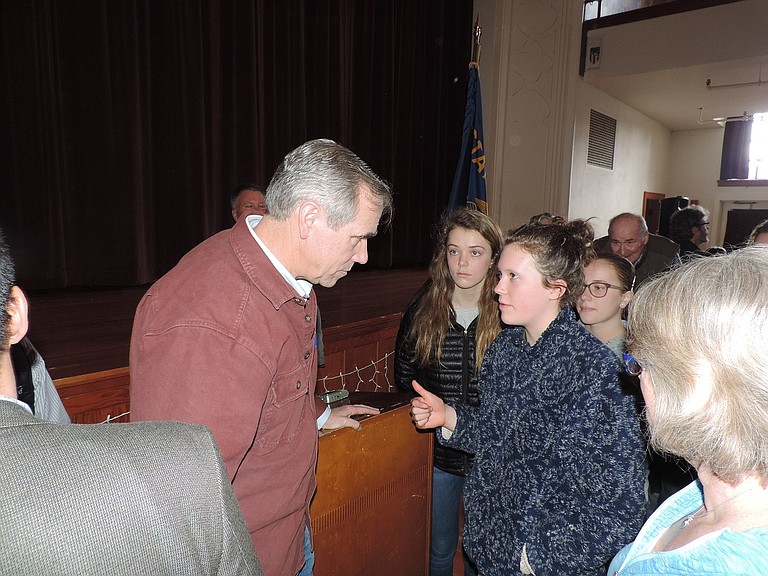 "A lot is going on federally," Sen. Jeff Merkley said to laughter Saturday in a wide-ranging town hall at Hood River Middle School Saturday.
Merkley addressed concerns about issues including health care legislation, military spending, education costs, and immigration.
Merkley called for the resignation of Attorney General Jeff Sessions over his comments on potential GOP contacts with the Russians, and said he would continue to "fiercely" contest other pending cabinet appointments by President Trump that Merkley called "poor fits."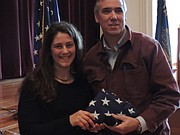 "I attempted to do what I could to derail some of those nominations, and I am very concerned about Scott Pruitt as head of the EPA," Merkley said. "He has dedicated himself to undoing environmental regulations, suing the EPA on every possible issue and I think we should be very worried about the ability of the agency to be effective with regard to clean air and clean water, and we'll have to pay a lot of attention to that."
Merkley also pointed to comprehensive, bipartisan immigration reform proposals developed in 2013 and called on Congress to reconsider the package in cooperation with President Trump.
On health care, Merkley said, "What we are engaged in right now is an effort not to undo what has been done." (Tuesday, the Republican leadership introduced a new proposal that greatly reduces government's role in health care, which Merkley said "decimates Americans' health care," according to an article in The Oregonian.)
The environment gained the spotlight during the town hall question-answer period, and Merkley started the session by recognizing the work of one local environmental group, before the audience of 400 or so.
And it was grassroots involvement Merkley pointed to in answer to one attendee's question, "Whatcan we do to help you in your work in Washington, D.C.?" from Bonnie New of Hood River.
Get involved in non-profits, or run for local leadership such as city council, school board or county commission, he said.
"Get involved in the dialog," Merkley said, "because our government will only operate as well as the energies that we the public are willing to put into it."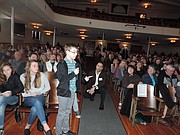 Merkley presented a U.S. Capitol flag to Julie Davies O'Shea of the Farmers Conservation Alliance, which he said "was created to help improve fish streams at water diversions and has evolved to help organizations use water more effectively, a good example of wise stewardship."
O'Shea said, "We started 10 years ago, when Farmers Irrigation District invented an innovative fish screen that saved lives of fish and saved dollars, but it needed a federal approval never used before, and we spent 10 years, and many rounds of testing, and if not for great leadership of Jeff Merkley and other elected officials, FCA would not exist today. We very much thank you for all your work."
Merkley criticized the selection of Betsy DeVos as Secretary of Education and proposals to expand the education voucher system.
"There is a fundamental argument taking place for how do we fund our schools so they give an equal opportunity for all of our children to get a great education," Merkley said. "I'm the son of a millworker, and my father was able to say to me, 'if you go through though those school doors and you work hard, you can do just about anything here in America.' I knew we weren't in the affluent side of the tracks. Shouldn't we have an education system where the son or daughter of a CEO or the son or daughter of a millworker has the same chance to succeed and thrive?
"We need to massively expand Pell grants to keep pace with the cost of education," he said. "We have a growing situation where people are asking if debt just to get education, 'is it really just a handicap — debt the size of a home mortgage and no guarantee of a job?' Affordability for college translates back to messages our kids get in high school and junior high for whether there is a pathway for them to thrive.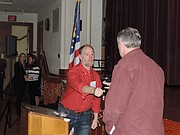 "Borrowing should be able to be at same rate the big banks borrow from federal government," he said. "Think about how much of a stimulus to the economy it would be if everyone one out there who has a college debt at 8 or 9 percent could refinance at 2 percent. That would be very powerful in putting families back on a solid foundation," he said, and vowed to work for legislation that would affect future college financing in that way.
It is the pending Supreme Court nomination of Neil Gorsuch that has Merkley most worried.
"We are on a very bad course with regard to this nomination," he said. "The seat became open more than a year ago, the first time the Senate majority has essentially abdicated its responsibility to exercise advice and consent on a nomination. They took that seat and instead of holding hearings on Merrick Garland (President Obama's nominee) and holding a committee vote and sending to the floor and hold a debate, they put the empty seat in a time capsule and hoped that when it opened up in a year there would be a Republican president, and that's what happened.
"This is going to reverberate for decades and decades to come in changing the perception of the Congress and the Supreme Court," he said. "There is no limit to the strategy of stealing this (court) seat, and it warps the sense of integrity for the Senate doing its job and for the Supreme court itself. The only legitimate person to be put for the seat would be Merrick Garland."
On military spending, he said, "Sometimes I think we should just stop and look at the situation and realize our military is equal in size to the next 17 militaries in the world, but we are behind the rest of the developed world on infrastructure, on education, and on health care, and how about if we put a lot more resources into those three areas?"
On health care, he said, "There is no question the health care system could stand to be improved. There is still too much stress associated with health care in the United States, but let's not make the situation any worse. The goal of a health care system should be that when someone gets ill, you have the peace of mind that people will get the care they need and not be bankrupted in the process.
"We have made serious strides," he said, citing 500,000 people gaining access under the Affordable Care Act, "the lowest level of uninsured in history;" 400,000 people have gained access through expanded Medicaid (Oregon Health Plan) and another 30,000 through the health exchanges.
"It has had a huge impact on the state, and a huge impact on many of our health care clinics, which gained a lot of funding through ACA as a robust, cost-effective open door to the health care system, and we have also seen rural hospitals do much better, because the amount of uncompensated care has dropped dramatically," Merkley said. "It is really something that has affected both rural and urban Oregon. The health care bill of rights that were imbedded in the ACA are things that I think have become well anchored. You can get insurance at the same price as everyone else even if you have a preexisting condition, and the fact that you can have a policy without an annual or lifetime limit, or that children can stay on your plan until age 26. That being a woman is no longer a pre-existing condition."
Merkley was met with repeated applause from what felt like a predominately supportive audience.
Kris Wilhelm of Hood River said, "Thank you from those of us who do not represent your choir," and asked why Merkley had not attend the Trump inauguration in January, and "Is there anything at all you are going to work on with President Trump?"
Merkley replied, "I was at the inauguration. Was that your question? Why did I choose to go? No, I chose to go, and to my knowledge all Senators went; many House members decided not to, and they all had their reasons, but I felt it was honoring the institution, and that's why I went."
As to finding ways to work with the president, Merkley said, "We have a responsibility as elected leaders to work to solve problems. I can't take the viewpoint that if we disagree, if you're a different party we'll work to make your life miserable. If we have opportunities to work together to solve problems, then let's do it."
One potential area is infrastructure, he said.
"A group of us have been calling for a major infrastructure bill for years. President Trump called for a trillion-dollar package in his speech to Congress. We have no details yet, it's still at that campaign level slogan, but we are hoping we can work together on that package," Merkley said. "We have so many ridges, roads, jetties, transmission line infrastructure, rural broadband infrastructure that needs to be improved.
"And perhaps immigration might be an example if we get back to that framework of 2013," he said.
Merkley pointed to immigration vetting and another area of vetting that needs to happen.
"Refugees are the most vetted individuals who come to the United States," he said. "They undergo years of vetting and backchecking, and it is important we keep in mind the spirit of the words carved into the base of Lady Liberty."
On the rise of "fake news" and the Trump's criticism of the media, Merkley said, "Make sure your news source has some real basis in the facts of the situation.
"I'm not sure how we'll tackle this broader false news problem," referring to President Trump's unsubstantiated claim, made over the weekend, that President Obama wiretapped him. "It's just another one of those fictional things.
"I just belief that a free and open press is an essential guaranteed of our rights in this country. We should be really concerned what it's doing to that," Merkley said.