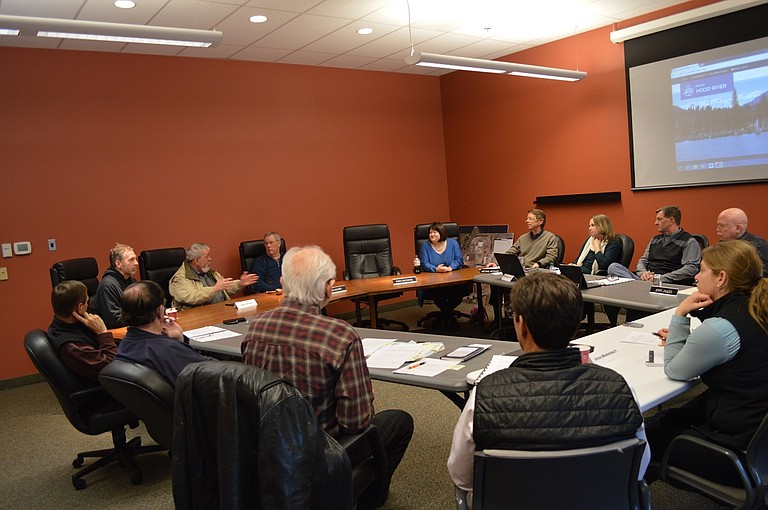 Bridges made for a bonding point — and the crux of discussion— for the Port of Hood River and Port of Cascade Locks at a joint work session Tuesday.
The ports convened to discuss future efforts concerning the Hood River-White Salmon Interstate Bridge and Bridge of the Gods, most notably the political advocacy required to maintain or eventually replace the aging structures.
The roundtable talk at the Port of Hood River marina conference room summoned all five Hood River port commissioners, four of their Cascade Locks counterparts, and staff members from both parties.
"I think that we've learned over the past (few) years that we do have a lot of common ground," Cascade Locks Port President Jess Groves said.
When engaging with legislators in Salem and Washington D.C., he said, "I think we're both out there scratching and clawing, trying to figure out ways to do what each port needs to do with their bridge."
The ports, both taxing districts created for economic development and transportation purposes, operate the county's two Columbia River bridges. Both crossings have faced significant infrastructure issues and costs over the decades.
The Port of Hood River's endeavors to replace their bridge — a $280-300 million project still years away — have made some headway in the Oregon Legislature this year, via two draft bills sponsored by Rep. Mark Johnson (R-Hood River).
Those include HB 2750 and HB 2749, Port Executive Director Michael McElwee explained. If successful, the legislation would fund pre-construction work for the bridge replacement, and would clarify the public ownership of the Hood River Bridge.
The Bridge of the Gods also has a support bill, SB 454, backed by Sen. Chuck Thomsen (R-Hood River). It directs Oregon Department of Transportation to establish a highway improvement program in the Columbia River Gorge National Scenic Area.
Port leaders stressed that any major dose of state dollars from the 2017 legislative session must come from a long-planned — and long-stalled — transportation package. Otherwise, bridge support would be slim, given the $1.8 billion gap marring Oregon's budget.
Thomsen, Groves said, gave the impression the senator was uncertain the transportation package will pass. Johnson, however, was more confident, according to Groves.
After brainstorming Tuesday, commissioners reached a general consensus to reach out to other ports, county, and state governments for a more unified message when making their case. Hood River Port President Brian Shortt proposed a large community forum this fall.
Shortt hoped the ports can come back in spring 2018 with a more direct action statement. As he put it, the ports will need to "play the card" of the Scenic Area law, enacted in 1986, to spur federal action.
Joeinne Caldwell, Cascade Locks port commissioner, proffered that OneGorge advocacy group could act as a "catalyst" to unify cross-agency planning. McElwee suggested that support from multiple county governments would be most effective.
Port of Cascade Locks General Manager Paul Koch said, "For all practical purposes, there is no Oregon, there is no Washington here. That National Scenic Area and that compact obliterate that, but require that both states' agencies operate in a certain fashion. We will continue to push on that."
POHR meeting
Following the joint session, the Port of Hood River took on a smattering of recreation and business agenda items.
The commission prepared a request to the Hood River Valley Parks and Recreation District for system development charge (SDC) funds to carry out a trio of waterfront recreation projects.
The projects: a concrete dock expansion in Nichols Basin supplementing the current small dock, modular floats for extra paddle boarder launch space, and improvements to the paved trail under the Hood River Bridge that leads to Best Western Plus Hood River Inn. The pathway is narrow and steep, port officials said, would benefit from widening.
Summer events also came up, with Stu Watson, interim waterfront coordinator, filling in the commission on two pending events: OutFound, an "adventure sports and outdoor innovation festival," and the Oregon water polo state championship in Nichols Basin.