Originally published March 15, 2017 at midnight, updated March 15, 2017 at midnight
Cuts will happen, but maybe not to teaching jobs, in the next two years for Hood River County School District.
Increased corporate partnerships, reducing athletics, going to a four-day school week, and parent funding of school nutrition programs were among the ideas put forth by parents as a group of 60 people met Monday in the Mid Valley Elementary School library, the second of two listening sessions held by the district.
The district administrative team is considering all feedback provided by the public, Superintendent Dan Goldman said Monday.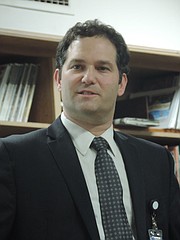 "We'll listen to everything. We'll look for trends and listen to the community and what they want us to do," Goldman said.
"What we have heard so far is that people want us to protect teachers, as they are the core of what we do. Eighty-five percent of our costs are people costs. We are a people organization," Goldman said. He added that efforts will be made to keep class sizes down; he noted that the district is well below the 30-student elementary sizes and 40-student middle-and high school sizes seen in other school districts.
Goldman said he is optimistic the district can avoid teacher layoffs, noting that the district hired 35 new teachers this year, and that the potential is for retirements to handle any position cuts that need to happen.
The first listening session happened March 9 at Hood River Valley High School, attended by about 50 people. Patrons can also take an online survey on school funding and use or resources (hoodriver.k12.or.us). Paper equivalents are available at the schools or district. At her suggestion to extend the survey to students, Goldman told HRVHS teacher Kathryn Yasui he will work directly with her on it.
Goldman said minimal reductions to athletics should be expected, such as reducing the number of competitions for freshman teams, but that the five-day school week must remain — largely because the schools serve as community centers and must remain open throughout the week. Business partnerships are also in place, but expanded ones have been attempted with minimal success and have yet to yield long-term relationships, according to Goldman.
The district will process the input as it develops a 2017-18 budget in April. In May and June, the budget meetings and adoption process take place. Meanwhile, in early May, the state will release its new revenue forecast.
"That's when things will really start moving," Goldman said.
Goldman said HRCSD will be among the numerous districts facing "cut budgets" in 2017-19 biennium, in the face of underfunding of K-12 schools by the Oregon State Legislature.
"We've been cutting this for 25 years and there is nothing magic to it, no amazing ways to cut we haven't figured out yet," he said. "People in Oregon like to say they prioritize education in this state, but I am here to tell you that's just not true." He noted that the district had to cut $1 million from the current budget, and $850,000 from the 2014-15 budget.
Goldman showed a chart displaying the drop in Oregon general fund and lottery spending for K-12 education since 2003 — from 44.8 percent to the total to 37.5 today, under the legislative version. (Gov. Brown's proposal was for 38.9 percent.)
The legislature's proposed biennial $7.8 billion K-12 education budget reflects a $1.8 billion shortfall, and that will equate to more than $2 million cuts required in HRCSD in the next two years — $1.2 million per year — according to Goldman.
Statewide, status quo funding in schools would need an $8.4 billion state budget. He pointed to ballooning Public Employee Retirement System (PERS) costs as the biggest fiscal challenge faced by school districts, with $2.1 million in increases in 2017-19 for HRCSD that will mostly be paid off by a biennial reserve fund created two years go. "It's a major problem for us, but fortunately we have the funds set aside to pay for 84 percent of it, for next year," Goldman said. The district is facing a total of $10.5 million in PERS increases in the next three biennia (2017-23).
"This is a problem that's here to stay," he said.
Hood River School Board's own Mark Johnson, the Dist. 52 State Representative, is among the legislators now meeting in Salem in what is expected to be a protracted budget process that might last into the special session this summer, according to Goldman.
Goldman said changes in transportation routes and schedules enacted this school year saved the district $350,000 and further savings will likely come from at least three sources: energy savings, "major changes" in the district technology program, and from postponing some textbook upgrades.
"We can do that next year, but we can't put off textbook upgrades every year," Goldman said.