Originally published March 25, 2017 at midnight, updated March 25, 2017 at midnight
The conflict over a proposed 100-foot cell tower in west Hood River has resurged.
The Oregon Land Use Board of Appeals issued a final order March 15 sending part of the case back to Hood River County Board of Commissioners for another round of deliberation.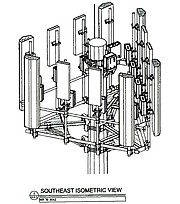 Since 2014, Verizon Wireless Company has planned to build a monopole telecommunications tower on an eight-acre patch of industrial land, now owned by Double Mountain LLC, near Windmaster Corner. Application documents show the tower would rise into the sky south of Hood River Valley High School's ballfields.
Rebecca Rawson, a neighboring property owner, challenged the company, first addressing the county planning commission, then the board of commissioners.
In August, the five commissioners denied an appeal by Rawson and upheld Verizon's conditional use permit for the tower. Rawson responded by taking the matter to an appeals board, LUBA.
Last week, LUBA reached a decision in "Rawson v. Hood River County" to remand several issues in the case. Their action, instead of putting the matter to bed, recharges the legal process at the county level. Only the remanded arguments are now on the table for discussion.
John Roberts, Hood River County Planning Director, explained that LUBA dismissed various pre-and post- hearing arguments filed by Rawson, but the board upheld some points she brought up.
Specifically, LUBA decided county planning staff had erred in their interpretation of the Hood River County Zoning Ordinance.
LUBA has three options when handling appeals: remand, reverse, or uphold. In this case, LUBA remanded part of the petitioners' complaints — a relatively common action — most LUBA appeals get remanded to some degree, Roberts said.
A hearing before the county is likely months away, with no estimated date yet. Roberts said based on an Oregon statute, it will be within 4-6 months if the petitioner triggers a hearing.
From there, the board of commissioners could choose to send the issue back to planning commission, which would add another layer to the legal process.
"The board of commissioners retains the right to remand it or not to the planning commission. They would remand if they felt the issue(s) were warranted," Roberts said.
Such a case happened roughly three years ago when the board of commissioners remanded a LUBA appeal over a dispute concerning Barrett Park to the planning commission, according to Hood River News archives.
Verizon representatives have asserted that a new tower is necessary to provide coverage for local cell phone users, while area residents have argued that the structure would harm the scenic views Hood River enjoys.
The tower design has undergone changes. After pushback from residents, Verizon — doing business as ProLand LLC — scaled down the tower by 20 feet and vetted "concealment technology" to paint the pole brown and disguise it as a tree. But the concept has continued to meet backlash.
The county updated its cell towers rules last April via an ordinance, but those rules don't apply for the Windmaster tower because Verizon's application predated the rule change, according to LUBA's final order.
A handful of cell tower applications have sparked controversy in recent years, and another was proposed this month.
According to a legal notice published in this issue of the Hood River News, March 25, AT&T Wireless Company has made an application to construct a 104-foot tall "monofir pole" cell tower within a 35-foot by 35-foot leased area on property owned by Idlewild Cemetery, near the corner of southwest Tucker Road and Brookside Drive.
Comments regarding the application are due April 11 at 5 p.m. Due to a large volume of applications, a decision on the new tower is slated for two or three months from the end of the comment period, if not longer. Related documents are available at the county planning office, 601 State St. For details, call 541-387-6840 or email plan.dept @co.hood-river.or.us.
LUBA approaching DeeTour issue
Another Hood River case lies in store for LUBA this spring.
A citizen watchdog group, Hood River Valley Residents Committee, announced plans last month to appeal the county's decision to approve Apollo Land Holdings LLC's application to build a 50-room hotel at a proposed concert venue in Dee.
Kristi Seyfried, LUBA executive support specialist, said Thursday a hearing date hasn't been scheduled.
"The petition for review is due on March 28 and a hearing will be scheduling approximately four to five weeks later," she said.