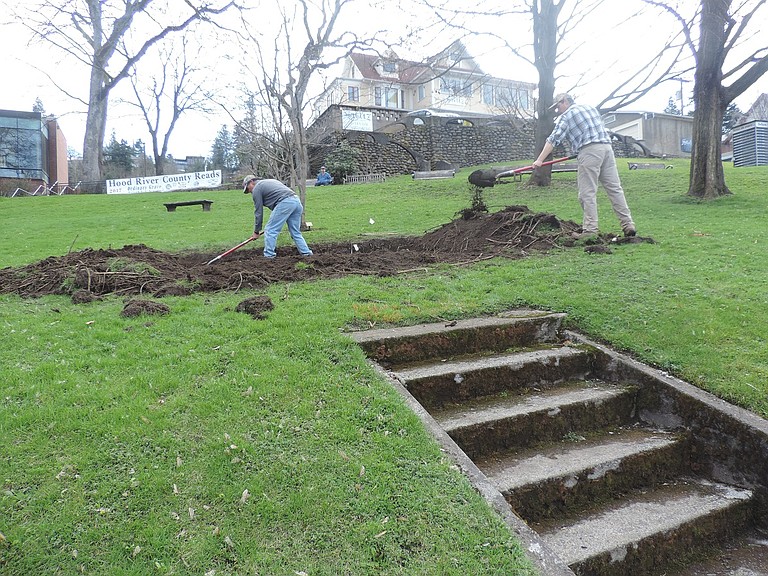 The Minoru Yasui Legacy Stone might be in place downtown in time for the March 28 statewide Minoru Yasui Day.
Excavation work was done this week to create a secure space for the stone on the sloping lawn of the Georgiana Smith gardens, next to the Hood River Library. It was dedicated in October 2016, at an event attended by 100 people.
The gardens location was chosen by the Library Foundation and Yasui family to provide a prominent location for the stone, and make use of a historic set of stairs as access to the monument.
The stairway, connected to the Oak Street sidewalk, led to the original Smith family home in the early 20th century. For years, the stairs at the base of the lawn have provided a handy path to the green space. Now, they will be used as the approach to the Legacy Stone.
Permitting was still in process last week to complete the project, but library Director Rachael Fox said the memorial (stored at The Stone Yard) could be moved into permanent position by Monday, or as early as this weekend.
A Japanese garden will be planted around the stone, according to Yasui's niece, Maija Yasui, who is coordinating the project. The Legacy Stone will also bear an annual honor recognizing social justice work by a local youth; the first will be announced in early April.
Yasui, a Hood River native who died in 1986, received the Medal of Freedom from President Obama in 2015 for his lifelong work representing the rights of minorities and the underprivileged. Yasui, who was born on Oct. 19, 1916, in Hood River, attended Hood River High School and went on to become the first Asian-American to graduate from the University of Oregon Law School and to pass the Oregon State Bar. He was arrested in 1942 and imprisoned for years, for breaking the curfew laws used on Japanese-American citizens starting in February of that year.