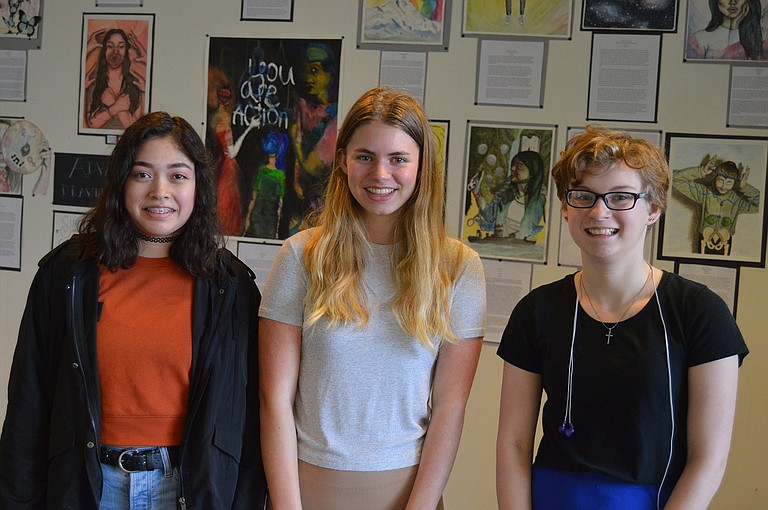 Originally published March 25, 2017 at midnight, updated March 25, 2017 at midnight
Hood River Valley High School is celebrating 70 state-level Scholastic Art awards this year, but that's not the only good news coming out of the art department.
The competition, with awards for first (Gold Key), second (Silver Key) and honorable mention categories, also saw four students take home prizes HRVHS hasn't seen in nine years — if ever.
Paulina Le, a senior, took home a Gold Key for her senior portfolio at the state level, an honor that hasn't come to HRV in nine years. The last student to take home a portfolio Gold Key was Chloe Hight, who was the first to ever achieve the honor.
Le was surprised when she learned her portfolio had been selected for a Gold Key, she said, because "we have a lot of talented kids around school.
"It's a great honor to be selected for a Gold Key."
She submitted eight pieces in her portfolio, all of which play into a common theme: Her life experiences. Because her work is detail-oriented, she said, "it takes a long time to create each piece."
Le plans to attend Oregon State University or Portland State University, where she will major in computer science and engineering with a minor in graphic design.
Gold Key winners advance to a national competition, with students participating throughout the United States and at American schools overseas. This year — for the first time ever — three HRV students have been earned Gold Medal honors and will receive their awards on stage at Carnegie Hall in New York, a trip scheduled for June 7-9. Additionally, they will have their work exhibited in New York and in traveling exhibits over the next two years.
The students, Emily Liri, Emma Vega and Allison Thompson, all sophomores, were "really shocked" to have won the awards, and all expressed surprise that the school had never had a Gold Medal winner before — and now had three.
"I was really overwhelmed and really shocked," said Vega of learning about the honor.
"Less than 1 percent get it," added Thompson. "It's really cool."
"I found out in math class," Liri said. "I had the class iPad and checked my email. And then I was bouncing up and down. My teacher said, 'Are you okay, Emily?' and I said, 'No, I'm not okay! I just won a Gold Medal!'"
Vega submitted a piece she created as a freshman, recommended by art teacher Amirra Malak. Liri said she worked on her piece "the day it was due. I threw three photos together."
"Sometimes it just works out like that," said Thompson, who created her piece in two days.
The trio are considering studying art in college, although paths vary. Vega is thinking about architecture or interior design, and Thompson would like to pursue an art degree with a business minor. Liri plans to major in psychology and minor in theater.
Malak said that the art department is now in the process of raising funds to ensure the students and a parent or guardian will be able to make the trip. Donations can be mailed to Hood River Valley High School (attention: National Art Honor Society on the memo line), 1200 Indian Creek Road, to cover airfare. Liri has additionally set up a GoFundMe page (www.go fundme.com/syysahhg), and the girls are considering other fundraisers, such as a possible art auction.
HRVHS students win Scholastic Art Awards
Hood River Valley High School students won 70 Scholastic Art Awards at the state level, said art teacher Amirra Malak. Gold Key winners moved on to the national competition to compete for medals.
Gold Key winners:
Deylan Gudiel, Lindsey Hegemann, Madeleine Jones, Madeleine Jones, Sofie Larsen-Teskey, Paulina Le (2 Gold Keys, 1 Portfolio Gold), Emily Liri, Jack Reardon Grace Schlemmer (2 Gold Keys), Allison Thompson, Emma Vega (3 Gold Keys), Alina Watt (2 Gold Keys), Quincy Zuck, Taylor Peterson, and Jackson Lebsack,
Silver Key winners:
Taja Adsit, Deylan Gudiel (2 Silvers), Lindsey Hegemann (2 Silvers and Silver Art Portfolio), Paulina Le, Briseida Lopez, Lauren Orr (2 Silvers), Grace Schlemmer (2 Silvers), Alina Watt, Muir Emmons, and Sandra Piatt.
Honorable mentions:
Maya Anderson, Skyler Beard (2 Honorable Mentions), Abby Bergemann, Sawyer Bogard, Myles Broddie, Itzigueri Chamonica, Rosie Dillon, Sage Fetkenhour, Lucy Fine (2 Honorable Mentions), lan Gudiel (2 Honorable mentions), Lindsey Hegemann, Maria Lachino, Sofie Larsen-Teskey, Jackson Lebsack (Honorable MentionArt Portfolio), Katie Lohr, Briseida Lopez (3 Honorable Mentions), Fatima Marquez, Lauren Orr (2 Honorable Mentions), Emma Ouzounian, Finn Peterson, Jack Reardon, Marisol Rodriguez, Allison Thompson, Alina Watt (Honorable Mention and Honorable Mention Portfolio), Quincy Zuck, America Flores, Sara Hamada, and Deylan Gudiel.