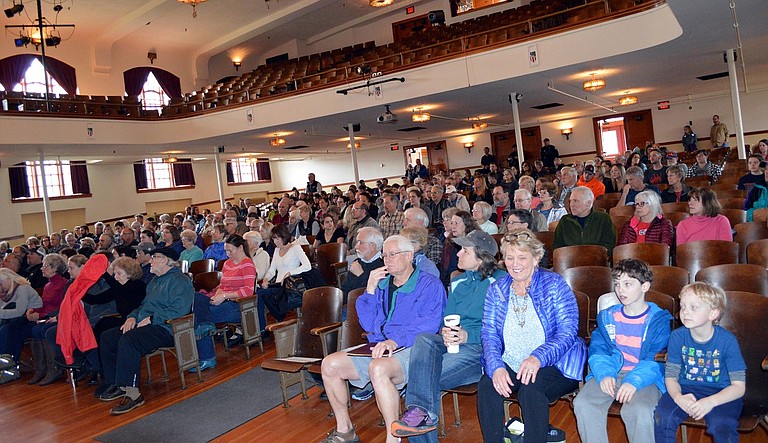 Wednesday, March 29, 2017
Sen. Ron Wyden (D-Oregon) brought in a crowd of more than 200 at Hood River Middle School Saturday morning in his 804th town hall meeting.
Concerns from the community ran a gamut of topics from health care, campaign finance and political transparency reform, environment, as well as funding for transportation and education.
Wyden broke down major issues in healthcare — the town hall came amid an effort by Congressional Republicans to repeal and overhaul the Affordable Care Act.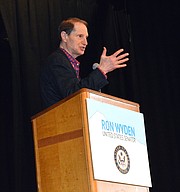 The senator lambasted high premiums and difficulty in coverage for poor populations.
"On my watch, we are not ever going back to the days when the health care goes back to (just) the healthy and wealthy," Wyden said.
He explained, "The big challenge is the individual insurance market. They're people who don't get care from the government or an employment package."
Wyden said he was part of a bi-partisan team that attempted to pass the Healthy Americans Act, parts of which made it into the Republicans' pending health plan, such as a ban on denying coverage based on pre-existing medical conditions.
On reproductive rights, Wyden said, "As the ranking Democrat on the committee that pays for Medicare (Senate Committee on Finance), as long as I am the senior (representative), women are going to be able to make their own health care choices, period."
The remark drew a large round of applause.
After introductions and a brief speech by Wyden, speakers quizzed the senator on a variety of matters; his responses met a largely receptive crowd.
On environmental issues, Wyden heard from Arlene Burns, mayor of Mosier, who conveyed worries regarding fossil fuel shipments and climate change policy. A crude oil train derailed and caught fire inside that town last summer, stoking an outcry from local elected officials, tribal members and conservation leaders.
"Understanding what happened in the Gorge, we can have zero tolerance for these questionable safety standards," Wyden said. He suggested an incentive program to get outdated railcars off the tracks, instead of letting the Gorge be what he called a "sacrifice zone" for trains bearing hazardous materials.
Much "convincing" about the threat of human-caused climate change remains necessary in Congress, Wyden said, but a carbon tax has made headway across party lines.
On transportation, Svea Truax of Hood River brought up the Hood River-White Salmon Interstate Bridge's role as a transportation corridor, and Wyden stressed that funding such infrastructure is a "bipartisan" cause.
Leonard Hickman raised issues of "dark money" and Super PACs (Political Action Committees) influencing policymakers.
Wyden characterized political finance reform as a "matter that really transcends everything else.
"I think the Supreme Court decision on Citizens United is an abomination. It really stands for the proposition that the rich guys' checkbook is the same as the poor guys' soapbox."
The 2010 ruling removed barriers to campaign spending by corporations and Super PACs.
Wyden fielded a question about Congressional support for agriculture science. He stressed the prevalence of the growing industry in places like Hood River County, and the need for up-to-date technology.
"What we do best is grow things … to tap this market, you've got to have cutting edge ag science funding," Wyden said. He said a recent Oregon State University grant will bolster such research.
When asked how citizens can affect change in Washington, D.C., Wyden urged public participation by calling senators, encouraging friends from other states to contact their representatives, and leading on a local level.
On political reform, he said, "We can win this fight, we can do it. But it's going to take a grass roots effort."